TAMUC Announces New Vice President for Philanthropy and Engagement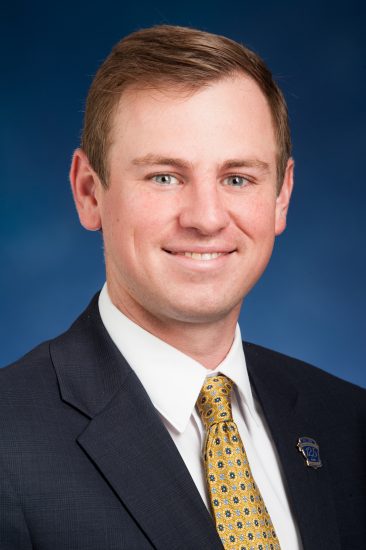 Texas A&M University-Commerce welcomes Devin Girod as the university's new Vice President for Philanthropy and Engagement. Mr. Girod was selected following a national search.
Girod comes to A&M-Commerce from the Trust for Public Land (TPL), a U.S. non-profit organization. He began working with TPL in 2017 as the Texas Director of Philanthropy before transferring to Atlanta, Georgia, to become the Southeast Director of Philanthropy.
At TPL, Girod raised approximately $35 million for the organization and its partners, expanding donor bases in Texas, Georgia and Tennessee. He also led TPL's first campaign in Texas and the process to secure a $9 million dollar grant and other lead gifts for the organization's work in Georgia. He was recognized in 2021 for his exemplary work through TPL's inaugural "Conservation Trailblazer" award.
Prior to TPL, Girod served as Senior Director of Development at A&M-Commerce and as Director of Alumni Affairs at the University of Louisiana at Monroe. In total, he has amassed more than a decade of successful leadership experience in philanthropy and engagement.
Girod earned a Bachelor of Arts in Mass Communications and a Master of Arts in Communications from the University of Louisiana at Monroe.
In his new role, Girod will direct all fundraising efforts for A&M-Commerce, fostering a university-wide culture of giving to increase financial support for the benefit of students, employees and the A&M-Commerce Foundation Board. He will provide effective leadership to develop and maintain annual giving, major gifts, corporate giving, foundation giving, planned giving, special events, fundraising campaigns and other programs.
Dr. Mark Rudin, president of A&M-Commerce, said he is looking forward to Girod's return to A&M-Commerce.
"We are pleased to welcome Devin back to the Lion family," Rudin said. "He brings invaluable experience as a successful philanthropic leader, and he shares our university's core belief that relationship-building is at the heart of a strong and sustainable philanthropy program," Rudin said.
Girod said he is honored to accept this new opportunity.
"I'm happy to be back in Lion country, and I look forward to resuming my work with the philanthropy team and the university's amazing network of dedicated alumni and donors as we impact students, faculty and industries in the region," Girod said.
Girod will assume the role of Vice President for Philanthropy and Engagement beginning on August 15, 2022.