TAMUC Faculty Senate, Staff Council and SGA Affirm Commitment to Inclusion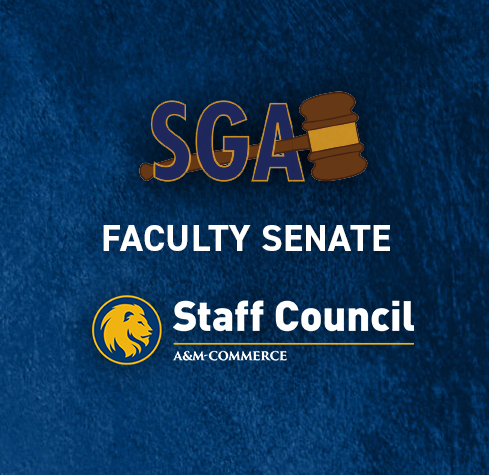 The Faculty Senate, Staff Council and Student Government Association (SGA) want to emphasize and reiterate the principles of Texas A&M University-Commerce and The Texas A&M University System. A&M-Commerce supports all people who work for and attend our university. As our vision statement makes clear, the university strives to "serve an inclusive community where all are valued."
A&M-Commerce encourages a friendly campus atmosphere by embracing diversity and creating a sense of belonging. The university's foundational principles support and amplify inclusivity, ensuring a welcoming environment where everyone is respected. On our campus, everyone can find a safe and inclusive home.
Furthermore, the Texas A&M System's mission is "to provide education, conduct research, commercialize technology, offer training, and deliver services for the people of Texas and beyond through its universities, state agencies, and health science center." By serving the people of Texas, the A&M System and A&M-Commerce are committed to supporting all Texans.
The A&M-Commerce employee organizations, including the Faculty Senate and Staff Council, along with the SGA, reaffirm the A&M System's and university's statements of inclusivity, support and service to the community. Our commitment to these principles and goals extends to all A&M-Commerce students, employees and Texans, specifically those who identify as transgender and all members of the LGBTQIA+ community. As members of one Lion pride, we stand united in support of one another.
In acknowledgment of our support, we are committed to raising awareness and celebrating these communities in June (LGBTQIA+ Pride Month, which is held during this month to honor the Stonewall Uprising) and October (LGBTQIA+ History Month).
Any organization wishing to show their support of the statement can email [email protected] and their name will be added to the article. Organizations expressing their support of the statement of inclusion include:
Alpha Phi Alpha Frat., Inc., Zeta Tau chapter
Art Club
Campus Activities Board
Clarinet Coalition
Gamma Phi Beta International Sorority, Gamma Zeta chapter 
Finance Society
Kappa Delta Chi Sorority Inc.
Kappa Kappa Psi, Zeta Kappa chapter
Marketing & Business Analytics Student Organization
Peace Within Pieces
Phi Beta Sigma Fraternity, Inc, Eta Zeta chapter 
The Wildlife Society 
Zenith Game Development 
Honors College
School of Social Work
Gender Studies Program
Department of Art
Department of Biological and Environmental Sciences
Department of Counseling 
Department of Curriculum and Instruction
Department of Educational Leadership
Department of History
Department of Liberal Studies
Department of Literature and Languages
Department of Marketing & Business Analytics
Department of Psychology & Special Education
Department of Theatre
Diversity, Equity and Inclusion Committee
Learn more about non-discrimination policies at A&M-Commerce.