TAMUC Law Enforcement Academy Cadets Raise Money for Charity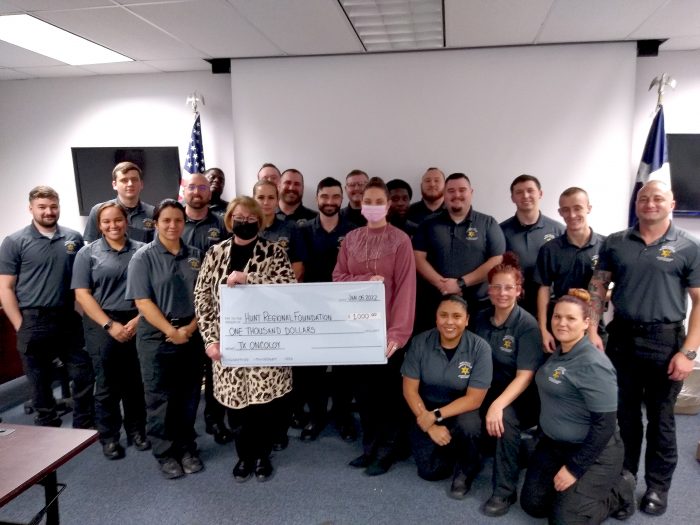 Cadets in the Hunt County Sheriff's Office Law Enforcement Academy located at A&M-Commerce participated in No-Shave November in 2021 as a fundraiser for Texas Oncology. The cadets recently presented a check for $1,000 during a ceremony at the Hunt County Sheriff's Office in Greenville.
Texas Oncology will use the funds to purchase gas cards to assist patients with transportation to and from their appointments.
A&M-Commerce entered a five-year agreement with the Hunt County Sheriff's Office in 2020 to provide a law enforcement academy on campus. Licensed through the Texas Commission on Law Enforcement, the eight-month program prepares law enforcement cadets for state licensing exams and culminates in the attainment of a Texas Peace Officer license.
"The Hunt County Sheriff's Office Law Enforcement Academy has a history of upholding the highest standards in training, ethics and community," said Louis Lufkin, academy liaison and instructor for A&M-Commerce. "This sense of community aligns with community policing philosophy and the university's vision for setting high expectations for students, faculty and staff."
Captain Daniel Looney serves as academy training coordinator for the Hunt County Sheriff's Office.
"I am personally proud of each of these young men and women for their caring and compassionate efforts to help those in need," Looney said. "These cadets are set to graduate on February 11 and will go on to work for law enforcement agencies where they will continue to serve the community and save lives."
Academy graduates may continue into the competency-based Bachelor of Science in Criminal Justice program at A&M-Commerce and receive up to 30 credit hours toward their degree for having earned their basic peace officer's license. Lufkin reports that cadets who complete the academy and receive their peace officer license can earn their bachelor's degree in criminal justice at A&M-Commerce in just one to 1.5 years.
The next cohort of cadets will begin classes on February 28. To learn more, or sign up for the law enforcement academy, contact [email protected]. Follow the academy on Facebook.