TCU Professor Nona Batiste Graduates With Doctorate From A&M-Commerce at 75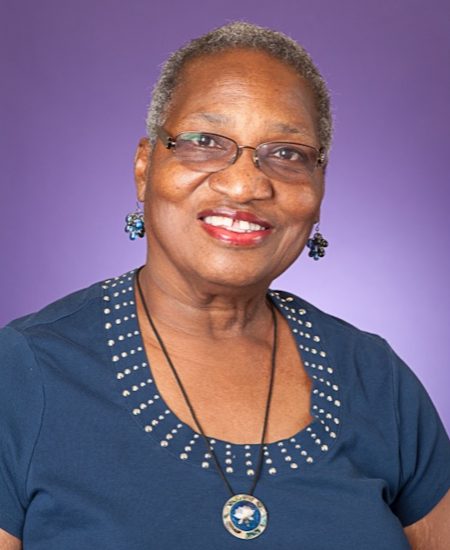 Professor Nona Batiste pursued her life's goal across six decades before graduating from Texas A&M University-Commerce with a Doctor of Education degree at age 75.
Her inspiring tenacity is a testament to her philosophy: If you want something badly enough, you'll work to make it happen, no matter how long or difficult the journey.
Batiste first decided to pursue her doctorate in 1961.
"My ninth-grade teacher talked about how good it felt and what a wonderful experience it was to earn a doctoral degree," Batiste recalled. "She talked about it so beautifully, and I said to myself, 'You know what? When I start college, I'm going straight through to my doctorate.'"
Although Batiste's education path was not "straight through" like she initially planned, she took steps toward her life goal through every meandering season of life.
Right before her first son was born, she earned her undergraduate degree in education and landed her first teaching job as a high school business teacher in New Orleans. Fifteen years later, newly divorced with three small children, Batiste felt ready for a fresh start. She enrolled at Loyola University to earn her master's degree in science education. That road, quite literally, proved challenging to traverse.
"I didn't have a car, and I caught the bus to class after work," Batiste said. "I lived in a suburban area, and the buses to my home stopped running at six p.m. I didn't get out of class until 9:30 or ten at night, so I would ride the bus as far as it would go—which was not nearly close to home—and then I would walk the rest of the way. Many times, I didn't get home until three in the morning. Then, I had to get back up at six to catch the bus and get to work."
Whenever she could, Batiste would visit the university library, her three small children in tow.
"I would bring their little crayons and their little goody bags, and they would sit under the table in the library while I studied and researched," she said. "It was a funny dynamic, but now my grown-up children love school, love the library, and love the whole academic environment."
One semester, a physics class threatened to sabotage her graduate studies.
Batiste recalled: "One day after class, the professor pulled me outside the classroom and told me, 'You ought to drop out. Not everyone can have a degree from Loyola University. You probably need to go home.' So, I went home. I was devastated; I cried; I went to bed, and I prayed on it.'"
The following day, she woke up with a new resolve.
"I decided I was going to go back and finish that physics class," Batiste said. "I called one of my study partners, and she said, 'Nona, I will help you.' So, my three children and I went to her house every Saturday, Sunday, and Wednesday night, and she helped me so much that I passed the course with a B."
After earning her master's degree, Batiste accepted a job as a science teacher at Dallas ISD. While she nurtured a love for learning in her students, she continued taking classes to satiate her own hunger for knowledge.
"I was always taking a class, either for personal interest or academic pursuit," Batiste said. "If I wasn't enrolled in academic courses, I was taking craft courses. Anything I was interested in—flower arranging, macrame, folk art—you name it, I took it."
After 48 years in education—20 years in New Orleans and 28 more in Dallas—Batiste retired, but she wasn't ready to give up teaching. So, she started a new job at Texas Christian University (TCU) in Fort Worth as an educator for the Monnig Meteorite Gallery. In that role, she developed a program that provided opportunities for grade school children to visit TCU and learn about geology.
"By the time I stopped working at TCU because of COVID in 2020, I was impacting 16,000 children a year," Batiste said.
While at TCU, Batiste was inspired to complete the last leg of her educational journey.
"I worked around all these professors, and I came home and told my daughter, 'I'm tired of being around all of these doctors when I don't have my doctorate," Batiste said. "My daughter replied, 'Well, Mama, you have been talking about this all our lives. Why not go ahead and do it?'"
When Batiste learned about the doctoral education program at A&M-Commerce, she immediately applied. The small class sizes and personalized education at A&M-Commerce were the ideal way to ease back into graduate school, and she thrived in her doctoral classes.
"A&M-Commerce was the perfect university for me," Batiste said. "It was so positive; it was beautiful. I have gained lifelong friends who are my doctoral buddies," she added.
A week before graduation, TCU called to offer Batiste an adjunct teaching position as an environmental science professor, and she enthusiastically accepted.
Batiste finally reached her lifelong goal on August 12, 2022. With her family cheering from the stands, she proudly became a Doctor of Education four weeks after her 75th birthday.
Looking back on her journey, Batiste hopes her life inspires others to pursue their goals, whether they're 25 or 75.
"As long as there's life, there's opportunity," Batiste said. "You're never too old to pursue your dream if it's something you really want. If it's important enough for you to dream about and hope for, do it now. What are you waiting for?"
Batiste emphasized that hard work is the key to success.
"Some people give a lot of lip service to what they want, but they're not willing to do the things that need to be done to achieve that goal. If you're not willing to do the work, you must not really want it," she said.
"And there will always be obstacles in the way," Batiste added. "I had no car; I had minor children; I went through a divorce. But I kept going because those 'life things' were going to happen whether or not I pursued my degree. So, I figured, 'Why not go ahead and do the things I want to do? If I don't, I'll just sit around and talk about how I wish I would've, should've, could've.'"
Sherri Colby, associate professor of curriculum and instruction at A&M-Commerce, served as Batiste's dissertation advisor. She said Batiste's lifelong pursuit of education encouraged her colleagues in the doctoral program.
"Dr. Batiste's enthusiasm, persistence, and passion for learning and growing throughout life was a great inspiration for her peers," Colby said. "She has shown all of us that it's never too late to pursue a worthy goal. Working with her has been one of the highlights of my professional career."
Although Batiste has accomplished her ultimate life goal—her doctoral diploma is proudly displayed in her office—she is not sitting idly by. On the contrary, her happiest moments are spent in the classroom at TCU, imparting knowledge and wisdom to a roomful of beloved pupils.
"I like knowing that at the end of the day, I can sit down and count the things that I've accomplished, not the things I wish I would've done," she said.
Learn more about the Doctor of Education in Supervision, Curriculum and Instruction program at A&M-Commerce.