A&M-Commerce Venture College Wins Collegiate Excellence Award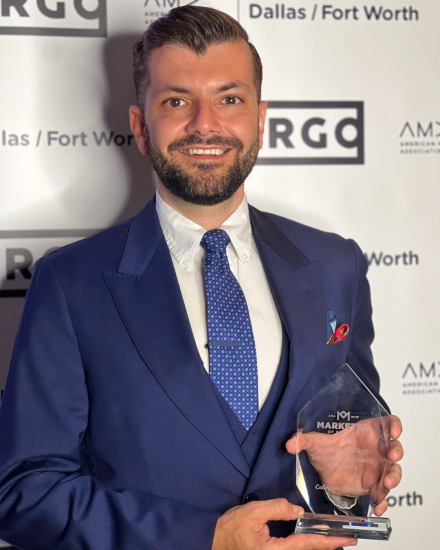 The Venture College at Texas A&M University-Commerce was recently awarded the esteemed Collegiate Excellence Award at the American Marketing Association's (AMA) Dallas-Fort Worth chapter Marketer of the Year Awards Gala held at Arlington Hall in Dallas.
The recognition highlighted the exceptional achievements of the entry, titled "Inside the Innovation at the Venture College Entrepreneurship and Economic Development Program." A panel of judges composed of marketing executives from across the United States reviewed, deliberated and chose to award the accolade to Venture College as it impressed the judges with its innovative approach to creating transformative impact across its communities.
"Winning the Collegiate Excellence Award is a remarkable testament to the mission and vision of the College of Business and Venture College at A&M-Commerce," Shernay Wormley, president-elect of the AMA-DFW chapter, said. "Our process of reviewing the submissions and selecting an award recipient is a complex and rigorous process, and the judges selected Venture College as the winning entry for its ability to foster innovation, entrepreneurship and economic development not just amongst its students but other universities and high school students across North Texas."
The Venture College's award follows another success that took place at the Texas Cup last month. After the success of the Lion's Innovation Showcase that took place in April, two Venture College fellows were invited to take part in the Texas Cup, which was held in conjunction with the Global Silicon Valley + SMU Mission Summit. The Venture College students took home third place in that competition.
As the hub for entrepreneurship, start-ups, and innovation, Venture College provides a platform for young minds that equips them with the skills and mindset needed to thrive in the ever-changing business landscape. Through its comprehensive programs and resources, it provides an immersive and transformative educational experience that empowers students to think creatively, embrace entrepreneurial thinking and cultivate their leadership abilities.
Housed in the College of Business and open to all majors, Venture College helps students get connected to a community of like-minded individuals eager to collaborate and with mentors ready to guide and provide game-changing capital needed to launch their idea and vision.
Yazan Kakish, director of marketing and communications for the College of Business, accepted the award on behalf of Venture College Coordinator Jacob Pouttu and Graduate Assistant Cristian Villegas, whose instrumental efforts contributed to creating the award-winning entry.
"Having our efforts recognized in a room filled with remarkable talent and having our work evaluated by esteemed marketing executives from all over the United States was a humbling experience," Kakish said. "I am honored and filled with gratitude to have the opportunity to represent Venture College at the College of Business at Texas A&M University-Commerce. This recognition holds deep significance as it aligns with our unwavering commitment to engage, impact and transform not only the lives of our students but also the broader stakeholders and communities we serve."