TAMUC Venture College Partners with Global Silicon Valley for Entrepreneurial Education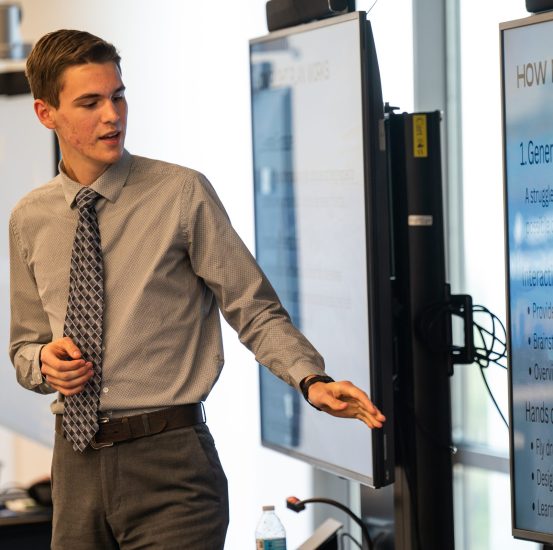 The Venture College, an entrepreneurship training and development program at Texas A&M University-Commerce, has recently partnered with Global Silicon Valley (GSV) to provide educational resources for aspiring student entrepreneurs.
Housed within the College of Business, Venture College is open to all A&M-Commerce students, helping them connect to a community of like-minded students, mentors and the capital needed to launch their idea or vision.
Global Silicon Valley, a venture capital firm, regularly sponsors events such as the Texas Cup, a competition where university students pitch their business ideas to a judging panel in four minutes or less.
This year, a pair of A&M-Commerce students and Venture College Fellows, Shivani and Sachi Dodamani, took home third place in the competition with their start-up "Racquet Armor," an innovative and inclusive prosthetic solution for athletes that lowers barriers and provides opportunities to enjoy playing racquetball, pickleball, tennis, ping pong and other sports.
Venture College Coordinator Jacob Pouttu says events like these and the yearly Lion's Innovation Showcase initiated the dialogue between A&M-Commerce and Global Silicon Valley.
"Global Silicon Valley got on our radar last spring after our showcase," Pouttu said. "Since then, I have kept in touch with their director, Catherine Merrick, and jumped at the opportunity to develop a partnership with GSV as they are expanding to include their own entrepreneurial education programming.
Pouttu adds that the firm offers "GSV Boot Camp," a seven-week program design to teach students how to generate start-up ideas, how to pitch those ideas, how to network and more. This aligns closely with the Venture College Fellowship program, which also educates students in these areas.
"Through this partnership, we will have access to GSV resources, and our students will have an opportunity to participate in the boot camp," Pouttu said. "They will be able to earn an official credential from Global Silicon Valley that they can apply to their resume, adding more impact to our fellowship program."
Another perk to this partnership is that the Venture College will now receive an annual invitation to the Texas Cup, allowing A&M-Commerce students more opportunities to see their ideas shine on a larger stage.
Pouttu said he is optimistic about the opportunities this partnership can provide.
"The partnership with GSV can give our students better access to mentoring, investors and many more networking opportunities that are extremely important to starting any business or nonprofit," Pouttu said. "Venture College strives to help students help themselves. Global Silicon Valley perfectly aligns with this mission."
Catherine Merrick, director of the GSV Bootcamp, expressed her hope that students can get a better chance to succeed in their business endeavors thanks to this partnership.
"We believe that talent is equally distributed, but opportunity is not, and the GSV bootcamp gives aspiring entrepreneurs free and open access to material that is crucial to understand while starting a business," Merrick said. "By providing content and connections through this program, we hope that we can equip the next generation of entrepreneurs with all the tools they need to succeed!"
Venture College is open to all current A&M-Commerce students of any major. Read more about Venture College and Global Silicon Valley.