A&M-Commerce Endowment Promises to "Lift a Lion" to Graduation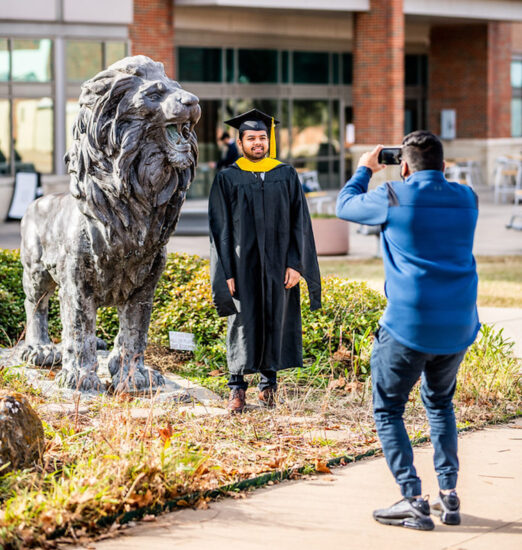 The Texas A&M University-Commerce Lift a Lion initiative received a significant boost in February from the new Janis and Ralph Stroope Lift a Lion Endowment.
Lift a Lion provides financial assistance to undergraduate students at A&M-Commerce who face financial hardships. Every semester, several undergraduate students experience the possibility of leaving college and going home if they can't pay tuition or past-due balances. The Lift a Lion program can give students the financial boost they need to continue pursuing their education.
Ted and Nancy Paup, philanthropists from Fort Worth, donated funds to begin the Lift a Lion initiative in 2018. The program was established under the direction of Wyman Williams, who was associate vice president of institutional advancement at A&M-Commerce at the time.
The new Janis and Ralph Stroope Lift a Lion Endowment will provide consistent annual funds to the Lift a Lion program. The couple established the endowment in the spirit of accessibility, desiring that no student would miss the opportunity to continue or complete their education due to financial constraints. They are passionate about providing opportunities and access to education for all individuals who aspire to better themselves through higher education.
Alumna Mary Spencer, a 1972 graduate of East Texas State University, also understands the significance of the Lift a Lion initiative and intends to support it in perpetuity. In a previous interview, Spencer said she hopes that her future estate gift will give students the extra financial help they need to graduate, pursue their dreams and make the world a better place.
"I love those students who have a passion for learning and leadership and who want to help make a difference in the world. So often, these are the students who haven't had the same opportunities that I did," Spencer said.
Judy Sackfield, vice president for student success and dean of students, said Lift a Lion significantly impacts students.
"I am thrilled to see the faces of our A&M-Commerce students when they find out we can help ease some of their financial worries through Lift a Lion," Sackfield said. "The Stroope's generosity has made that possible. I hope more donors will contribute to the fund."
According to Jesus, a senior-level interdisciplinary studies major at A&M-Commerce, "The financial assistance I received from Lift a Lion helped me when I was not sure I could remain in school. I know I have been blessed with the opportunity of continuing my studies when there are many uncertainties. It is my desire and objective to give back to my community as generously as it has given to me."
Jasmine, a senior-level social work major at A&M-Commerce, shared similar sentiments. "The money I received from the Lift a Lion Fund helped with some substantial financial needs when I was trying to figure out how to make ends meet," she said. "This fund helped take away that worry. I am forever grateful."
The Stroopes reside in Hunt County and operate Stroope Apiaries, a commercial beekeeping and honey production business. In addition to their apiary, Ralph served as an Arlington, Texas firefighter for 20 years. Janis was a K-12 teacher and administrator.
Janis holds two degrees from East Texas State University­–a Bachelor of Science in education and a Master of Education­–and currently serves on the university's foundation board. Ralph received a Bachelor of Science in finance from Texas A&M University.
If you would like to contribute to the Janis and Ralph Stroope Lift a Lion Fund or start an endowment of your own, visit tamuc.edu/giving or contact Taylor Phelps at 903.886.5554 or [email protected].