Oncor Power Lab for Electrical Engineering Opens at A&M-Commerce
The College of Science and Engineering Power Lab at Texas A&M University-Commerce received a brand-new name this month: the Oncor Power Lab. The designation honors a 70-year partnership between Oncor Electric—Texas's largest energy delivery company—and A&M-Commerce.
Building on the longstanding partnership, Oncor recently entered a new gift agreement with A&M-Commerce to support the university's electrical engineering program.
A portion of Oncor's $150,000 gift will fund operating costs and equipment needs of the Oncor Power Lab. The lab is a training system in the Department of Engineering and Technology at A&M-Commerce designed to teach students the basics of electricity, including direct current (DC), single- and three-phase alternating current (AC), transformers, generators and motors. The system operates at low voltage for student safety. Equipped with the essential equipment and software to conduct real-world experiments in electrical power systems, the lab provides students with comprehensive coverage of various topics related to electrical power systems.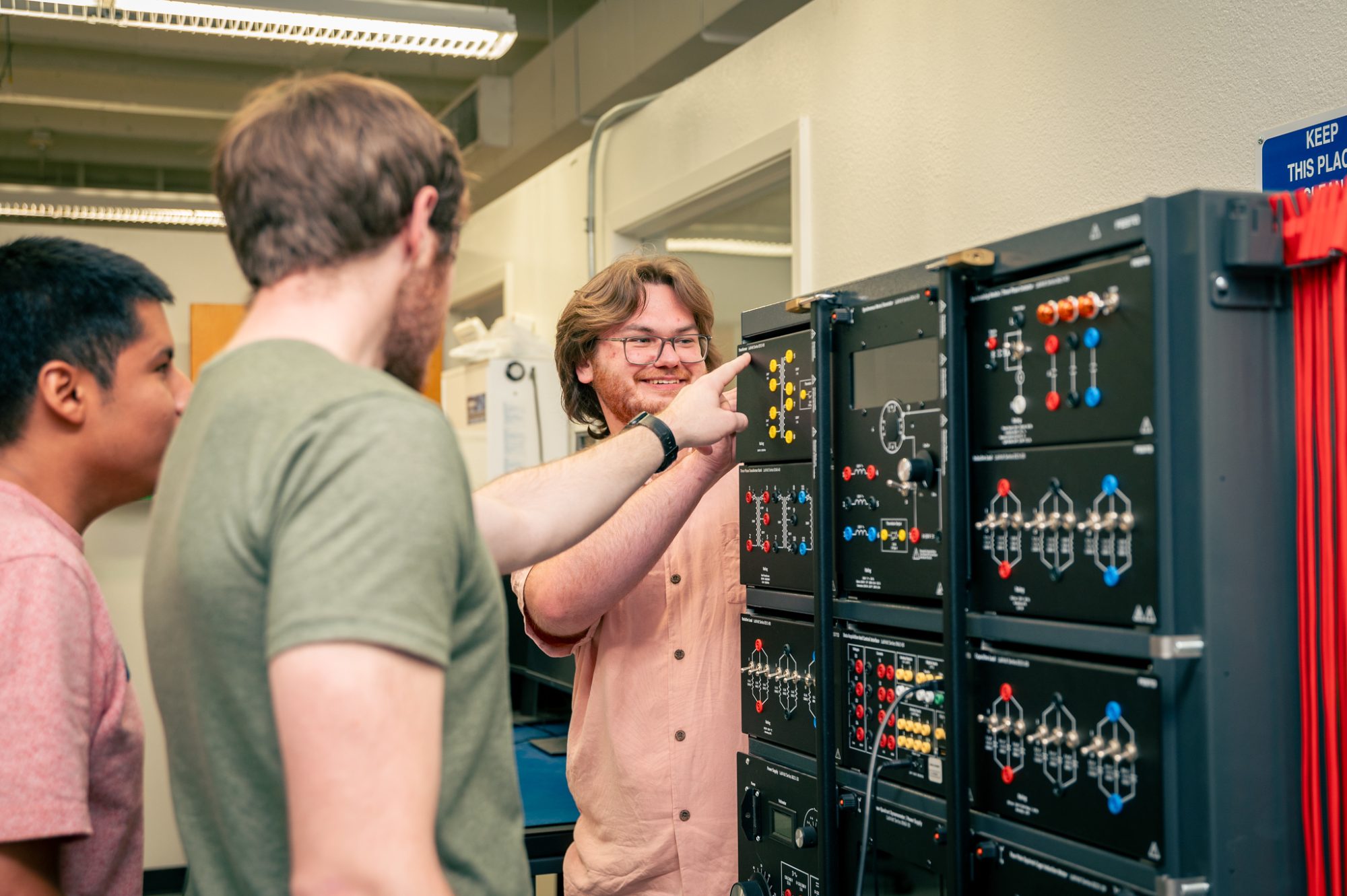 The College of Science and Engineering hosted an unveiling ceremony at the Power Lab on September 21. Representatives from Oncor, A&M-Commerce and the community were on hand to dedicate the facility.
At the event, A&M-Commerce President Mark Rudin emphasized the benefits of Oncor's partnership for engineering students.
"It's a great day to be a Lion and it's a great day to be affiliated with Oncor," Rudin said. "I can't think of too many things that are more impactful than, not only the valuable resources you all have gathered to help us build out this Power Lab, but your willingness to reach out to our students, embrace them, and create internship opportunities for them."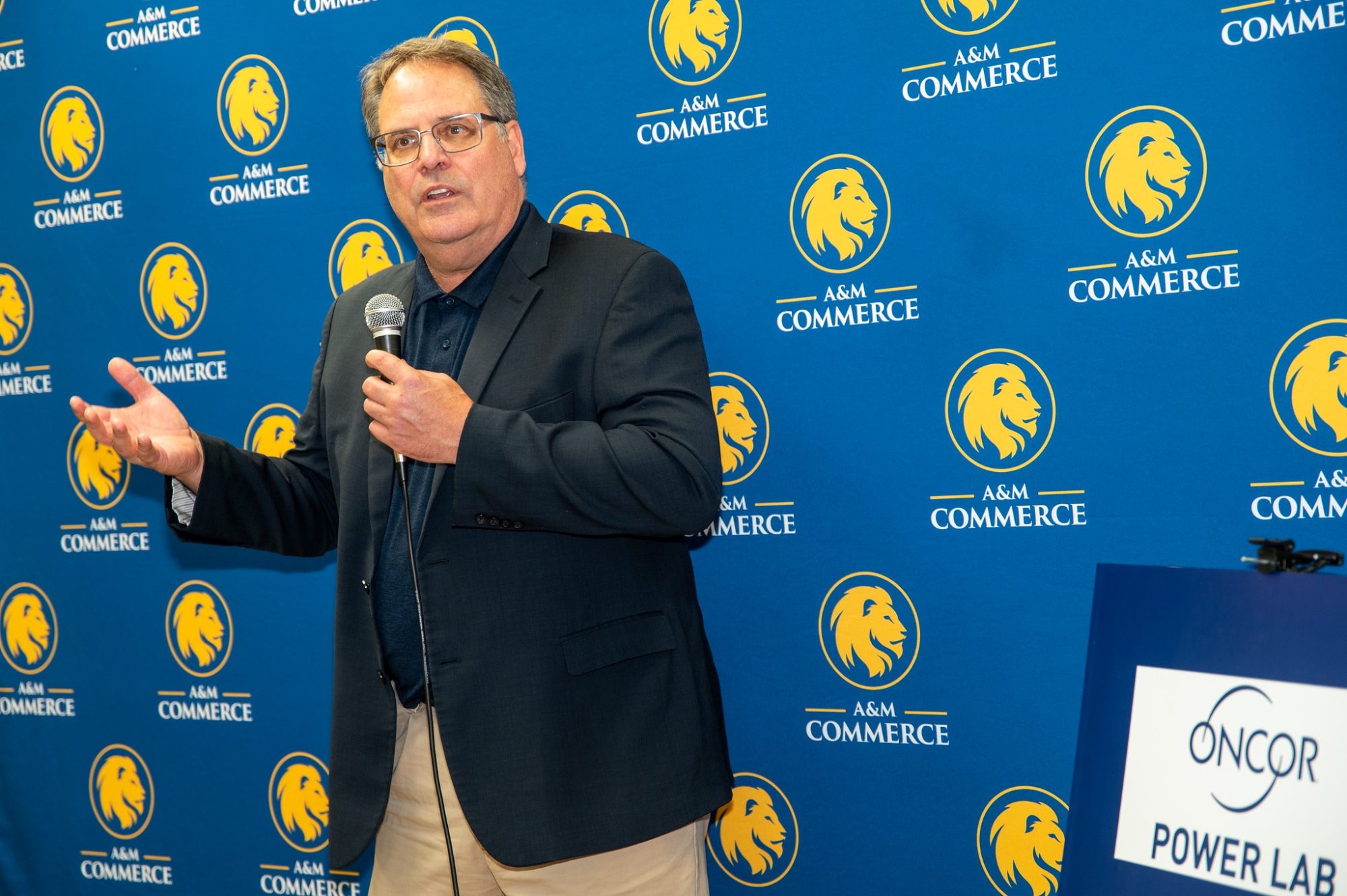 In addition to the Power Lab, Oncor's gift will fund the university's first endowed student research fellowship for electrical engineering. The Oncor Student Engineering Fellowship will support students and faculty as they contribute to research initiatives in the Oncor Power Lab and beyond.
Dr. Andrea Graham, dean of the College of Science and Engineering, expressed appreciation for Oncor's support.
"The College of Science and Engineering is immensely grateful for this generous gift honoring our longstanding partnership with Oncor," Graham said. "This transformative gift will help empower our students with an exceptional educational experience enriched by an innovative and experiential STEM-forward curriculum."
Oncor Area Manager Larry Willis said his company hires many A&M-Commerce graduates, and Oncor is dedicated to supporting the next generation of electrical engineers.
"Our team is not only dedicated to helping meet the power needs of Texas communities but also to encouraging the engineering students who may someday work alongside us," Willis said. "It's an honor to join A&M-Commerce in announcing this next level of our decades-long partnership. It's our shared hope that the Oncor Power Lab and Student Engineering Fellowship will provide today's students with the opportunities and preparations they need to succeed within the electric industry of the future."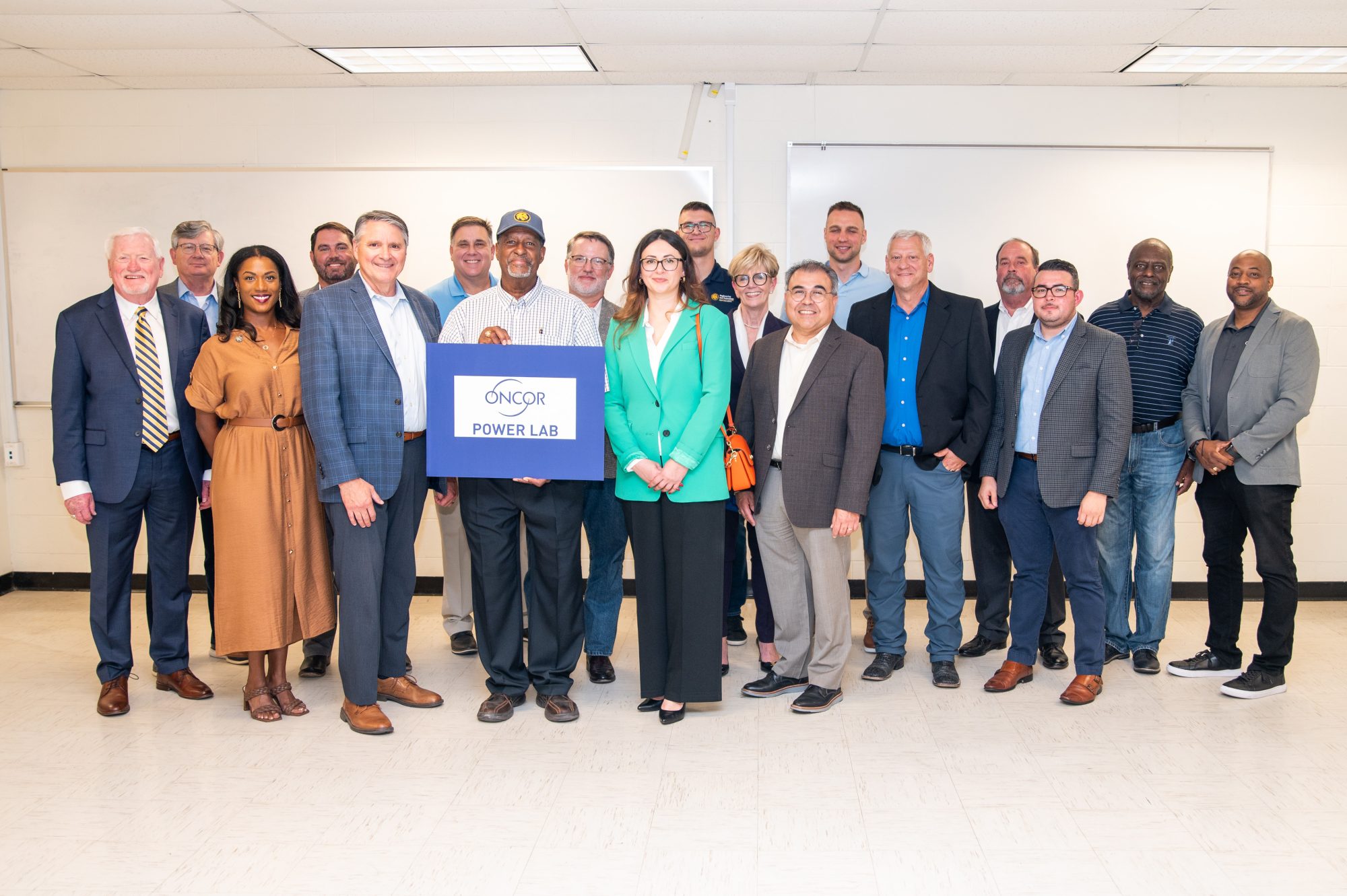 The partnership between A&M-Commerce and Oncor was born in the mid-20th century with its predecessor company, Texas Power and Light. Since then, several university alums at Oncor have held leadership roles on A&M-Commerce's Foundation Board and Alumni Association Board. Oncor has also generously supported annual events and contributed to scholarship funds for students and faculty at A&M-Commerce. In addition, the company advocated for and enabled A&M-Commerce to launch a Bachelor of Science in Electrical Engineering degree and has subsequently hired several new graduates from the program.
Oncor's gift will also support the Alumni Association's annual Sam McCord Alumni Golf Tournament, which raises funds for student scholarships.
View the event photo gallery.
______________________________
Top photo: Oncor representatives unveil the new sign over the entrance to the Oncor Power Lab. Photo by Matt Strasen | Texas A&M University-Commerce Office of Marketing and Communications
______________________________
About Oncor
Headquartered in Dallas, Oncor Electric Delivery Company LLC is a regulated electricity transmission and distribution business that uses superior asset management skills to provide reliable electricity delivery to consumers. Oncor (together with its subsidiaries) operates the largest transmission and distribution system in Texas, delivering power to more than 3.9 million homes and businesses and operating more than 141,000 miles of transmission and distribution lines in Texas. While Oncor is owned by two investors (indirect majority owner, Sempra, and minority owner, Texas Transmission Investment LLC), Oncor is managed by its Board of Directors, which is comprised of a majority of disinterested directors.
Oncor Contact: Oncor Communications
24/7 Media Line: 877.426.1616