Honors College Student Finds Ingredients for Success at A&M-Commerce
Noah Garcia, an Honors College student at Texas A&M University-Commerce, is cooking up a recipe for success by exploring the history of food with his podcast series, "A Bit About Bites."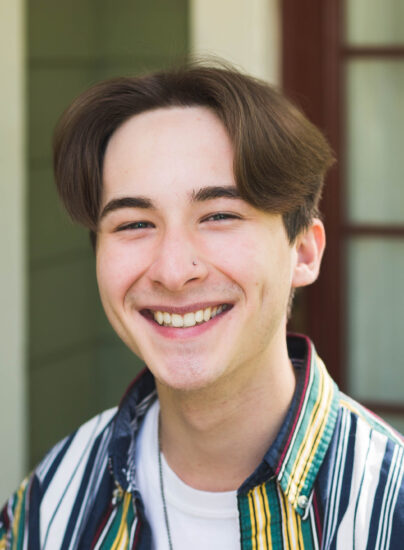 Noah's passion for culinary arts began at an early age. He originally aspired to be a professional chef, earning a certificate in culinary foundations from Dallas College El Centro Campus during high school.
After graduating from high school, he knew enough about the industry to realize that working in the kitchen wasn't quite his cup of tea.
"I wanted to stay within the culinary world, but something more writing-based, so I decided to go into culinary journalism," he said. "If I could work for a big company like Food Network, that'd be great. But I also wouldn't mind doing freelance writing and content creation on the side."
When the time came to choose a college, he selected A&M-Commerce. Just an hour from his hometown of Terrell, Texas, the university was a natural fit. He was already familiar with the campus after participating in several 4-H speech competitions hosted at the university.
He also joined the Honors College, which he described as another perfect fit.
"I applied for the Honors College because I've always wanted to go above and beyond in everything I do," Noah said. "It seemed like a place where I could challenge myself and learn on an advanced level."
It was an honors course that allowed Noah to expand the podcast after initiating the project as part of a previous class. "Dr. Dempsey wanted us to create a podcast, so I decided to create one on the history of food and snacks," he explained.
Since then, Noah has recorded and produced episodes covering culinary favorites such as pizza, tacos, donuts and burgers. He also produced a special feature about comfort food, including interviews with two people who greatly influenced his love of culinary arts: his father and grandmother.
According to Noah, each episode takes roughly four hours to produce, including research, writing, recording and editing.
"I do it all from my phone," he said. "I've had the opportunity to use the recording lab in the journalism building, but it's easier for me to just record on my phone and edit in Adobe Audition."
In the podcast's latest episode, "Preserving History," Noah explores the history of food preservation techniques such as pickling, jarring and curing.
While he plans to produce a few more episodes over the summer, he already has an eye toward future productions.
"This podcast is giving me a greater appreciation for developing new recipes and techniques, whether from necessity or pure hunger," he said. "I want to help people enjoy cooking and creating new dishes themselves!"
He continued: "I'd like to begin doing cooking videos, possibly around similar topics. At that point I may continue producing new episodes or shift completely to a new format."
Considering his successful experiences so far, Noah encourages current and future Lions to take full advantage of their time in Commerce.
"A&M-Commerce is a really great community with the opportunity to really know everyone," he said. "The connections are everywhere. You just have to put your best foot forward and dive in headfirst."
Follow @ABitAboutBites on Instagram and SoundCloud to listen to previous and future episodes.