A&M-Commerce Graduate Ahmad Honored with Boe Award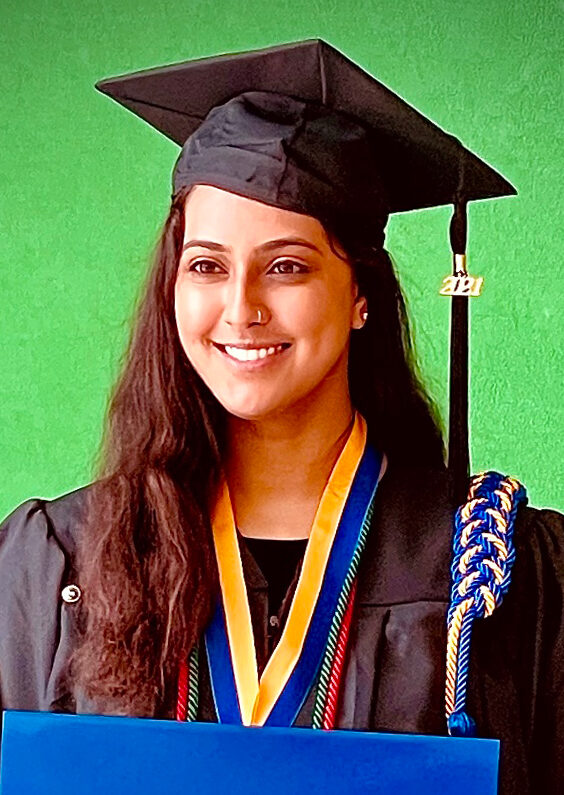 The Great Plains Honors Council has recognized Maleeha Ahmad, a recent graduate of the Honors College at Texas A&M University-Commerce, with the Boe Award. The award showcases honors program students who display outstanding scholarly work. She was nominated by the Honors College for her honors thesis.
Ahmad graduated in three years with a bachelor's degree in biological science and a minor in chemistry, taking advantage of a full Honors College scholarship. She received multiple distinctions, including Summa Cum Laude, the President's List and the Dean's Honor Roll.
Ahmad said her experience in the Honors College has been invaluable.
"My success is attributed to the wonderful people around me and the supportive programs I've been privileged to be part of," Ahmad said. "I worked with Dr. Starnes to complete my thesis requirement, and I learned so much about academia, bench research and the scientific method!"
Ahmad plans to pursue a master's degree at the University of North Texas Health Science Center in Fort Worth, Texas, before matriculating into the Texas A&M University College of Medicine as part of the Partnership for Primary Care (PPC) program.
As a former judge for the award, Honors College Dean Raymond Green, Ph.D., said he knows firsthand how competitive the process is. He's happy to see that others recognize the value of Ahmad's work.
"Maleeha has been an excellent student during her time in Commerce, demonstrating a keen desire to learn all she could in the laboratory," Green said. "To see her curiosity and drive rewarded is truly thrilling. I am certain this is just the first of many accolades Maleeha will receive!"