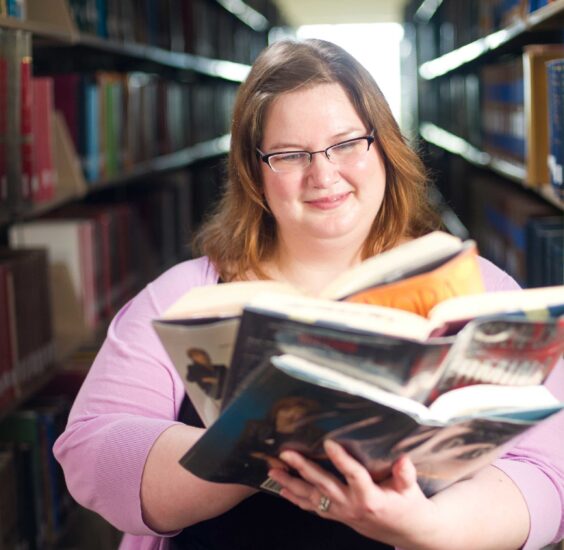 I am a professional nerd. Tell me the information you seek and I will find it.
Sarah Northam
Scholarly Communications Librarian
Library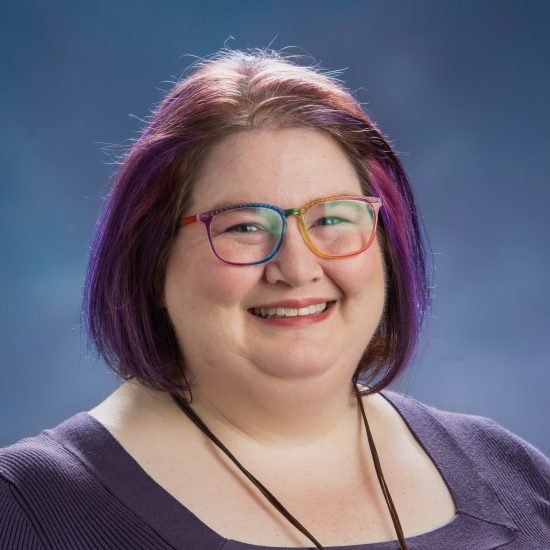 Office
Velma K. Waters Library 147F
College Major
Library Science
Sarah Northam is a professional nerd. She completed her master's degree in library science while working in the Admissions office at A&M-Commerce. After that, Sarah was hired as a reference librarian at Velma K. Waters Library. She was excited for the opportunity to continue serving the A&M-Commerce community in a new capacity. Sarah is actively involved in the university community and strives to make a positive impact on the lives of students, faculty and staff.
In the years since she became a librarian, Sarah has embraced multiple professional opportunities and continues her adventure of lifelong learning. In her free time, she can frequently be found with her head buried in a book or listening to any kind of music, probably singing along. Sarah and her husband Adam are both A&M-Commerce alums, and they spoil Nola, their doggy child, rotten.
How do you help students at A&M-Commerce?
I can help you sort sources for whatever you are researching. As much as I don't teach a course, I do teach students and faculty how to use library resources and evaluate information, which is very important to me. I enjoy guiding people through various databases and help them to evaluate sources they find on Google.
A Conversation with Ms. Northam
What would you tell a student who is thinking about attending A&M-Commerce?
A&M-Commerce opens opportunities for students. I initially came to A&M-Commerce as an undergraduate student. I thought it was going to be a stopping point for me, but during my undergraduate studies, I got a job at the university police department which dialed me into the campus, and I went on to get not one but two master's degrees here. Working with the faculty and staff is a great experience. At A&M-Commerce, you get the chance to know your professors. The same can be said about our library staff. We want to make sure the students, faculty and staff are taken care of. If you need our help, we are here. A student who attends A&M-Commerce receives an education that prepares them to succeed in all aspects of their life.
What do you like most about your career?
I knew I wanted to be a librarian in second grade. I remember when Mrs. Smith gave me a book from her collection to take home. That was a pivotal moment because I realized that helping people pick a book to read was a real job. In high school, I realized that librarians do more than manage books. I was a library aid, and I was able to assist others with their research. There is a big misconception that librarians read and sort books all day, but that is not true. In my academic position, I am an information facilitator. The A&M-Commerce librarians are here to help you find and use information.
Educational Background
M.S., History, Texas A&M University-Commerce, 2019
M.S., Library Science, University of North Texas, 2007
M.Ed., Educational Technology, Texas A&M University-Commerce, 2007
B.S., History, Texas A&M University-Commerce, 2001
Awards and Honors
Facilitator, Texas Library Association, Leadership Launchpad, 2017
Grant, Project Director and Author, Latino American: 500 Years of History, American Library Association/National Endowment for the Humanities, $10,000.00, 2015-2016
Grant, Project Team and Co-Author, LeoTrain: Librarians Educating Others. LSTA Cooperation Grant, $74,998, 2013-2014
Grant, Project Team and Co-Author, LeoTrain: Librarians Educating Others. LSTA Cooperation Grant, $57,724, 2012-2013
Research Interests
Library Assessment
Open Education Resources and Affordability
Library Mentorship
Professional Organizations
Texas Library Association
American Library Association
Association of College and Research Libraries (ACRL)
Selected Publications
Northam, S.H. (2015) "Braving 21st-Century Challenges: ACRL, 2000-09." College & Research Libraries News 76(8).
Northam, S.H. (2014). "Cruising through the '50s. A decade in ACRL history." College & Research Libraries News, 75(10).
Northam, S.H. (2012). "The Reference Statistic Shuffle: Finding the Perfect Statistic Tool." Computers in Libraries, 32(6).