Become a Health Science Instructor
Your work experience in the health sciences field gives you the unique ability to apply your knowledge to teaching middle and high school students. Through our program you can become a health science educator in less than two years by building on your experience and specialized qualifications. Use your real-world interpersonal skills and know-how to educate students in grades 6 through 12 sharing your own experience with medical terminology, human anatomy and professional development. Begin your career in teaching today!
Where It Is Offered
Commerce
Foreign Language
No foreign language credits required
Delivery
Blended (50-85% Online), Face-To-Face
Total Credit Hours
18 Hours
Thesis Requirements
No thesis required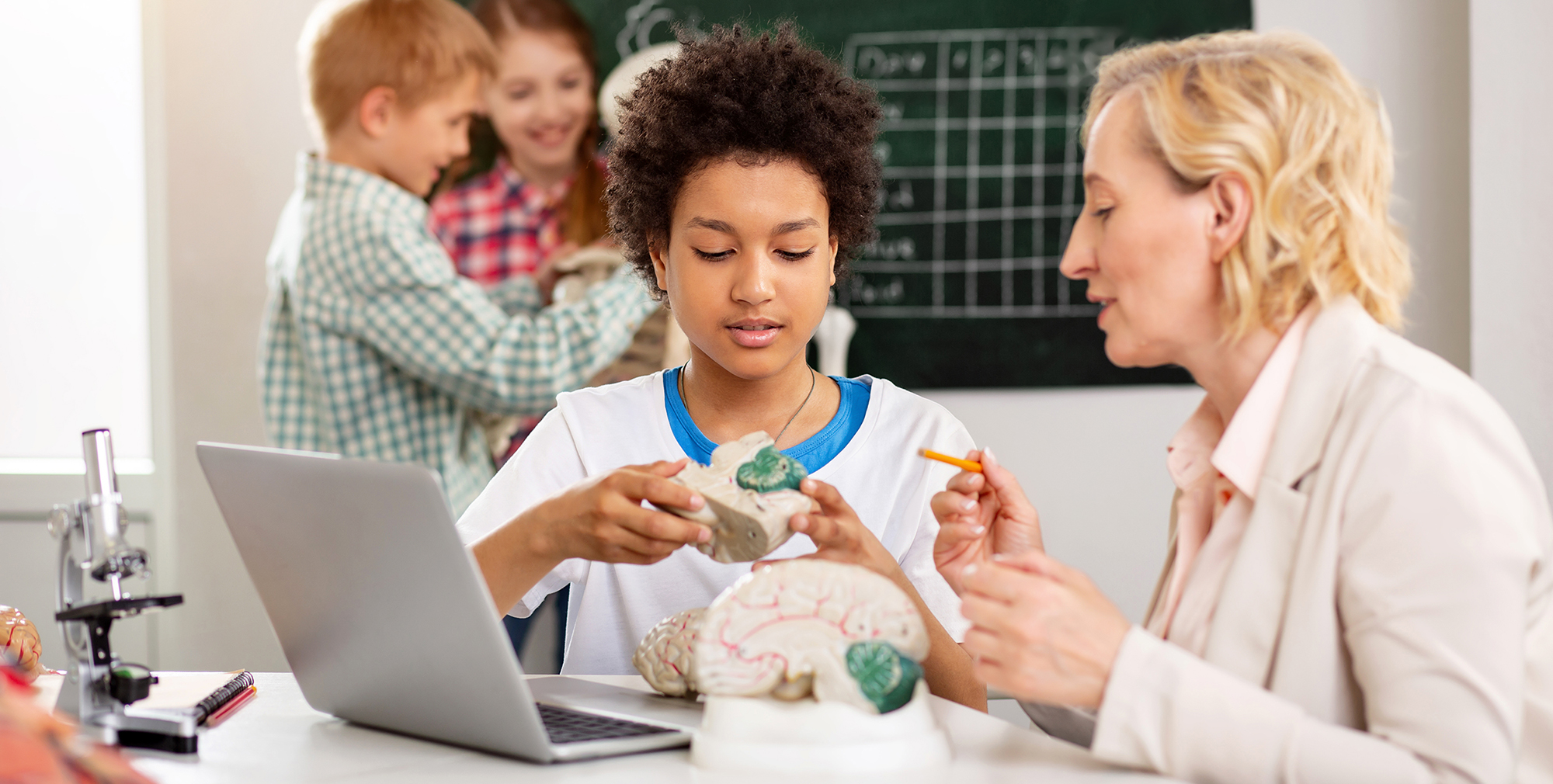 Master Program:: New Design Certificate Requirements
Your Path to Complete the Certification
Step 1. Complete Observation Hours and Coursework
Observation Hours
Complete 30-hours of required field experience in the content area or grade level you are pursuing.

Submit the completed log sheet and reflection questions to the Teacher Certification Office.
You cannot begin your teaching assignment until this is complete.
Pre-Internship Training Requirement Courses
Complete 4 of the 6 graduate alternative certification courses prior to a paid internship or clinical teaching.

You must have a minimum of 3.0 on all coursework.
Pedagogy and Professional Responsibilities (PPR)
Receive approval from the alternative certificate program staff after successfully completing EDCI 514 and three other certification courses.

If you are planning on taking a paid internship position, you must be registered to take the PPR exam before a probationary certificate can be granted.
Step 2. Complete Teaching Assignment Requirement
Choose one of the following two options:
Complete two-semester paid internship as a teacher of record.

Candidates will apply for positions through the district or region service center.

Complete a one-semester unpaid clinical student teaching assignment.

The alternative certificate program representative will assist with your application and placement.
During the first semester of your teaching assignment, you must enroll in EDCI 515.
Supervision and Fees
All paid interns/clinical student teachers will be supervised by a University Supervisor and Campus Mentor.
An internship fee of $1000 per semester is assessed during paid internship/clinical student teaching.
Step 3. Completion Checklist
Complete any remaining courses.
All tuition and fees for the university, certification agency and program must be paid prior to obtaining certification.
Contact the Educator Certification Office during your final semester.

They will verify that all requirements are completed.
After the verification, you will receive information about how to apply for certification via the Texas Education Agency.
Back to menu
Educator Certification:: Featured Courses
Featured Courses
Evidence-Based Learning
EDCI 515
This capstone course requires students to apply and expand their knowledge through a number of project-based and research initiatives. Students will synthesize or integrate the knowledge they have developed throughout the prerequisite courses in a clinical/internship experience. The course focuses on understanding diagnostic teaching practices and aligning the needs of a diverse population of students.
Foundations of Reading
RDG 516
This course is designed for graduate students in the emergency permit or alternative certification program seeking initial teacher certification. The focus is on the reading process and the factors that condition its development. The importance of reading in school and in life serves as a background for critical evaluation of the methods and materials of reading instruction. Special consideration is given to the essential components of research-based programs and the features of classrooms that support effective beginning reading instruction.
Intro to Educational Computing
ETEC 524
This course will introduce the student to educational technology and current research on critical issues, trends, diffusion and adoption of technology and history and theoretical foundations of the field. Students will identify, develop and apply a variety of technological skills congruent to their educational technology philosophy.
Back to menu
Health Science Grades 6-12 Educator Certification :: Admissions
Admissions Requirements
To qualify, you need an Associate or more advanced degree from an accredited institution. Two years of wage-earning experience in your occupational field and licensure by a health professional practitioner are required. Current licensure, certification, or registration by a nationally recognized accrediting agency must be submitted as a health professions practitioner. Eligible military experience may be used in place of civilian licensure and wage-earning experience.
Deadlines
Applications are accepted throughout the year.
Your Path to Becoming a Lion
Back to menu
ACP Programs:: Curriculum
Curriculum
Required courses (15 hours)
EDCI 514 Management & Curriculum Development for Diverse Learners (to be taken first)
EDCI 517 Reading & Learning K-12
EDCI 519 Response to Intervention Applied to Exceptional Learners
RDG 516 Foundations of Reading
EDCI 515 Evidence-Based Learning (to be taken during internship)
ETEC 524 Introduction to Educational Computing
Back to menu
Hospitality, Nutrition & Food Sciences Grades 8-12 Educator Certification :: Public History WE ARE HERE TO HELP copied not edited copied not edited copied not edited copied not edited copied not edited copied not edited copied not edited
We Are Here to Help!
Back to menu
Contact Us
College of Education and Human Services
Health Science Educator Certification:: Request More Information
Back to menu
Hospitality, Nutrition & Food Sciences Grades 8-12 Educator Certification :: Related Degree copied not edited
Related Degree Programs
Back to menu