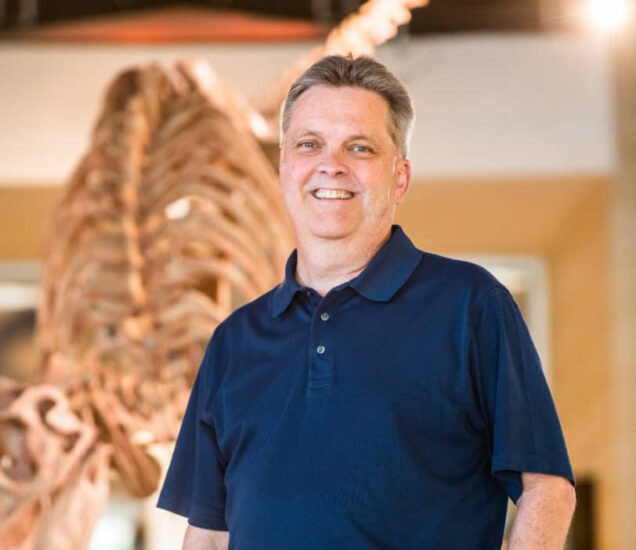 What brings me the most joy and pride is seeing and hearing about the successes of our students. Whether it is starting their own businesses, being successful in graduate school, or receiving an industry award, their success always reminds me of the reason I was called to this profession.
Brent Donham, Ed.D.
Vice President for Research and Economic Development (VPRED)
Sponsored Programs
Brent Donham's career at A&M-Commerce started in 2009 as the Department Head of Engineering and Technology and then in 2014 he became the Dean for the College of Science & Engineering. Over a decade later, he's now our Vice President for Research & Economic Development. He has led the development and implementation of the Construction Engineering, Electrical Engineering, Cybersecurity, and BAAS Technology Management programs. Donham enjoys interacting with alumni and hearing how A&M-Commerce impacted their lives and the community.
A Conversation With Dr. Donham
What would you tell a student who is thinking about attending A&M-Commerce?
Every university will provide you with the opportunity to develop friendships and shared experiences, both inside and outside of the classroom. I look back on my time in college with fond memories. However, my most memorable experiences were centered around relationships with faculty who cared for and invested in me. You will find that at A&M-Commerce. We recognize students as individuals and assist them in achieving their full potential.
What do you like most about your career?
I have the privilege of working with and supporting a talented group of faculty who are engaged in cutting-edge research and enabling students to reach their academic and career goals. My position affords me the opportunity to engage and partner with the local industries, which are critical to the regional economy, as well as interacting with alumni from this great university.
Tell us a little about yourself?
I was born and raised in Albuquerque, New Mexico. Selecting a college was relatively easy, as there were only two institutions that offered an engineering degree in New Mexico. Upon graduating from New Mexico State University, I attended Stanford University where I earned my Master's in Electrical Engineering. I worked in the industry for 14 years before moving into higher education. This experience has been important in my career as it allowed me to take applied experience into the classroom and develop industry partners. I have worked in higher education for the past 27 years.
Educational Background
Ed.D., Educational Administration, Texas A&M University-Commerce
MS, Electrical Engineering, Stanford University
BS, Electrical Engineering, New Mexico State University
Academic Positions
Vice President for Research and Economic Development, Texas A&M University-Commerce, 2022-Present
Dean, College of Science and Engineering, Texas A&M University-Commerce, 2014-2022
Department Head and Associate Professor, Texas A&M University-Commerce, 2009-2014
Associate Vice President, Engineering & Technology/Educational Transitions Richland College, 2008-2009
Executive Dean, School of Engineering and Technology, Richland College, 2005-2008
Dean of Instruction, Engineering Technology & Emerging Programs, Richland College, 2000-2005
Associate Dean, Technology Programs, Richland College, 1998-2000
Teaching Administrator, Richland College, 1996-1998
Awards and Honors
Service Award, Texas Association of Black Personnel in Higher Education, 2019
Administrator of the Year, Hunt/Hopkins County African American Leadership Conference Award, 2013
Tech Titan of the Future University Award Finalist, Metroplex Technology Business Council, 2013
Outstanding Department Head, Faculty Senate Recognition Award, 2013
Selected Publications
Nelson, J. K., & Donham, B. L. (2022). Institutional review panel for cybersecurity research and education. Proceedings of the 2022 American Society for Engineering Education Conference. Paper ID #36494.
Nelson, J. K., & Donham, B. L. (2020). Partnership to prepare students for careers in the emerging field of cybersecurity. Proceedings of the 2020 American Society for Engineering Education Conference. Paper ID #29122.
Elam, M. E., Donham, B. L., & Solomon, S. R. (2012). An engineering summer program for underrepresented students from rural school districts. Journal of STEM Education: Innovations and Research, 13(2), 35-44.