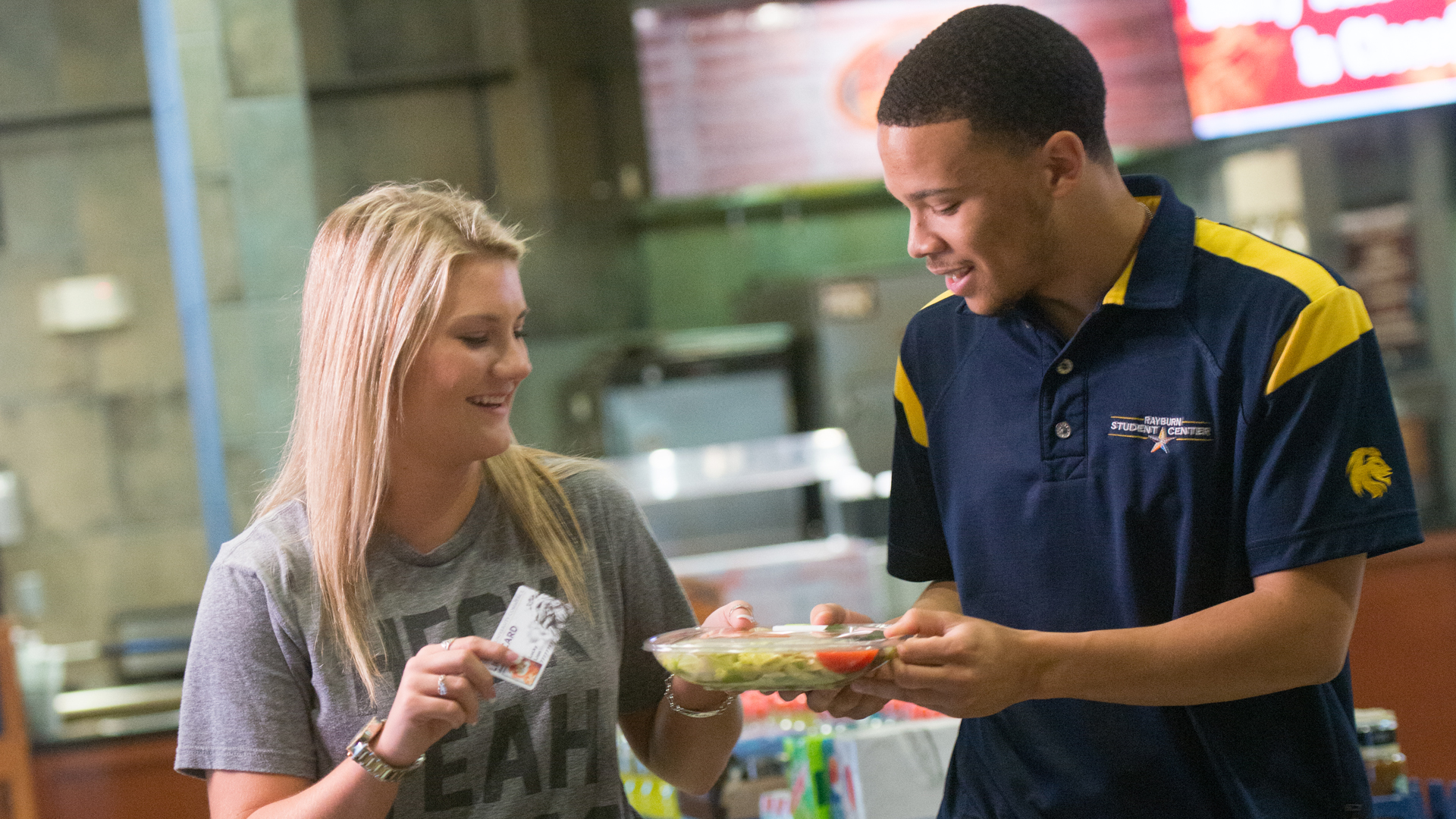 Lion Card Office :: Student Life with Lion Card
Student Life is Easier with a Lion Card
Get It
The Lion Card Office will be contacting you by email regarding your Lion Card. Any incoming freshman and transfer students are required to obtain their Lion Card. Visit the Lion Card Office on campus M-F, 8 a.m.-5 p.m. Your Lion Card is something you'll want to have in your wallet at all times!
Load It
There are three easy ways to keep a Lion Card loaded with Lion Cash— whether you're a student putting funds on your card or you're a parent, friend or relative who wants to put Lion Cash on a student's Lion Card.
In Person
Visit the Lion Card Office in Halladay Student Services, Suite 104 to load your card with funds using cash, check or credit card.
Self-Serve Kiosks
Visit a campus kiosk, also known as Account Management Centers, to load your card with funds using cash or credit card. Kiosks are located at the James Gee Library and the Rayburn Student Center.
Online
Anyone with your student ID number can load your Lion Card with funds. Simply go to LionCard and use a major credit card.
Use It
Whether or not you load your card with Lion Cash, there are still a lot of things you'll need it for on campus. Below you will see a list of uses as well as a link to a list of merchants that accept Lion Cash. (participating merchants display a Lion Cash decal)
Access
University Identification
Building Access
Access to Athletic and Student Events
Resource
Library Resources
Print and Copy Services
Student Health Services
Student Center Activities
Recreation Center Access
Rentals
Food and Supplies
Campus Dining
Athletic Concessions
Campus Bookstores
Off-Campus Merchants
Manage It
To check your balance and access Lion Card News, you may use the kiosks. For those same services plus lost/damaged card replacement and Lion Card statements, please visit us in person at the Lion Card Office.
Lion Cash Notice: When an off-campus partner accepts Lion Cash, they agree to uphold the Lion Card program which prohibits the sale of alcohol and tobacco. Lion Cards are not associated with university accounts or the Pride Choice card. A Pride Choice card may be used to fund a Lion Cash account.
Frequently Asked Questions
Where can I use my Lion Card?
CAMPUS DINING SERVICES can accept FLEX and LION CASH as well as all major credit cards.
Lion's Mane Cafe
Chameleon
Sandellas
Wingin' It
Ochorito
Sushi Mama
Chick-fil-A
Starbucks
OTHER LOCATIONS ON CAMPUS accept LION CASH and major credit cards.
Texas Book Company – Rayburn Student Center, 1st Floor
Student Health Services
Waters Library – Print / Copy Machines
Campus Print Labs
Metroplex Library – Print / Copy Machine
Beverage and Snack vending
SUPPORT OUR COMMUNITY MERCHANTS
The following are places you can use your Lion Card off-campus:
Dominos Pizza
Flying L Fast Mart
CVS
Slice of Pie
How do I replace a damaged card?
Over time, the cards can become worn, damaged or unreadable. Cards damaged due to normal or reasonable wear and tear will be replaced at no cost to the cardholder. Lion Card Office reserves the right to assess the $10 fee for the replacement of a card damaged due to neglect, misuse or improper care at the office's determination and discretion.
How do I close my account?
The university will close the account and refund the cardholder's remaining Lion Cash balance upon graduation or withdrawal/resignation from A&M-Commerce. Refunds will be generated upon request to close the account. Refunds will first be applied to any outstanding balance owed to the university, second a direct deposit will be processed or a check will be mailed depending on the manner in which your myLeo refund process is directed.
How do I report a missing or stolen Lion Card?
Should you determine your Lion Card is missing or stolen during normal business hours immediately call the Lion Card Office at 903.468.6022. This action will immediately freeze your account until you can visit the Lion Card Office in person.
After Hours
You should call:
University Police
903.886.5868
File a report and visit the Lion Card Office the next business day to get a new card.
How do I deposit Lion Cash?
There are four options for depositing Lion Cash:
2. Account Management Center (2 Locations) self serve kiosk
Velma K. Waters Library, 1st Floor near copy machines
Rayburn Student Center, 1st Floor main corridor near ATM
3. Lion Card Office
Texas A&M University-Commerce
Dept of Auxiliary Services
P.O. Box 3011
Commerce, Texas 75429
4. Phone 903.468.6022
How much does a Lion Card cost?
The initial cost of the Lion Card is included with tuition and fee assessment each semester. Lion Cards do not expire and replacement cards are available for an additional fee if a card is lost, stolen or deemed unusable. Card replacement fee is $10.
How do I correct an error on my account?
Cardholders should contact the Lion Card Office immediately upon discovering any discrepancy related to their Lion Card account. When you call or email our office, please be sure to convey the following information to us:
cardholder's name and campus wide identification number
a description or the nature of the discrepancy
the dollar amount of the discrepancy
Our office will respond to your communications within 10 business days as to the result and a suggested resolution.
Back to menu
Lion Card Office :: Office Hours
FLEX Spending
What is FLEX?
FLEX is a credit associated with all meal plans and can be used at all dining locations.
MEAL EXCHANGE means you may use the exchange swipe for $7 credit to be used at any dining location, excluding Chick-fil-A and Starbucks.
Frequently Asked Questions
How do campus dining accommodate food allergies and/or plant-based diets?
The Lion's Mane Cafe offers Simple Servings; a station that avoids the top 8 most common allergens. It also offers the Vegetarian Station, which offers well-rounded vegan and vegetarian meals.
Am I required to have a meal plan?
Only 1st year and 2nd year post-high school resident students are required to participate in a meal plan. 1st year post-high school resident students must participate in the 19 Exchange Plan. 2nd year post-high school resident students are placed on the 14 Exchange Meal Plan by default, but may choose to upgrade to the 19 Exchange Meal Plan. 3rd year post-high school resident students and above, as well as non-resident students may choose to participate in any meal plan.
What does the number in my meal plan mean (5, 7, 14, 19)?
Each meal plan, except the 400 Flex Plan, allows for a weekly number of meals in the Lion's Mane Cafe. For example, if you purchase the 19 Exchange Plan, then you have the opportunity to dine 19 times in the Lion's Mane Cafe each week. Only 1 meal swipe is allowed per meal period.
What is the difference between Lion Cash and FLEX?
FLEX is a credit automatically associated with your meal plan, while Lion Cash is a voluntary deposit made to your Lion Cash account. For more information about Lion Cash, visit the Lion Card Office or online at LionCard.
Where can I use my FLEX?
FLEX can only be used in campus dining areas such as the Lion's Mane Cafe, Lion's Lair Food Court, Chick- fil-A, Coffee Shops, Sandella's and concessions at select sporting events as well as The Roaming Lion food trailer.
If I don't use all of my FLEX for the semester, will my balance transfer to the next semester?
Can I use my meal plan without using my Lion Card?
No, you must present your Lion Card to access your meal plan and/or FLEX. If at any time you do lose your card, you can come into the Lion Card Office and purchase a replacement for a fee.
When will my FLEX be available on my Lion Card?
An initial deposit of $150 FLEX will be added to your card on the first class day. The remainder will be deposited on approximately the 12th class day.
Back to menu
Lion Card Office :: Meet our Faculty and Staff
Meet our Staff
Back to menu
Lion Card Office :: Contact
Contact Us
Halladay Student Services Building Suite 104
P.O. Box 3011, Commerce, TX 75429-3011
Hours of Operation
Monday – Friday, 8 a.m. – 5 p.m.
Extended Hours
Sunday, August 15
10 a.m – 1:30 p.m.
Sunday, August 22
10 a.m. – 1:30 p.m.
Monday, August 30 to Thursday, September 2
7:30 a.m. – 5:30 p.m.
Friday, September 3
8 a.m. – 5 p.m.
Back to menu