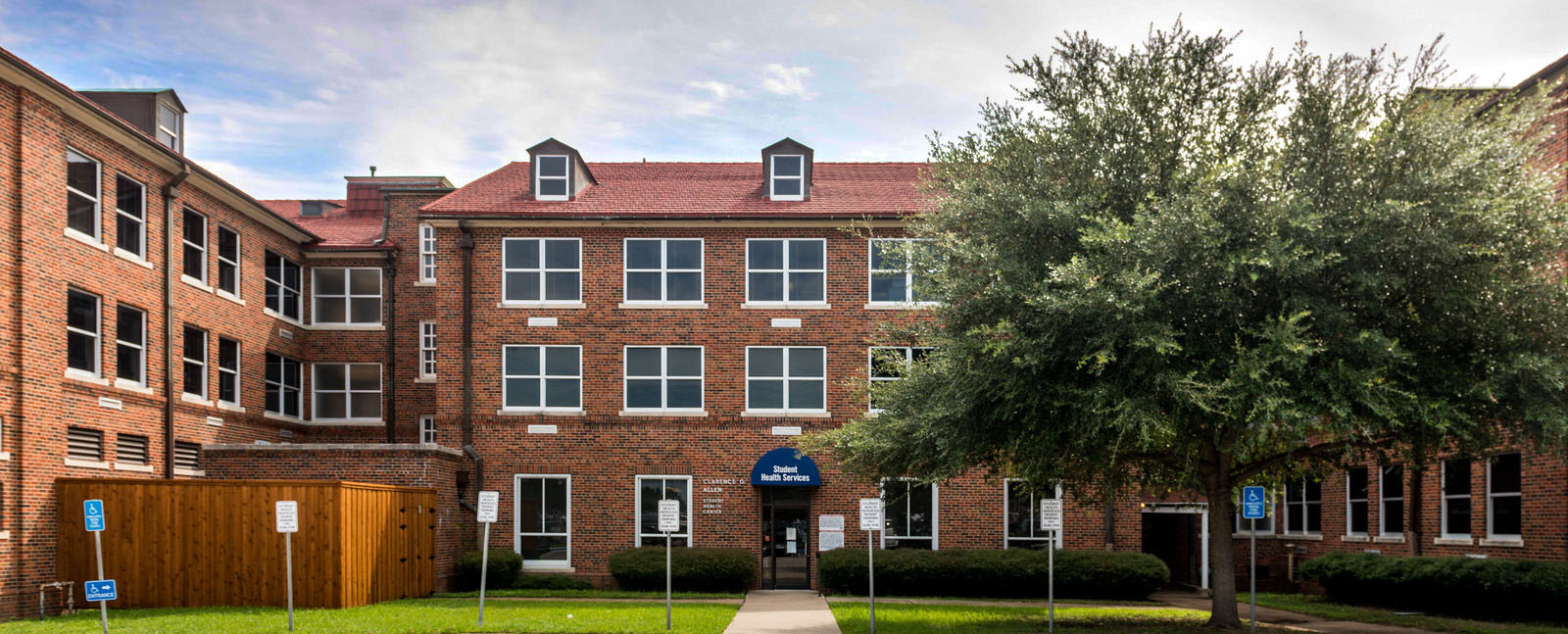 Student Health Services :: On- & Off-Campus Services
On-Campus Services
Services We Offer
Student Health Services offers affordable health care to A&M-Commerce students. We provide primary health care services including:
Acute Care and Injuries
Allergy Injections
Birth Control
EKGs
Immunizations such as flu shots
Tuberculosis testing
Labs
Minor Surgical Procedures
Prescription drug collection/drug return program
Physical exams
Splints
STD/STI Testing and Treatment
Stitches
Wart Treatment
Women's Health
Minor Wound Care
Free Condoms
For an influenza vaccine, please call our office at 903.886.5853 .
Make an Appointment
Appointments are available Monday through Friday from 8:30 a.m. – 4:20 p.m. We are closed from 12:00 p.m. -1:00 p.m. Students are encouraged to make appointments to cut down on wait times. However, we will do our best to accommodate walk-in patients. We have a limited number of walk-in appointment spots, and walk-in patients will be worked into the schedule after or between scheduled appointments if availability and time permit.
Injections will be given Monday through Friday 8:00 a.m. – 11:00 a.m. and 1:00 p.m. – 4:00 p.m. Students will be required to wait a minimum of 20 minutes after receiving the injection. This is a mandatory wait time, and failure to comply will result in denial of future injections so please plan accordingly.
To make an appointment, call 903.886.5853 or visit the Patient Portal. CWID and password are required to make an appointment.
New incoming students should complete their health history and upload their supporting documentation on the portal.
Existing students can:
Manage appointments
Obtain lab results
Send a secure message to the provider(s)
Access immunization records for those administered in office
View billing statements
If you need to cancel your appointment, please call Student Health Services as soon as possible so another patient will have the opportunity to see the medical provider. Your appointment time is reserved especially for you so please make every effort to be here on time. There is $10 no-show fee if you are over 5 minutes late for your appointment or fail to show up.
Student Health Services Guidance
Usage of Services
A&M-Commerce students who are currently enrolled may use Student Health Services for free. There are additional charges for labs, x-rays, minor procedures, etc.
Students must be enrolled in the current semester to be seen by the providers. View our Guidelines for Students below for more information.
Insurance
Student Health Services currently accepts following insurances:
If you do not have insurance, you will be responsible for all additional charges such as x-rays and labs.
We do recommend that you carry your health insurance information for any emergency, specialty or major health needs for which Student Health Services does not provide care.
Here are a few things to be sure to think about when considering health insurance. Some insurance plans terminate when: (1) the student reaches the age of attainment on a parent's policy, meaning that they are no longer covered, (2) the student gets married, (3) the student becomes legally independent, or (4) the student is studying abroad. You should also consider coverage areas and provider availability.
Different sources provide health insurance to students. Sources of health insurance are:
Group insurance
Parent's health insurance
Student's individual policy
A Student Health Policy
The Texas A&M University System provides insurance. For information call, 1.877.624.7911.

*International students are required to have Health Insurance as well as Evacuation and Repatriation insurance. For questions or concerns regarding health insurance for international students, please contact the Office of International Programs for more information. They are located in Ferguson Social Sciences Room 137, and their number is 903.886.5097.
Guidelines for Students
Appointments
We encourage patients to make an appointment when wishing to be seen by Student Health Services staff. Call 903.886.5853 or 903.886.5847 to make an appointment. Due to a limited number of appointments, appointments will usually be filled on a first-come, first-served basis. During high volume times (i.e. flu or allergy season), non-urgent issues may be scheduled for a time when patient load is lower. These times will vary and Student Health Services staff will proceed accordingly. In order to allow sufficient time for your visit with the provider, when making your appointment, we ask you to provide a brief description of your reason for your visit. Incorrect time allotment or visit description may require your appointment to be rescheduled.
Cancellations
If you cannot make your appointment, you are encouraged to call to reschedule or cancel the appointment. You may cancel your appointment by calling Student Health Services at 903.886.5853 or 903.886.5847. To avoid the no-show fee of $10, you need to call least two hours before your scheduled appointment. You may leave a message with your CWID number, name, date and time of your appointment, and a callback number.
Missed Appointments/Late Arrivals
Once the appointment time has passed by five minutes or more, you will be considered a no-show. No-show appointments will be charged a $10 fee. If you arrives five minutes or later for your appointment, your status will change to no-show and you may incur a no-show fee. It is left to the discretion of the provider, based on the nature of your medical concern and the schedule of the provider, if you can be worked into the schedule. We recommend you arrive 5 to 10 minutes prior to your scheduled appointment to check in properly and have all of the appropriate paperwork updated and given to the correct staff.
Walk-ins
Walk-ins are welcome and Student Health Services will do their best to have you seen in a timely manner. Patients are prioritized based on level of acuity due to there being a limited number of appointments reserved for same day sick appointments. During times of high clinic usage, such as flu or allergy season, there may be significant wait times for walk-in appointments. Those that walk-in with non-urgent issues during busy times may be asked to make an appointment and come back at a later time/date.
Payments
Student Health Services currently accepts the following insurances:
Blue Cross and Blue Shield of Texas AcademicBlue Student Health Insurance
Blue Cross and Blue Shield
United HealthCare
Aetna
Cigna
UMR
Students may use their health insurance for any and all visits as long as Student Health Services is in-network. Students who do not currently have health insurance will be responsible for fees incurred for services. We currently accept cash, check and major credit cards (Visa, MasterCard, Discover and American Express). Students with remaining balances, including any late fees, will be subject to holds placed on their MyLeo accounts which can result in failure to graduate, register for classes and/or obtain a transcript until balances are paid. For questions regarding holds for unpaid services, please call 903.886.5853.
Parking
There is a limited number of parking places located directly in front of Student Health Services at Henderson Hall. There is parking specifically for Student Health's patients located near the front of Henderson Hall in parking lot 7.
For students with injuries or medical conditions that limit mobility, Student Health Services can complete a form requesting a temporary accessible parking pass from the University Police. You must be seen by the physician assistant in order to have the form completed. Student Health Services is not responsible for filing the form or taking it to the cashier's window, located in the Business Administration Building.
Information for Parents
Due to privacy laws, once the child has turned 18 Student Health Services can no longer discuss any aspect of their medical care. If the student wishes, they can fill out a Patient Request Regarding Health Information Release form to allows Student Health Services to share access to their personal health information to those individuals of their choosing. The student must come to or call Student Health Services to inquire about their medical records and bills.
Class Excuses
Student Health Services will not provide class excuses. Students will be required to work with their instructor(s) in regards to their absence(s). Each patient is given a discharge summary at the end of each appoint with the providers and/or upon payment for services. However, this is not a class excuse. Students are encouraged to communicate with their instructors if they are going to miss class for any reason.
Medical Records
Medical records will be kept for ten years after the last date the patient was serviced by Student Health Services. Student Health Services is in compliance with all federal and state guidelines regarding your medical records. Your medical record and the information you share with the doctors and staff is confidential.
Privacy/Confidentiality
We value the privacy of all our patients and use strict confidentiality when addressing your health needs and information. Personal health information may be disclosed during the course of your conversation/treatment at Student Health Services. Therefore, we recommend that you see the nurse/provider by yourself, rather than bringing a friend/family member into the examination room with you. Friends/family members may use our waiting room during your visit with the provider or Student Health Services team member. TAMUC WiFi is available in the waiting room.
Lab Work
All lab work will be performed between 8:00 a.m. – 11:00 a.m. and 1:00 p.m. – 4:00 p.m.
Tuberculosis tests will be performed Monday, Tuesday and Wednesday. Students must return to Student Health Services 48 to 72 hours after the administration of the test to have the results read.
Lab Results
Wait time for lab test results vary depending on the test performed. Students will be notified via phone call and/or secure message/email when their lab results are ready. Students may return to Student Health Services to pick up a physical copy of their results, or they are able to receive a copy through our secure portal.
Prescription Refills
Students need to be under the current care of Student Health Services in order to be eligible to receive a prescription refill. Patients will need to contact their pharmacy to have a refill request sent to our office. Please allow 24 to 48 hours for all refill request. Student Health Services fax number is 903.886.5854.
Prescription of Contraceptives
New patients will be required to have a consultation with one of Student Health's medical providers prior to receiving a prescription. If possible, please bring previous pap smear results, Depo-Provera injections, and any other relevant office notes or results, or you can have a copy of your records faxed to Student Health Services before your appointment. Student Health Services fax number is 903.886.5854.
Allergy Injections
Student Health Services will administer allergy injections to students. Those who wish to have their injections given at Student Health Services will be required to provide the following:
a request for administration of immunotherapy at an outside medical facility
current injection administration records from allergist
patient must have their initial dose given by their current allergist. Student Health Services will not administer initial dose.
serum, along with a current EpiPen
Injections will be given Monday through Friday between 8:15 a.m. – 11:00 a.m. and 1:15 p.m. – 4:00 p.m. Students will be required to wait a minimum of 20 minutes after receiving the injection. This is a mandatory wait time, and failure to comply will result in denial of future allergy injections so please plan accordingly.
Policies and Procedures Regarding Controlled Substances
The State of Texas allows PAs and NPs limited prescription authority for Scheduled III, IV, and V medications. Any situation requiring more extensive use of narcotics will be referred to a pain specialist or specialty clinic.
Privacy Statement and Patient Rights and Responsibilities
We, at A&M-Commerce Student Health Services, are committed to providing you with the highest quality of care. Maintaining patient privacy and confidentiality is a standard that is upheld by all of our employees. Our staff is bound by state and federal laws regarding the disclosure of a patient's personal health information (PHI).
We will not disclose PHI to deans, professors, other university staff, parents, or other parties without your written consent, unless there is a serious danger to you or someone else. In the event of an emergency situation requiring hospitalization where it is impossible to obtain a student's permission, the parent or legal guardian will be notified.
Patient Rights and Responsibilities
Health Prevention and Emergency Preparedness
The CDC recommends that people should take everyday preventive actions at home and work, including:
Prevention activities

Avoid close contact with people who are sick. When you are sick, keep your distance from others to protect them from getting sick too.
If possible, stay home from work, school, and errands when you are sick. You will help prevent others from catching your illness.
Cover your mouth and nose with a tissue when coughing or sneezing. It may prevent those around you from getting sick.
Wash your hands often with soap and water, especially after you cough or sneeze. Alcohol-based hand cleaners are also effective.
Germs are often spread when a person touches something that is contaminated with germs and then touches his or her eyes, nose, or mouth.
Get plenty of sleep, be physically active, manage your stress, drink plenty of fluids and eat nutritious food.
To prevent the spread of influenza virus, it is important to keep surfaces (especially bedside tables, surfaces in the bathroom, kitchen counters and toys for children) clean by wiping them down with a household disinfectant according to directions on the product label.

Preparation activities

Create an emergency preparedness kit
Make a plan with your families and loved ones
Below are a few websites that will provide information of the H1N1 influenza and the recent developments with it.
Emergency and After Hours Services
Emergencies
For any health emergencies requiring an ambulance, call 911 (on or off campus).
Be sure to give your name, the exact location of the emergency, the phone number you are calling from and the nature of the injury or illness. Also, answer any questions the dispatcher may ask in order to give the ambulance crew necessary information.

Here is a list of situations that need emergency response by qualified professionals. This list is not a comprehensive list:
Serious bleeding
Unconsciousness
Chest pain or possible heart attack
Possible stroke
Seizures
Serious burns
Neck or back injuries
Difficulty breathing or no breathing
Choking
Possible broken bones
Chest and abdominal injuries
There are 24-hour emergency rooms at the following local hospitals listed below. Do not call the numbers listed below for an emergency. You need to call 911 in an emergency. For additional helplines, hotlines, and emergency numbers, see "Emergency Helplines and Hotlines" below.
2800 Hwy. 24
Commerce, Texas 75428
903.886.3161
4215 Joe Ramsey Blvd.
Greenville, Texas 75401
903.408.5000
3206 Interstate 30 W Suite B
Greenville, Texas 75401
903.408.7979

Monday-Saturday: 10:00 a.m. – 8:00 p.m.
Sunday: 9:00 a.m. – 5:00 p.m.
National Suicide Prevention Lifeline: 1.800.273.8255
Crisis Text Line: Text "TX" to 741741 for free
Substance Abuse and Mental Health Services Administration (SAMHSA) National Helpline: 1.800.622.4357
Poison Control: 1.800.222.1222
After Hours Services
Call 911 to be connected with the police who can help you get emergency services or the University Police (UPD) at 903.886.5111.
Off-Campus Services
Back to menu
Student Health Services :: Meet our Faculty and Staff
Meet our Team
Back to menu
Student Health Services :: Contact
Contact Us
Student Health Services, Henderson Hall
Hours of Operation
Monday-Friday, 8 a.m.-5 p.m.
Closed Daily, 12-1 p.m.
Back to menu