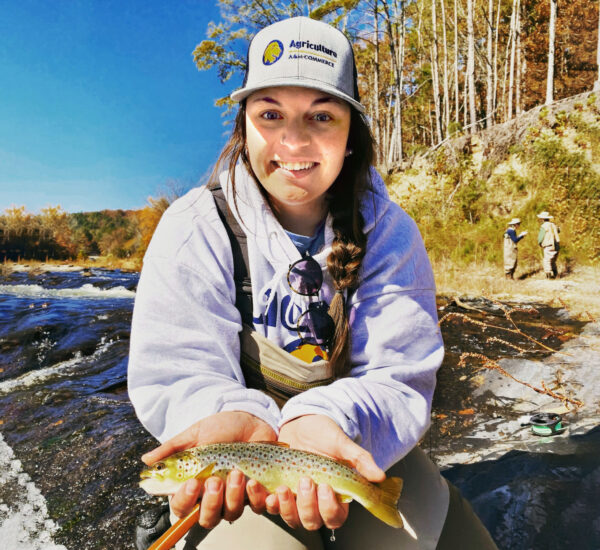 You can pursue what interests you and make a living doing what you love.
Haley Cole
Outreach Coordinator
Agricultural Sciences and Natural Resources
Related Department
Agricultural Sciences and Natural Resources

College Major
Animal Science
Raised in Wyoming, Haley Cole has a passion for agriculture, working with livestock, and meat science. You can find her working with students, helping them find their place in the field of agricultural sciences or coaching the Meats Judging Team. Cole is also the advisor of the Ag Ambassadors who volunteer their time and talents at agricultural events on campus and throughout the community. When Haley is not working, researching or leading, she enjoys spending time outdoors at the university's blueberry farm!
A Conversation with Haley Cole
What would you tell a student who is thinking about attending A&M-Commerce?
"You will have many relevant hands-on experiences during your time at A&M-Commerce. Our faculty, staff and other students take the time to help you as you develop as a young professional, and then, go forth into your career."
How has A&M-Commerce influenced your life and/or career?
"Dr. Randy Harp was a big deciding factor regarding the reason I chose A&M-Commerce. He is a very highly respected retired meats judging coach and meat scientist. I am passionate about meat evaluation and educating others on the meat industry. As the Ag Outreach Coordinator, I am able to share with others our story in the College of Agricultural Sciences and Natural Resources."
Tell us about a project you are working on or recently completed.
Haley learned first hand the complexities of being part of a Meats Judging Team while a student at the University of Wyoming. With her as assistant coach, her Meats Judging Team finished in the top 10 for the third straight year in in the 2019 American Meat Science Association International Meat Judging Contest. Cole has brought this competition participation to A&M-Commerce. "We have established a meat judging team that competes at various competitions throughout the year. During our inaugural year (2020), we won several contests at the national level and three of the four students were named First-Team All Americans. My goal is to ensure the sustainability of this judging program for many decades to come."
Educational Background
M.A., Agricultural Sciences, Texas A&M University-Commerce, 2021 (in progress, complete this spring)
B.A., Animal Science, University of Wyoming, 2019
Research Interests
Meat Evaluation and Technology