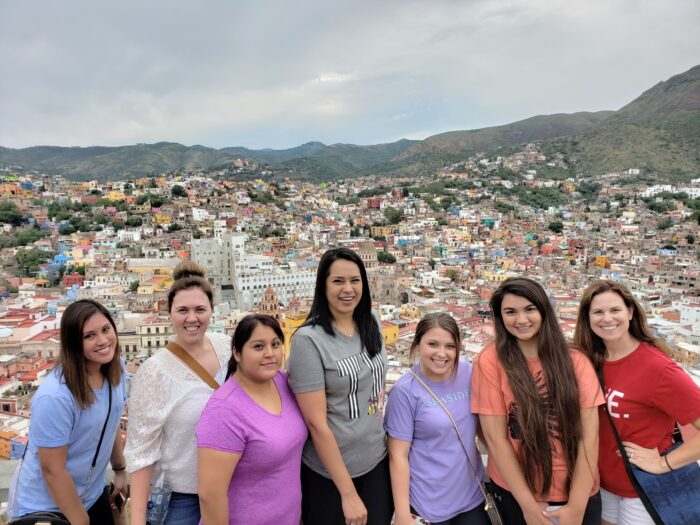 A major strength of A&M–Commerce is its diversity.
Associate Professor
Related Department
Psychology and Special Education

Hometown
upstate New York
Kelly Carrero is proud to be a Lion. She enjoys the supportive, close-knit culture we have at A&M-Commerce. When Kelly is relaxing, she spends time with her other family watching movies or playing games. She also enjoys experiencing other places and cultures whether in North America or abroad.
A Conversation with Dr. Kelly M. Carrero
What would you tell a student who is thinking about attending A&M-Commerce?
"A major strength of A&M–Commerce is its diversity. Our student body, faculty and administration are comprised of people from many racial, cultural, socio-economic and educational backgrounds. Experiencing this diversity is an added benefit to the excellent education you will receive at A&M–Commerce."
How has A&M-Commerce influenced your life and/or career?
"A&M–Commerce has been a very nurturing environment for where I am at this stage in my life and career. I love engaging in inquiry and teaching motivated students how to experience all aspects of investigation. That said, it is also important that I have the flexibility and opportunity to engage with my family and local community. A&M–Commerce maintains high expectations and opportunities to support scholastic growth, while also recognizing that EVERY person in the Lion community needs to practice self-care and seek wellness. This balance is built into the structure of our university, which is highly unique at an institution of higher education. It is exactly what I need and appreciate."
Tell us about an academic project you are working on or recently completed.
Currently, Kelly Carrero is gathering information about when youth and young adults with exceptionalities are in crisis and how they are prepared by their teachers, disability service providers and caregivers to deal with interactions with the police.
Educational Background
Ph.D., Special Education (Behavioral Disorders), University of North Texas, 2012
MEd, Special Education, University of North Texas, 2007
BA (cum laude), Psychology, University of Texas-Dallas, 2005
Academic Positions
Associate Professor, Texas A&M University-Commerce, 2019-Present
Assistant Professor, Texas A&M University-Commerce, 2015-2019
Honors and Awards
Joyce Miller Excellent Leadership in Teaching and Learning Award, Texas Association of Black Personnel in Higher Education, 2020
International Conference on College Teaching and Learning Distinguished New Faculty Award, International Conference on College Teaching and Learning, 2014
Council for Exceptional Children Outstanding Graduate Student Member of the Year Award, Council for Exceptional Children, 2012
Research Interests
Applied behavior analysis approaches, techniques, and research
Promoting causal agency in people with autism
Best practices for serving youth with emotional and behavioral disorders
Special education policy and practices
Cultural responsivity in research and practice
Featured Courses
PSY 535: Applied Behavioral Analysis
Selected Publications
Carrero, K. M., Vannest, K. J., & Lavadia, C. (2019). Discipline and students with disabilities. In D. F. Bateman, J. Cline, & M. Yell (Eds.). Current Trends and Legal Issues in Special Education. Thousand Oaks, CA: Corwin Press.
Carrero, K. M., & Fuller, M. (2019). Teaching students with autism to text-message requests using video prompting. Journal of Special Education Technology. Doi: 10.1177/0162643419890247
Carrero, K. M., Collins, L. W., & Lusk, M. E. (2017). Equity in the evidence-base: Demographic sampling in intervention research for behavior disorders. Behavioral Disorders, 41(1), 253-261. DOI: 10.1177/0198742917712969