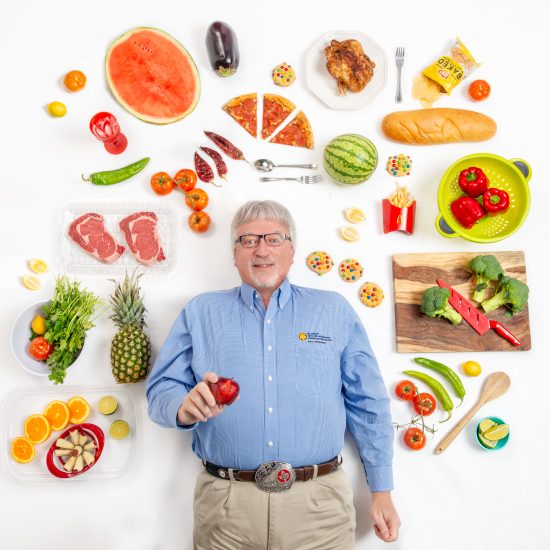 I grew up on a small farm and have always been interested in food and agriculture. I also love people. This job provides the opportunity for me to work with people in the academic and experiential context of both.
Robert "Bob" Williams, Ph.D.
Graduate Coordinator/Professor of Agriculture, Food and Family
Agricultural Sciences and Natural Resources
Related Department
Agricultural Sciences and Natural Resources

He hungers to know more about food. A native of Sulphur Bluff, Texas, Bob Williams studies food from farm to fork. What we eat and how we eat it is rooted in our history, geography and traditions. Farmers face economic, social and natural challenges that affect our food availability and accessibility. By studying the past, Williams brings these concerns to the present reality. But the conversation doesn't end there. For Williams, studying food is more than acquiring knowledge. It's about tasting and seeing. Our Twin Oaks Farm at A&M-Commerce lets him do so. A university-owned and student-operated farm, Twin Oaks brings the classroom to the soil and fields. Farming takes time. But for the farmer, the joy starts in the ground, long before it reaches our dinner table.
A Conversation with Dr. Williams
Tell us about an academic project you are working on or recently completed.
Over the past three years, I have begun to teach more food-related courses. We now offer a Food Studies minor and a new Agriculture, Food and Family option in Agricultural Science and Technology that allows students to prepare for a career as a middle or high school Family and Consumer Sciences teacher or extension agent. I am really excited about this new direction and encourage prospective students to check it out.
How has A&M-Commerce influenced your life and/or career?
I earned my bachelor's and master's degree here back when we were known as East Texas State University. I lived and worked on the university farm, ate in the cafeteria and engaged in several campus organizations and activities. Those experiences and degrees help me launch and advance my career as an educator. Now I am back on campus helping students like my professors and mentors did when I was attending here.
What would you tell a student who is thinking about attending A&M-Commerce?
This is a great university to attend. It will change your life and open doors for you that you may never have known existed. I know because I have two degrees from A&M-Commerce and two daughters with degrees from here. Another daughter works here.
Educational Background
Ph.D., Family and Consumer Sciences Education, Texas Tech University, 2000
M.S., Agriculture, Texas A&M University-Commerce, 1981
B.S., Agricultural Education, TAMU-C, 1977
Academic Positions
Professor, Agricultural Sciences, Texas A&M University-Commerce, 2015-Present
Interim Associate Director, School of Agriculture, TAMUC, 2014-2015
Associate Professor, Agricultural Sciences, TAMUC, 2009-2014
Assistant Professor, Agricultural Sciences, TAMUC, 2002-2009
Interim Department Head, Agricultural Sciences, TAMUC, 2001-2002
Assistant Professor, Agricultural Science & Technology, TAMUC, 2000-2001
Ad Interim Instructor, Agricultural Sciences, TAMUC, 1999-2000
Awards and Honors
Investigator of the Year, A&M-Commerce, 2015
Chancellor's Academy of Teacher Educators, The Texas A&M University System, 2014
Thirty-Year Service Award, Vocational Agriculture Teachers Association of Texas, 2013
Trezzie Pressley "Ceaseless Industry" Award, TAMUC Faculty Senate, 2012
Professional Organizations
American Association for Agricultural Education
American Horticultural Society
North American Colleges and Teachers of Agriculture
Southern Rural Sociological Association
Vocational Agriculture Teachers Association of Texas
Research Funding
$250,645, National Institute of Food and Agriculture, USDA, 2014
$849,686, National Institute of Food and Agriculture, USDA, 2010
Selected Publications
LaVergne, D.D., Bakhtavoryan, B., & Williams, R.L. (2018). Using a logistic regression approach to estimate the influence of demographical factors on small engine and welding competency of secondary agricultural education teachers. Texas Journal of Agriculture & Natural Resources 31, 1-11.
Mayorga, B. B., Williams, R.L., Wickersham-Fish, L. & Duch-Ceryallo, T. (2017). Needs assessment for prospective Hispanic farmers and ranchers. Journal of Southern Agricultural Education Research 67(1), 86- 100.
Featured Courses