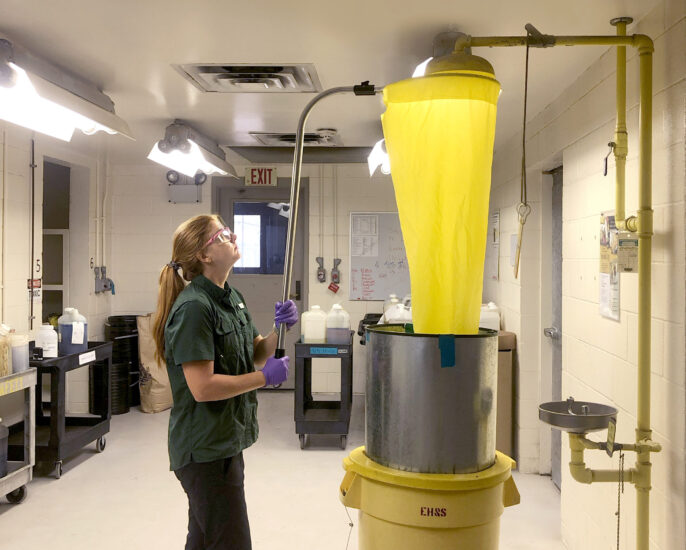 Utilizing the skillsets I have acquired during my quest for excellence, my personal mission is to use my talent and passion to contribute to the conservation of our environment and resources to provide a better future for generations to come.
Kelsey Contreras
Safety Specialist
Biological and Environmental Sciences
Employer
University of Texas Arlington
Year Graduated
2016, 2018
Safety and a smile. That is what Kelsey brings to work with her daily as a chemical safety specialist at the University of Texas Arlington.  Her department handles hazardous waste management and safety training for students and faculty doing research across campus. This is not the job she imagined when she began her degree in wildlife conservation at A&M-Commerce, but it is one she loves. Her work helps keep the environment safe while allowing valuable research to continue. In her free time, Kelsey enjoys being outdoors, especially cycling and orienteering.
A Conversation with Kelsey Contreras
Was there a professor who you feel was impactful to your success at A&M-Commerce and beyond?
Dr. Kopachena was the most impactful professor during my time at A&M- Commerce. His love for wildlife conservation inspires his students. He is always helpful both academically and personally. Being a graduate research student under Dr. Kopechena's guidance allowed me the unique opportunity to finance my studies while gaining valuable hands-on experience in the field.
What is your current career?
I am a safety specialist at the University of Texas Arlington. My program is over hazardous waste and chemical safety management. My responsibilities include ensuring all labs are operating safely. All the lab waste the university produces goes through me.
What is the most exciting thing about your job?
No day is ever the same. My department responds to all types of hazardous situations. One of my favorites is mercury spills, which we get often. We also get called out for wildlife such as possums and turtles. No matter what it takes, our mission is to keep the campus and the environment safe.
How has COVID-19 impacted your work?
COVID has been a huge curveball for our department because we were suddenly tasked with doing N95 mask-fit testing for all the facility departments and nursing students (approximately 700 people within the past year). At the beginning of the pandemic, everything was so unknown, but we've played a very important role in keeping our facilities, students and faculty safe by providing proper safety measures so they can continue to learn and do their job.
Educational Background
M.S., Biology, Texas A&M University-Commerce, 2018
B.S., Wildlife Conservation, Texas A&M University-Commerce, 2016