Learning and education not only gives you knowledge and a job, but also the ability to think in a broader sense not only about a subject, but the whole world!…It feels like everyday is a new window that I get to open to both myself and my students.
Maia Lamarque
Professor and Distinguished Global Fellow
Literature and Languages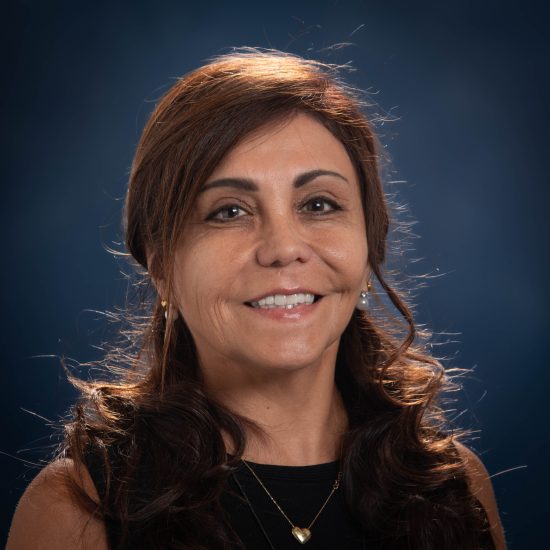 Related Department
Literature and Languages

Dr. Maia Lamarque, Professor and Distinguished Global Fellow, has a deep passion for learning and education. Originally from Lima, Peru, she grew up in a family that always prioritized education. "My parents, both professionals, always told my sisters and I that education would take us places," she says. Lamarque's education did indeed take her far, both literally and figuratively, from Lima to Louisiana and finally bringing her to Commerce. She holds multiple degrees in various fields, from psychology to linguistics to literature and film. She is also holds certificates in yoga instruction, Chinese philosophy, science of thinking, and intercultural competence in education. She has published three books, more than 50 articles, and presented at over 30 conferences (both nationally and internationally). She has received 26 awards for her work and research.
Dr. Lamarque's love of learning naturally flows into her personal life as well. Her husband is also a professor at the University of Texas at Arlington, and they have one son, Luca, who studies microbiology. In her free time, Dr. Lamarque enjoys yoga, playing tennis, meditating, going to the opera, traveling, reading, and spending time with her family and their two cats.
A Conversation with Dr. Maia Lamarque
What do you like about teaching?
I love teaching for two reasons. The first one might be a little bit selfish, but it's because I love learning. And when I teach, I learn! I enjoy it so much because it's like adrenaline to learn new things and concepts. I hope that this passion projects to my students and that they also get excited about the learning process. Learning and education not only gives you knowledge and a job, but also the ability to think in a broader sense, not only about a subject but the whole world! This goes into the second reason: I want to give that to my students. That's why I like teaching, because it feels like every day is a new window that I get to open to both myself and my students.
What has been your favorite course to teach?
That is a hard question because I've taught so, so many! But I think I'd have to say that I really enjoyed was a special topics class I taught in Latin American film and literature because that's my area of research, and my first book was based on that. I also was invited to teach the same class during a summer session in Brazil. So I taught it two languages: here in the US in English, and then there in Brazil in Portuguese. It was a challenge but I enjoyed it. That class was very special to me.
How many languages do you speak?
I am fluent in English, Spanish, Portuguese, and Italian.
Can you tell me about a project you are currently working on?
I have two book projects I am working on. One is under contract with Routledge. The title is "Critical Thinking and Social Justice Through Literature and the Arts." The other one is under contract with Cambridge Scholars, and that is "Cinderella in Latin America." I have studied folktales for a long time, so in that book, I'm looking at the Cinderella story in Latin America and doing a socio-political psychological reading. So how Cinderella, as an axis in all these readings, projects the cultural situation and the identity of the community.
Education
Ph.D. Humanities, Latin American Literature and Film, Tulane University, 2005
M.S. Psychology, Texas A&M University-Commerce, expected graduation 2023
M.A. Spanish/English Linguistics, Louisiana State University, 1999
B.A. Psychology (Emphasis in Clinical Psychology), UIGV, Lima, Perú, 1992
Certificates
Certified yoga instructor, My Vinyasa Practice 200HR, 2020
Intercultural Competence in Education edx., University of Finland, 2020
Science of Thinking edx., University of Queensland, Australia, 2016
Chinese Philosophy edx., University of Hong Kong, China, 2015
Research Interests
Critical analysis of literature and film
Folk tales
Psychology
Teaching Areas
Spanish studies
Literature and Film
Psychology
Featured Courses
SPA 333 Spanish for Heritage Speakers
SPA 483 Professional Writing in Spanish
SPA 560 Women in Colonial Literature
SPA 516 Contemporary Latin American Literature
SPA 597 (Special Topics) Latin American Film
PSY 310 Psychology of Diverse Populations
Selected Publications
Fernández-Lamarque, Maia. Belonging Beyond Borders, June 2022, Hispania 105 (2) 307-9.
Lamarque, Maia F. "Representations of Cinderella as Myth and Culture in Spain" in Retelling Cinderella: Cultural and Creative Transformations. Ed. By Nicola Darwood and Alexis Weedon: Cambridge, Cambridge Scholarly Publications, 2020.
Fernández-Lamarque, Maia. Cinderella in Spain: Variations of the Story as Social-Ethical Texts. North Carolina: McFarland Publications, 2019.
Awards
Faculty Development Award, 2023, A&M-Commerce
Service Award (for 15 years of service), 2021, A&M-Commerce
Grant award for Cinderella in Spain, Ministry of Culture and Education in Spain, October 2014
Outstanding Academic Performance Award, The Hispanic Educational Consortium, April 2016