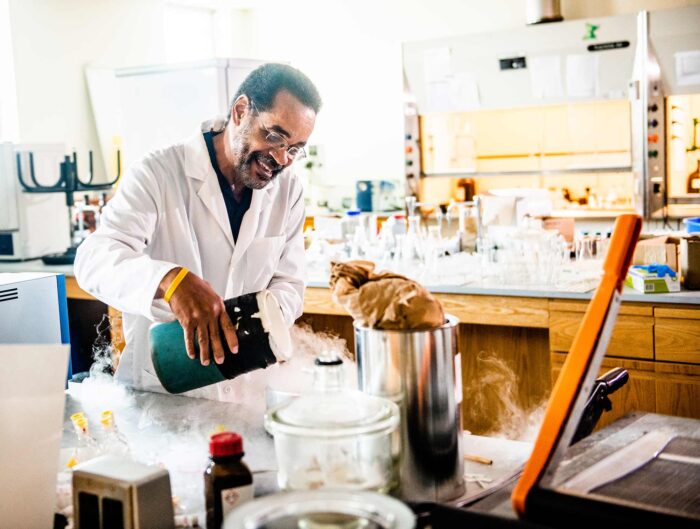 Learning organic chemistry is like learning a foreign language; once you learn the basics you can begin to communicate and reason effectively as a scientist.
Allan Headley, Ph.D.
Professor
Chemistry
Office
Science Building 337
Hometown
Mandeville, Jamaica
As a young child growing up in Jamaica, Allan Headley was always very curious, vexing his family, teachers and friends with incessant questions. Young Headley enjoyed observing his uncle, a pharmacist, mixing mysterious liquids to cure ailments. This experience excited his curiosity and ultimately influenced his professional path. At about the same time, Headley began his first chemistry course from a passionate teacher who encouraged him to pursue a career in the sciences. Chemistry provided answers to many of his questions. Now Headley takes joy in teaching others how to answer their own questions through scientific discovery thinking both critically and analytically.
A Conversation with Dr. Headley
What would you tell a student who is thinking about attending A&M-Commerce?
"A major benefit of attending TAMUC is the supportive and friendly environment provided by faculty, staff and administrators. The faculty are eager to impart knowledge to students and equally important, they are very much interested in the students' professional development to ensure that they are well-prepared for the working environment that awaits them upon graduation. Most of the classes at TAMUC are not very large. As a result, students get the opportunity of knowing and interacting with their professors. Another advantage of attending TAMUC is the opportunity of getting involved in research and working on specific research projects. For students interested in doing research, the opportunity exists for students to work on different research projects under the close mentorship of a professor. This close research mentoring environment provided at TAMUC is not typically found at some of the larger universities. Students who are involved in research get the opportunity of also attending different professional meetings to present their research findings and also to network with individuals from other institutions."
What has been your favorite course to teach?
"Over the years, I have taught different chemistry courses and to students at different levels. I have enjoyed teaching various chemistry courses, but my favorite courses to teach are organic chemistry and introductory general chemistry. One reason why these courses are my favorite to teach is I gain a new challenge to determine how to best communicate to my students the extremely important process of applying the various chemistry concepts they learn to solve problems. By teaching these courses, I gain the opportunity to reinforce my students with the process of using content tools in chemistry to solve chemistry problems. Upon graduation, the same process will carry out in their workplace. Employees receive various tools to carry out their jobs, but they'll have to figure out how to use these tools to accomplish necessary tasks. The application of knowledge using different tools to solve problems is a common theme and learned through their study in chemistry."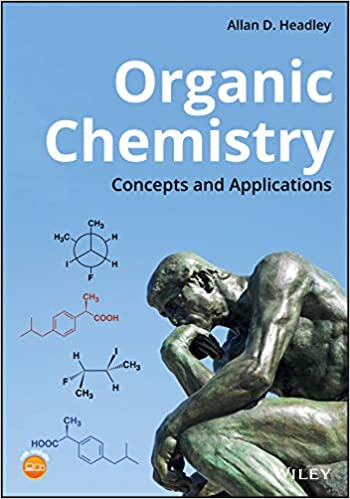 Tell us about a project you are currently working on or recently completed.
"Over the years, I have published several research journal articles. My most challenging, yet, one of my most rewarding tasks was the writing of my recently published organic chemistry textbook: Organic Chemistry, Concepts, and Applications. I want to communicate to students through this textbook that by taking organic chemistry, they are not just acquiring a large body of scientific knowledge, but the process of studying organic chemistry can be used to prepare them to be better critical thinkers, problem solvers, and scientists. This textbook not only covers the fundamental concepts needed to understand organic chemistry but emphasizes how to apply the concepts learned to improve students' problem-solving skills and how to become better scientists. I often remind my students that learning organic chemistry is like learning a foreign language in which they will have to learn the basics before they can effectively communicate using that language. The language organic chemistry is unique in that it involves the use of symbols, letters, numbers, subscripts, superscripts, Greek letters and lines. From this textbook, students learn how to become effective communicators not only of organic chemistry but of science in general."
Tell us a little about yourself.
"Over the years, I have held various administrative positions, which were all very rewarding, especially in terms of the benefits that are gained from the various important decisions that impact large groups of individuals. I also find imparting knowledge in developing the next generation of thinkers, extremely fulfilling. My chemistry courses are designed to not only communicate and reinforce chemistry content information to students but equally to show the importance of how to use the content studied to assist students to develop and improve their ability to think critically and analytically. I hope that students will use this approach to not only solve chemistry problems but to find innovative solutions to solve different problems. I try to prepare my students to apply the approach learned in my courses to become better scientists so that they will be better prepared to meet the needs of the workforce that they will face upon graduation."
Educational Background
Post.D., Chemistry, University of California, Irvine, 1983
Ph.D., Chemistry, Howard University, 1982
B.A., Chemistry, Washington Adventist University, 1976
Academic Positions
Interim Department Head, Chemistry, Texas A&M University-Commerce 2014-2015
Professor, Chemistry, TAMUC, 2004-Present
Dean, Graduate Studies & Research, TAMUC, 2004-2012
Professor, Chemistry, Texas Tech University, 2002-2004
Associate Graduate Dean, Texas Tech University, 1999-2004
Associate Professor, Chemistry, Texas Tech University, 1995-2002
Assistant Professor, Chemistry, Texas Tech University, 1989-1995
Lecturer, Chemistry, University of California, Irvine, 1987-1989
Lecturer, Chemistry, University of the West Indies, Jamaica 1983-1987
Awards and Honors
Mayo Professor, TAMUC, 2020
Eminent Faculty Award, TAMUC, 2020
David Talbot Outstanding Professor of the Year Award, Texas Association of Black Personnel in Higher Education, 2019
Excellence in Teaching Award, The National Society of Leadership and Success, 2016
Research Mentor of the Year, TAMUC, 2015
Above & Beyond Faculty Mentor Award, TAMUC, 2015
Research Interests
Development of catalysts for reactions of pharmaceutical interest
Development of environmentally friendly and recyclable catalysts
Computational modeling to predict the outcomes of reactions of pharmaceutical interest
Professional Organizations
American Chemical Society
Featured Courses
CHEM 2323 Organic Chemistry
CHEM 1305 Survey of General Chemistry
CHEM 201 Organic Chemistry Tutorial I
CHEM 1307 Survey of Organic Chemistry and Biochemistry
Selected Publications
Headley, A. D. Organic Chemistry, Concepts and Applications" 1st Edition, 2020, John Wiley & Sons; ISBN-13: 9781119504672.
Headley, A. D. Ionic Liquid Supported Organocatalysts for Organic Synthesis (book chapter in Sustainable Catalysis in Ionic Liquids), CRC Press, 2018, 31-55.
Burugupalli, S.; Qiao, Y.; Katakam, K. M.; Headley, A. D. Tetrahedron Asymmetry. 2017, 28, 1608-1611. Highly Enantioselective Organocatalysis of Michael Addition of Oxyaldehydes to Nitroolefins.
Katakam, K. M.; Kim, Y.; Headley, A. D. Tetrahedron Asymmetry. 2017, 28, 1591-1595. A Highly Enantioselective [4+2] Cycloaddition Involving Aldehydes and β,Ƴ-Unsaturated-α-keto esters.