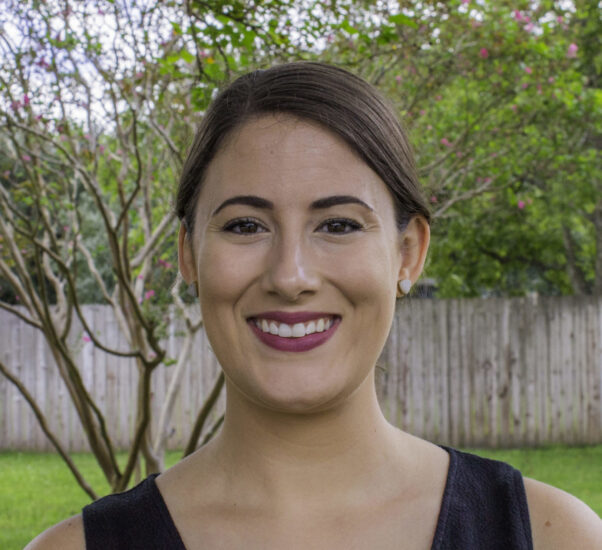 A history degree can be used broadly; the skills developed through the undergraduate and graduate programs are valuable both within and outside the classroom. Think broadly about how to use your degree.
Allison Faber
American Historical Association Career Diversity Fellow
History
Employer
Texas A&M University
Year Graduated
2015, 2018
A Conversation with Allison
What is your current employment/career?
"I am currently the American Historical Association Career Diversity Fellow for the Department of History at Texas A&M University. As a fellow in this program, I support professional development programming, promote the incorporation of scholarship of teaching into graduate curriculum, and develop relationships with community partners for internships for our graduate students. In other words, I work to connect future historians with a variety of career development tools and experiences. Next year, I will return to being a teaching assistant in the Ph.D. program. I also am an adjunct instructor at Lone Star College-Kingwood where I teach both U.S. surveys and Texas History."
How did A&M-Commerce prepare you for your current position?
"I received both my bachelor's and master's degrees from A&M-Commerce. I am constantly impressed by the amount of preparation I received for completing my doctoral degree and preparing me for a variety of possible careers. The focus on reading, writing and oral presentations gave me what I needed to succeed at the demands of coursework, exams and writing larger projects. One of the most striking differences between my colleagues and those who completed A&M-Commerce master's degree was our familiarity with theory and various historical schools. For master's students, the experience of being an instructor of record is incredibly unusual compared to other institutions. It is absolutely an advantage in the academic job market. The mentorship of professors was also exceptional. Beyond coursework, the professors care about their students and provide opportunities for them to reach their potential."
What advice do you have for students?
"Remember that a history degree can be used broadly—the skills developed through the undergraduate and graduate programs are valuable both within and outside the classroom. Think broadly about how to use your degree."
Educational Background
Ph.D., History, Texas A&M University, in progress
MA, History, Texas A&M University-Commerce, 2018
BA, History, TAMUC, 2015