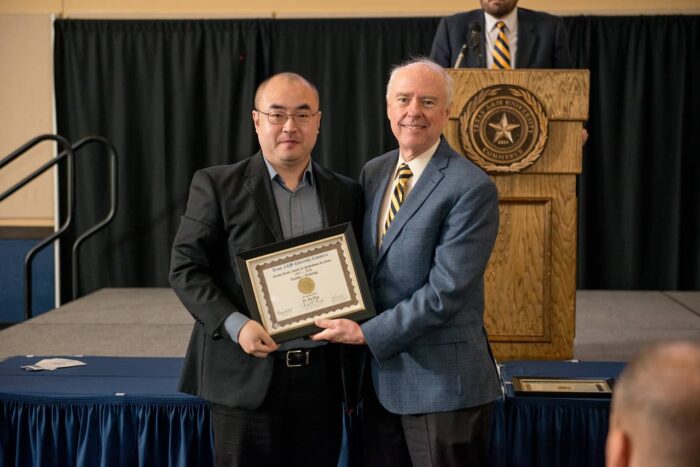 I'm fascinated by the powerful applications of analytics.
Bo Han Ph.D.
Associate Professor of Business Analytics
Marketing and Business Analytics
"Never stop learning." Not just a saying, it is a maxim that Dr. Bo Han truly believes in. As a professor in the Department of Marketing and Business Analytics for over seven years, Dr. Han continues to encourage young minds to learn in classrooms and from student organization outreach activities with the DFW business communities. His passion about business analytics has inspired many students, and led them to find an exciting career in information technology and data analytics.
A Conversation with Dr. Han
What would you tell a student who is thinking about attending A&M-Commerce?
"Several of our programs are internationally ranked. What makes our program unique is that we help students to be career-ready. We offer flexible online courses so that students can balance work, family, and study. We have a designated career development office so that the career coaches can help students prepare for resumes and interviews. If you choose TAMUC, please be sure to visit the College of Business Career Development Office as soon as possible. Our career coaches are looking forward to meeting you and developing a career path for you."
What draws you to your discipline?
"Business analytics is a new discipline that aims to find the money for companies by analyzing big data. I'm fascinated by the powerful applications of analytics. For example, we can build analytical models to predict what products a customer may purchase by analyzing his/her online shopping histories. I appreciate the fact that business analytics can help companies explore new business opportunities and reach their goals more efficiently."
What has been your favorite course to teach?
"BUSA 542 Applied Decision Modeling. A variety of linear programming applications are introduced in this class. Students learn how to optimize portfolio performance, distribution channel design and human resource management by using linear programming models. The undergraduate course number of this class is BUSA 424."
Educational Background
Ph.D., Information Systems, University of North Texas
MBA, Information Systems, Wayne State University
BBA, Business Administration, Shandong Normal University
Academic Positions
Associate Professor, Texas A&M University – Commerce, 2013 – Present
Instructor, University of the Incarnate Word, 2012 – 2013
Instructor, University of North Texas, 2011 – 2012
Awards and Honors
Tech Titans Future University Program Finalist, 2018
Junior Faculty Research Award (TAMUC), 2017
Highly Commended Paper Award (Journal of Organization Change Management & Emerald Group Publishing), 2015
Research Interests
Social media applications
Cybersecurity management
Professional Organizations
ISACA North Texas Chapter Member
Selected Publications
Bo Han, 2020, How do YouTubers make money? A lesson learned from the most subscribed YouTuber channels. International Journal of Business Information Systems 33 (1), 132-143
Bo Han, 2018, Social media burnout: Definition, measurement instrument, and why we care. Journal of Computer Information Systems 58 (2), 122-130
Bo Han, Yu Wu, John Windsor, 2014, User's adoption of free third-party security apps. Journal of Computer Information Systems 54 (3), 77-86
Featured Courses
BUSA 424 Business Analytics Modeling
BUSA 542 Applied Decision Modeling
BUSA 537 Advanced Analytics