A&M-Commerce Faculty Recognized as Eminent Faculty Scholars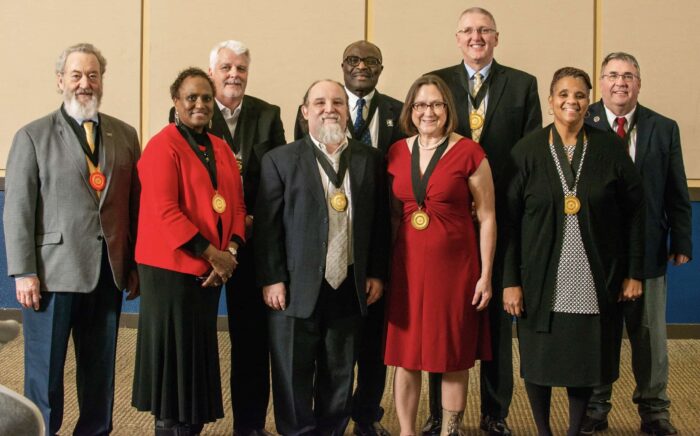 The Texas Association of Black Personnel in Higher Education (TABPHE) recognized 10 A&M-Commerce faculty during the Eminent Faculty Scholars award ceremony held February 26 in the Rayburn Student Center.
"[The] Eminent Faculty Scholars program is a very important and meaningful way to acknowledge individual faculty who have excelled in and made exemplary contributions to A&M-Commerce," said honoree Dr. Larry Lemanski, regents professor and director of the Biomedical Institute for Regenerative Research.
The ceremony opened with a scripture and prayer and was followed by greetings from Dr. Joyce Miller, associate professor of curriculum and instruction, and Dr. Mark Rudin, university president. Dr. Kenneth Clinton, professor emeritus of the Department of Sociology and Criminal Justice, gave the keynote address.
Awards were presented by Rudin and Dr. LaVelle Hendricks, student affairs coordinator and associate professor of counseling. Awardee Dr. Derald Harp, professor of agricultural sciences and natural resources, said of his fellow honorees, "Each and every one is outstanding, and they're colleagues that I've admired for many years. To even be mentioned as part of the same group is truly humbling and a tremendous achievement."
Honorees also included Dr. Tracy Henley, professor and department head of psychology, Dr. Augustine Arize, regents professor and Lions Legacy endowed distinguished professor of business administration, Dr. Randy Harp, dean of agricultural sciences and natural resources, Dr. John Humphreys, provost and vice president for academic affairs, Dr. Kathryn Jacobs, professor of literature and languages, Dr. William Thompson, professor of sociology and criminal justice, Dr. Julia Ballenger, professor of educational leadership, and Dr. Andrea Graham, associate professor and department head of engineering and technology. Awardees received a $1,000 check during the ceremony.
Henley said, "It is always an honor to be recognized for something that you, yourself, find of importance."