A&M-Commerce Student Changing Lives with Youth Football Team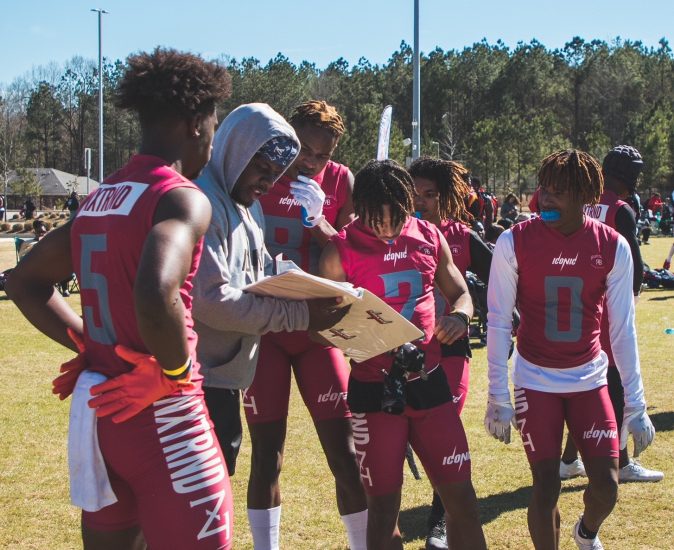 A student at Texas A&M University-Commerce is helping to develop tomorrow's leaders both on and off the football field with his very own youth football team.
Calbert "CJ" Cannon is a senior student at A&M-Commerce on track to graduate this May with a bachelor's degree in general studies. The 28-year-old will then look to pursue a graduate degree in either marketing or higher education.
Despite the challenges and time commitments that come with being a university student, Cannon has found enough time to devote to another passion of his: Coaching.
He is the founder and head coach of Iconic 7v7, a youth football organization based in Cannon's hometown of Mount Pleasant, Texas, featuring young players from across the East Texas region. The team includes two separate squads of players, one for those age 15 and under, and another for those age 18 and under.
Cannon says he acquired his love of coaching from his parents.
"Both my mom and my stepdad were coaches," Cannon said. "So, all my life I have lived in that atmosphere. The travel, the late nights, all of it."
His mother, LaRisa Kelly, coaches basketball and track at Woolley Middle School in Mesquite, Texas. His stepfather, Torio Kelly, coaches football and track at South Garland High School.

After starting his schooling in Mount Pleasant, Cannon moved several times with his family, first to Sulphur Springs and then to Desoto. He aspired to play football, but those plans were put on hold after breaking several bones while playing as a freshman. After high school, he managed to make the team at Trinity Valley Community College, but suffered another injury that forced him to hang up his cleats for good. This led to his desire to continue his family's coaching legacy.
Attending A&M-Commerce wasn't a difficult choice for Cannon, as his family has a deep connection with the university. Both of his parents, his grandparents and several other family members attended A&M-Commerce at some point, so he decided to become a Lion as well.
Cannon says he got the idea to start his own football team in 2020. He worked as a videographer and photographer for a company specializing in sports photography. He saw numerous youth teams in his line of work, but none from his home area. During the long shutdowns in 2020 related to the COVID-19 pandemic, he used much of his time to formulate his game plan to start a team of his own.
The mantra for the Iconic 7v7 team is to help develop boys in all aspects of life, not just on the field of play.
"We try to help them prepare to be all-around better men when they get older," Cannon said. "We do our best to make sure they are doing well in the classroom and to prepare for both college and college-level football."

The college recruiting aspect has been a success so far, as several of the team's players have already been recruited and signed to play at various colleges.
Since starting in earnest in 2021, the team of about 40 kids and multiple volunteer coaches has already been well-traveled. In the spring of 2021, the team played in distant locations outside of Texas. This season, which is currently ongoing, has the team making trips to Oklahoma and Louisiana.
Even with the grueling schedule, Cannon says the effort expended is well worth it.
"A lot of our kids have thanked us for the opportunities the team has given them to grow and develop," Cannon said. "They really inspire and motivate me to get up every day and get better at what I do as well."
As far as coaching advice, he says his parents have been a big help in the early stages of his career.
"My parents have been a huge support for me and have helped with whatever I need," Cannon said. "My stepdad gives a lot of advice. His biggest thing is to say, 'You may not have won the tournament, but did your kids get better today?'"
Iconic 7v7 will continue their season through April, with tournaments in Plano, the Texoma region and Little Rock.
You can learn more about the team on their Twitter profile.
Pictured: CJ Cannon (grey hoodie, holding notebook) meets with his team during a timeout. Cannon is the founder and head coach of the Iconic 7v& youth football team.