Becker's Kim Holland Explores Accounting Career Opportunities with College of Business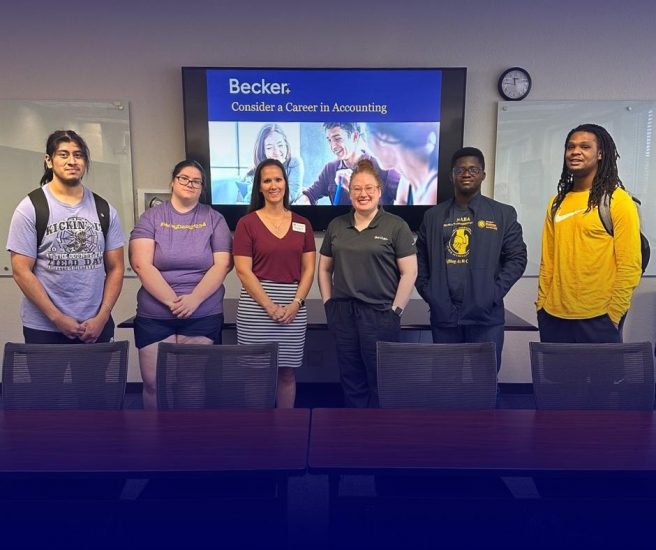 Kim Holland, senior account manager at Becker Professional Education, was invited to A&M-Commerce Senior Lecturer Cheryl Scott's ACCT 2301 and 311 classes on October 6 to present a special lecture entitled "Why Choose Accounting."
As part of a series of special lectures by Becker, the event was hosted by the A&M-Commerce College of Business and was live-streamed online as well.
With nearly 50 students in attendance, Holland discussed the various career opportunities available to accounting, finance, and business students, emphasizing starting a career in accounting.
Highlighting a national trend that accounting majors are on the decline, Holland said that "accounting is the language of business, and accountants are necessary for a healthy economy. However, due to multiple factors and common misconceptions, fewer and fewer students are choosing to pursue this important profession."
She continued: "Through these vital discussions, we hope to inform students of the opportunities within accounting: high demand, flexibility, stability and variety, to name a few. In addition to positions within multiple sectors, accounting is a perfect pathway to entrepreneurship. Whatever a student's passion may be, they can follow it through a career in accounting."
Professor Cheryl Scott also encouraged students to follow their passion for accounting.
"With the current decline in students choosing to major in accounting, the profession may have some very difficult times ahead," Scott said. "Every business in every industry needs an accountant to operate. A career in accounting is one of the most flexible career paths, with numerous opportunities and higher-paying salaries. Accounting majors are in very high demand. Following your passion is possible with a degree in accounting."