Coy Martin Named to The National Society of Leadership and Success Advisory Board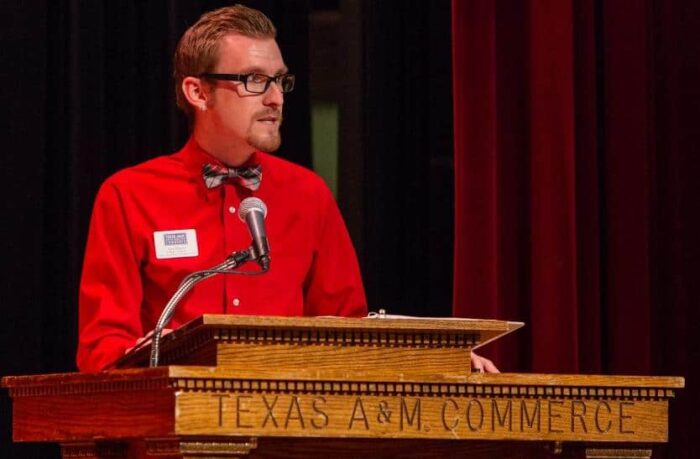 Coy Martin, budget coordinator and analyst for the College of Humanities, Social Sciences & Arts, has been named to the Advisory Board of The National Society of Leadership and Success for 2018-2019.
"It was an honor to be selected out of hundreds of other advisors in the U.S. To be chosen means that they value my input on what happens nationally and that they want to see my vision for this organization," Martin said.
NSLS, an organization that helps students discover and achieve their goals, was founded in 2001with the core beliefs that one can achieve one's dreams with the proper support and dedicated action, and that we accomplish more together than we would achieve alone.
As a board member, Martin will provide input on a variety of issues that will lead to improving existing NSLS processes and programming as well as planning for the future of the organization.
Martin became involved with the A&M-Commerce NSLS chapter as an undergraduate because he didn't feel connected to other organizations. "When I got the invitation to an honor leadership organization, I was like 'this is perfect' because that was the kind of involvement I was striving for on campus," Martin said.
He currently serves as a chapter advisor at A&M-Commerce which is one of the largest chapters that has inducted about 2,700 students. "I am there to support the student executive board members and students in any way possible. This is a student-led organization, but we are always there to support our students," Martin said.
"I have to say, being named to the advisory board is one of the highlights of my 6+ years of involvement in this organization to date," Martin said.
NSLS has 646 chapters at colleges in the U.S. with about 953,906 members. It helps students discover and achieve their goals through life-changing lectures from the nation's leading presenters and by building a community of like-minded, success-oriented individuals who come together to help one another succeed.