Faculty Fellow Completes Project Year After Winning Award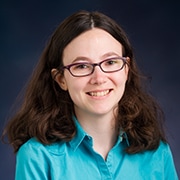 Texas A&M University-Commerce Faculty Fellow Dr. Robynne Lock continues to be heavily engaged in her project entitled "Development of Studio Mode in Physics." Studio Mode was implemented at this university beginning in Fall 2015 in University Physics I and II, which are required for most science, math, and engineering majors.
"In Studio Mode," Dr. Lock said, "class time is devoted primarily to group work. Students actively engage with the difficult aspects of the material when instructors are present." This pedagogical change to a studio mode in the physics department has significantly improved conceptual understanding of physics.
The Faculty Fellowship program awards full-time university faculty with a $4,000 stipend for the year, as well as reassigned time for their fall and spring semesters. In addition, fellows receive a $500 travel stipend in order to present their project at a conference of their choice.
Dr. Lock received her Faculty Fellowship award for the 2015-2016 academic year. Her project work was so successful that she chose to continue her research after the fellowship ended. A presentation of her work will take place in the Center for Faculty Excellence and Innovation (CFEI) conference room on April 20, at 2 p.m. The CFEI is located in Gee Library.
As this Faculty Fellowship project comes to a close, the 2017-2018 Faculty Fellows will soon be announced and the 2016-2017 Fellows will be giving their presentations at the completion of their projects.