Graduates' Achievements Celebrated at Honors Recognition Ceremony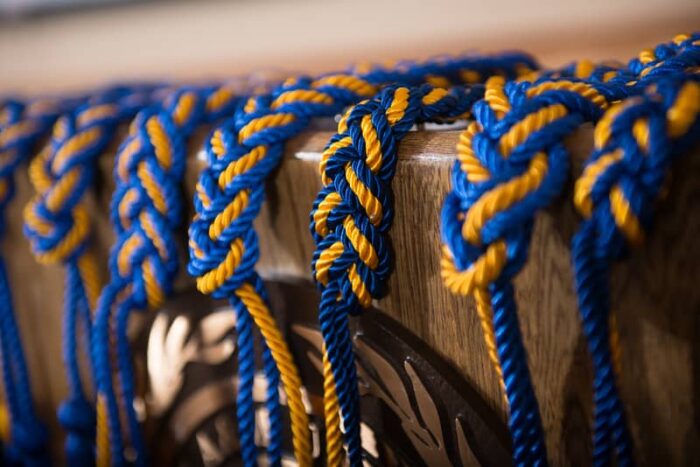 Graduating seniors from the Honors College and Honors Scholar Program were recently celebrated at the 2019 Honors Recognition Ceremony. The program highlights the impressive academic achievements of those honored.
The A&M-Commerce Honors College is a learning community of students who are awarded a four-year full scholarship in exchange for their commitment to meet the challenging program requirements, including the completion and successful defense of an honors thesis led by a chosen faculty member.
The Honors Scholar Program provides students outside of the Honors College with an opportunity to reap the benefits of the Honors experience and to graduate with an Honors distinction. Students enter the Honors Scholar program through a multitude of avenues, including the Regents Scholar Program, self-nomination, nomination by department and Phi Theta Kappa transfers.
Dean of the Honors College Dr. Raymond Green presided over the ceremony.
"The Honors Recognition ceremony is an opportunity to celebrate the fantastic work completed by our students," Green said. "Often, academic work is a quiet and solitary pursuit – hours are spent in the library or residence hall studying and writing. Our ceremony brings that work out into the light for all to see. Parents, friends and professors have the chance to admire and applaud the achievements of our hard-working students. Seeing the pride on parents' faces makes this one of my favorite days of the year."
The following students were recognized at this year's ceremony.
Honors Graduates
Ivy Allsbrooks, Leanna Brown, Elsa Castro, Katlin Davis, Angela Golio, Seth Harred, Crystal Hernandez, Colton James, Todd Kleiboer, Emili McNellis, Abygail Melo, Hayley Pugh, Campbell Reid, Jacqueline Tovar-Yanez, Garrett Blubaugh, Sandra Cherian, Renee Landers, Jason McCullough, Madeleine Morris, Priscille Murphy, Madelyn Phillips, Micalyn Rowe, Maggie Waites, Alexander Westbrooks, Kelsey Kaufert, Tait Sherrard, Peter Spurgeon, Jaryn Wacker, Jaslyn Wacker, Chyenne Baker, Raney Cortez, Corey Grigsby, Kayla Kilcrease, Lauren Legardye, Amelia Martin, Shealee Owen, Karria Thurmon.
Leo Scholar Program Graduates
Sydney Hathcock
Regents Scholars Program Graduates
Kelsey Archer, Chyenne Baker, Siana Campbell, Corey Grigsby, Ariel Hogan, Minerva Mirafuentes, Jaylan Mitchell, Trevor Montgomery, Michael Pimentel-Galvan, Sarah Shook, Chrissa Somerset, Peter Spurgeon, Abigail Welsh, Cassie Wilson, Dakota Wright.