Joe Morales Named Head Volleyball Coach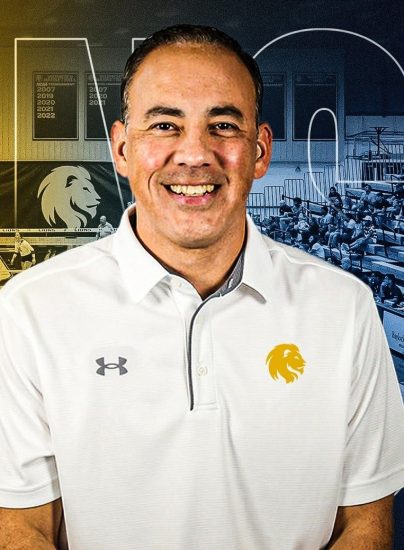 Texas A&M University-Commerce has announced the hiring of Joe Morales as the next coach of the Lion Volleyball program. Morales comes to A&M-Commerce with 14 years of collegiate coaching experience at the Division I and Division II levels.
"We are excited to welcome Joe to the Lion family," A&M-Commerce Interim Director of Athletics Eric Coleman said. "He is well connected and is very familiar with our university. We are looking forward to having Joe on campus to work with our student-athletes."
He has spent last year at McNeese as an assistant coach where the team went 13-5 in the Southland Conference and 18-16 overall.
"I am thrilled and excited about this opportunity to lead the Lions into the world of Division I during their transition and continue the success upward," Morales said. "I knew this was the place for me after meeting the staff and community here at A&M-Commerce, who really showed their hospitality and kindness. I look forward to working with the team that just came off the second round of the SLC Tournament in their first year in Division I, what an accomplishment. As I watched them from the other side of the net, I noticeed some great things; their energy, work ethic and resilience are qualities to be proud of."
Morales, a San Antonio native, spent the 2021 season as an assistant at UTSA. He spent the 2012-21 seasons at Texas A&M-Kingsville, where he primarily worked with the setters and served as the recruiting coordinator.
During his time in Kingsville, the program had a school-record seven consecutive winning seasons in the Lone Star Conference.
Prior to Texas A&M-Kingsville, Morales served as a volunteer assistant coach at Texas State during the 2011 season. With the Bobcats, Morales helped the team to a 15-1 conference record, capturing both the Southland Conference regular season and tournament titles and advancing to the NCAA Tournament.
Morales started his collegiate career at Iowa Central Community College as the assistant coach in 2009.
Morales graduated from Texas State with a bachelor's degree in Communications where he was a member of the men's volleyball club and received a master's in Sports and Athletic Administration from Gonzaga.
"I would like to personally thank President Dr. Mark J. Rudin, Interim Director of Athletics Eric Coleman, Executive Senior Athletic Director Steve Schaack, the entire search committee; Judy Sackfield and Haley Major to name a few and all involved in the process throughout my hire. I am so blessed and look forward to working with some great people. The future is bright as a Lion."