Latino American Mentorship Program Recognized as a "Program to Watch" by Excelencia in Education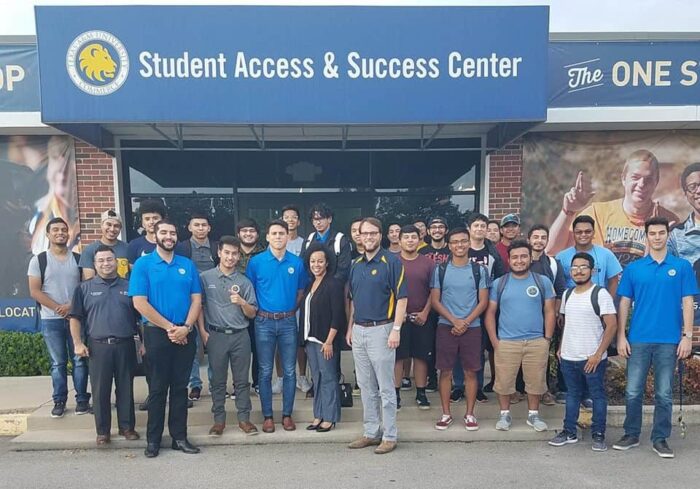 The A&M-Commerce Latino American Mentorship Program (LAMP) has been recognized as a "Program to Watch" by Excelencia in Education, a Washington D.C. based organization whose mission is to accelerate Latino student success in higher education.
"LAMP stood out as a program that has the potential to grow both in practice and in the program's evidence of effectiveness, and it has the potential to continue to make significant impacts on Latino student success," said Andres Quintanilla, program manager at Excelencia in Education.
Dr. Fred Fuentes, A&M-Commerce director of student diversity & inclusion and LAMP coordinator, announced the recognition in an email to LAMP supporters.  "Our university was the only one in the A&M system to receive the distinction," Fuentes said.
The recognition highlights programs such as LAMP that have made a significant impact on Latino students at their universities and within their communities.  Quintanilla applauds the efforts of LAMP to serve Latinos and looks forward to seeing the program evolve.
"We believe our men of color will go beyond the recognition of a 'Program to Watch' and be recognized as an 'Example of Excelencia' by next year – all within three years of the beginning of the mentorship program for men of color in the Northeast Texas region," Fuentes said.
LAMP's mission is to motivate Hispanic students and provide a supportive learning community for mentors and mentees.  The program strives for its members to not only graduate but further their careers by building connections and developing lifelong skills.
Fuentes reported that LAMP has more than 60 mentors and mentees and serves more than 550 students per year with their programming. "These efforts are all student led by otherwise marginalized members of our Northeast Texas communities," Fuentes said.
A summary of the LAMP program has been included in Excelencia in Education's 2018 What Works for Latino Student Success in Higher Education Compendium.