Lion Men Secure Podium Finish, Lion Women Record Program-Best Finish at NCAA National Championships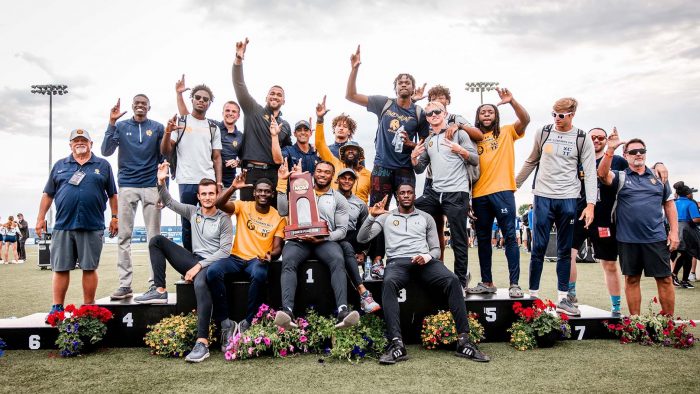 ALLENDALE, Mich. – The Texas A&M University-Commerce track and field teams capped off a historic NCAA Division II National Championships with a fourth place finish on the men's side and a program-best eighth place finish on the women's side on Saturday at the Grand Valley State University Lacrosse/Track & Field Stadium.

The top four teams at the NCAA National Championships reach the podium and receive a trophy. After knocking on the door a few times on the men's side, the Lions won the trophy with a fourth place finish. The Lion men totaled 48 points, which are the program's second most points in the national meet, behind the runner-up finish in 1985.

J.T. Smith (Klein Oak) edged out Lane's Ojoshua Bunton by 0.01 seconds to win the 100 meter dash National Championship. With the national titles from Ushan Perera (Mahabage, Sri Lanka) and Moaz Ibrahim (Cairo, Egypt) on Friday, the Lions tied the 1959 NAIA national runner-up team and the 1985 NCAA Division II national runner-up team with three national championships.

Smith is the first National Champion for the Lions in the 100 meter dash since Bobby Bankston in 1986.

Coming into Saturday, the Lion women's program had just one national championship in program history, Jackie Alford in the heptathlon in 1990. Candesha Scott (St. David, Grenada) won the javelin with a mark of 179 feet 10 inches (54.82m) which is the new school record and third in NCAA Division II history. Minna Svaerd (Karlstad, Sweden) won the 400 meter hurdles with a school record time of 57.33 seconds.

The Lion women totaled 26 points, which is the program's first ever top 10 finish as they placed eighth.
The men's 4×100 meter relay team of Cameron Macon (Dallas – Carter), Smith, Emmanuel Agenor (Spanishtown, Jamaica), and Delan Edwin (Castries, Saint Lucia) placed fourth with a time of 39.91 seconds. Edwin also secured a point for the Lions in the 100 meter dash with an eight-place finish.

Macon raced a personal best time of 14.07 in the 110 meter hurdles to place fourth and secured five points.

The women's 4×400 meter relay team of Naomi Ndukwe (Perserville, France), Mariana Shostak (Lviv, Ukraine), Sofia Khenfar (Lyon, France), and Svaerd ended the meet with a third place finish in the race, timing 3:37.59.

Saturday was the final day of athletic competition for the A&M-Commerce athletic department as members of NCAA Division II and a charter member of the Lone Star Conference. The Lions look ahead to being members of NCAA Division I and the Southland Conference this fall.

Full results can be found HERE.

POINT SCORERS – MEN
Moaz Ibrahim – Discus (10 points, National Champion)
Ushan Perera – High Jump (10 points, National Champion)
J.T. Smith – 100 meter dash (10 points, National Champion)
Cameron Macon – 110 meter hurdles (5 points, fourth place)
Cameron Macon, J.T. Smith, Emmanuel Agenor, Delan Edwin – 4×100 meter relay (5 points, fourth place)
Justin Lewis – High Jump (3.5 points, tied for fifth)
Dakari Hill – High Jump (3.5 points, tied for fifth)
Delan Edwin – 100 meter dash (1 point, eighth place)

POINT SCORERS – WOMEN
Candesha Scott – Javelin (10 points, National Champion)
Minna Svaerd – 400 meter hurdles (10 points, National Champion)
Naomi Ndukwe, Mariana Shostak, Sofia Khenfar, Minna Svaerd – 4×400 meter relay (6 points, third place)

MEN'S TEAM STANDINGS
| | | |
| --- | --- | --- |
| Rank | Team | Points |
| 1 | Pittsburg State | 70 |
| 2 | West Texas A&M | 61 |
| 3 | Grand Valley State | 56 |
| 4 | A&M-COMMERCE | 48 |
| 5 | Ashland | 34 |
| 6 | Adams State | 30 |
| 6 | Missouri Southern | 30 |
| 6 | Lincoln (Mo.) | 30 |
| 9 | Colorado Mines | 29 |
| 10 | Academy of Art | 27 |
| 10 | Central Missouri | 27 |
WOMEN'S TEAM STANDINGS
| | | |
| --- | --- | --- |
| Rank | Team | Points |
| 1 | West Texas A&M | 77 |
| 2 | Grand Valley State | 64 |
| 3 | Minnesota State | 57 |
| 4 | Academy of Art | 44 |
| 5 | Lincoln (Mo.) | 41 |
| 6 | Azusa Pacific | 38 |
| 7 | Adams State | 33 |
| 8 | A&M-COMMERCE | 26 |
| 9 | Pittsburg State | 25 |
| 10 | Fresno Pacific | 23 |