New York Times Best-Seller, Athlete Kyle Maynard to Speak at A&M-Commerce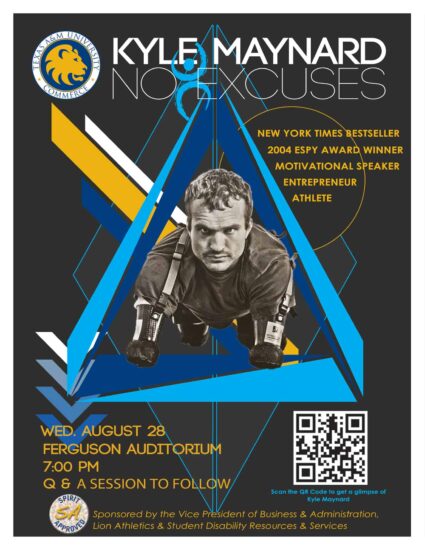 Kyle Maynard, author of the 2005 New York Times best-selling memoir, "No Excuses," has set records in weightlifting, appeared on television programs such as "The Oprah Winfrey Show" and ABC's "20/20" and crawled to the summit of Mount Kilimanjaro. Next, Maynard, a quadruple congenital amputee, will deliver his advice for living a dynamic, excuse-free life to the A&M-Commerce community on Aug. 28 at 7 p.m. in Ferguson Auditorium.
A meet and greet reception with Maynard will be held in the Rayburn Student Center at 5:30 p.m. that evening.
While admission to the presentation in Ferguson Auditorium is free and open to the public, prospective guests of the reception are asked to RSVP to "Texas A&M University-Commerce Reception to Kyle Maynard."
Maynard, 27, is a mixed martial arts fighter, ESPY Award recipient and owner of No Excuses CrossFit in Suwanee, Ga. He has traveled to five continents, appearing as a motivational speaker at schools, programs supporting injured veterans and corporate gatherings.
Maynard's visit to A&M-Commerce is the result of the efforts of Bob Brown, vice president of business and administration, who heard Maynard speak at the annual meeting of the Southern Association of College and University Business Officers in Atlanta this past April. Of more than 150 conferences in a 33-year career, Brown said that Maynard's presentation was among the most memorable for him.
"Kyle did not let physical limitations become limits on his dreams and aspirations. He recognized that he needed to work harder and smarter," said Brown. "His story is very human … and uplifting, but he is not afraid to acknowledge his self-doubts."
That story is the product of what Maynard calls a "pursuit of normalcy" that stemmed from his parents' encouragement, which in Brown's assessment has made Maynard "a genuinely good man whose attitude and approach about taking charge of his life is an example to be followed."
According to Ryan Ivey, director of athletics, Maynard's presentation, which is cosponsored by Student Disability Resources and Services and Lion Athletics, will be especially poignant for A&M-Commerce's student athletes.
"I want them to be able to look at Kyle's story as the pinnacle for perseverance and determination and allow him to be the example in their lives," said Ivey.  "Our student athletes have so much opportunity in front of them, and I want nothing more than to provide them with all of the tools necessary to be successful."
Ivey said that Maynard's message will help the athletes realize that believing in themselves and their abilities will let them achieve their goals and dreams, despite any obstacles—a point Brown is certain will resonate with many attendees.
"Kyle's message of perseverance is important to share with each of us who dreams to be better or to conquer new challenges," said Brown. "His message embraces a can-do attitude but acknowledges the pain that is sometimes necessary to enjoy the gain."