Records Fall as Lion Men Finish Third and Women Take Fifth at SLC Championships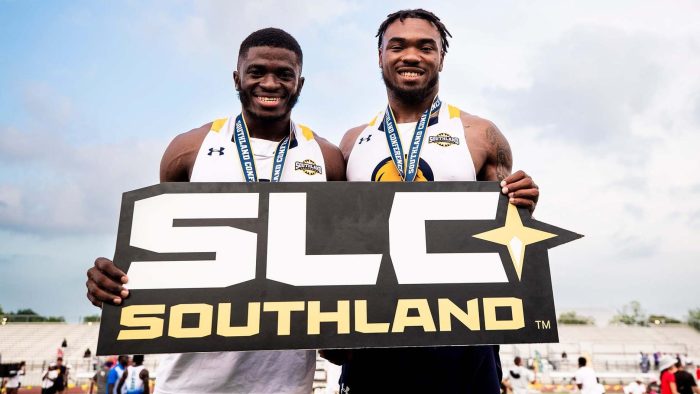 COMMERCE – Multiple school, facility, and meet records were broken by the Texas A&M University-Commerce track & field team on the final day of the Southland Conference Outdoor Championships at Memorial Stadium with the Lion men taking third and the women placing fifth.

On Saturday, A&M-Commerce won five conference championships with J.T. Smith (Klein Oak) playing a role in three of them. He finished the meet with 22.5 points, which was second-best among all competitors. He completed the 100-200 meter dash sweep and was part of the winning 4×100 meter relay team. Trayveon Franklin (Montgomery) and Veronika Kramarenko (Zaporizhzhia, Ukraine) were victorious in the men's triple jump and women's high jump, respectively.

In the team standings, the men totaled 108 points, finishing behind the conference champion, UIW (142 pts) and Northwestern State (116.5 pts). The Lion women accumulated 79 points over the three-day meet for fifth place. Lamar won its first conference title in their women's program's history.

Full results of the meet can be found HERE.

Saturday was the final day of the season for the Lions as they are ineligible for NCAA-affiliated postseason competition during the four-year transition to being full members of NCAA Division I.

MEN
The 4×100 meter relay team of Tyke Owens (Lebanon Trail), Smith, Ibrahim Fuseini (Accra, Ghana), and Delan Edwin (Castries, Saint Lucia) started off the evening with some fireworks, winning the race with a time of 39.38 seconds.

A&M-Commerce's time is a new meet record, new facility record, new school record, and fifth all time in conference history.

Smith secured the Lions' second conference title of the day on the track with a time of 9.92 seconds in the 100 meter dash, while Fuseini went second with a time of 10.07 seconds, and Edwin took fourth with a time of 10.16 seconds. Smith's time is a new facility record, but does not affect other records as the time was not wind-legal.

He completed the 100-200 meter dash sweep with a time of 20.32 seconds, which was wind-legal and Edwin timed 20.56 seconds for second. Smith's time is a new meet record and fifth all-time in conference history.

Nicholas Deutsch (Frisco) scored for the Lions in the 1,500 meter run with a time of 3:59.56 for seventh. Cameron Macon (Dallas – Carter) timed 14.04 seconds for fifth in the 110 meter hurdles. Adrian Taylor (Cape Town, South Africa) also scored for the Lions, taking sixth in the 400 meter dash with a time of 47.72 seconds.

In the 400 meter hurdles, Axel Paolucci (Lyon, France) timed 52.65 seconds for fifth. In the final event of the conference championships, Philip Krenek (Kostelní Strimelice, Czech Republic), Conner Stockerl (The Woodlands), Eddie Barrientes (Chisholm Trail), and Edwin combined to time 3:14.10 in the 4×400 meter relay, which was sixth.

In the field events, Franklin was in second heading into the final series of jumps. He jumped 52 feet 0.75 inches (15.87m) in his final jump to win by 0.01 meters and set a new facility record. Tyris Jefferson (Tyler – Lee) also jumped 48 feet 0.5 inches (14.64m) for seventh.

Owens cleared 6 feet 9 inches (2.06m) for a fourth-place finish in the high jump.

MEN'S POINT SCORERS
| | | | |
| --- | --- | --- | --- |
| Name | Event | Time/Mark | Place (Pts) |
| J.T. Smith | 100 Meter Dash | 9.92 | Champion (10 pts) |
| J.T. Smith | 200 Meter Dash | 20.32 | Champion (10 pts) |
| Tyke Owens, J.T. Smith, Ibrahim Fuseini, Delan Edwin | 4×100 Meter Relay | 39.38 | Champion (10 pts) |
| Trayveon Franklin | Triple Jump | 52-0.75 (15.87m) | Champion (10 pts) |
| Nikita Strogalev | Pole Vault | 16-4.75 (5.0m) | Champion (10 pts) |
| Ibrahim Fuseini | 100 Meter Dash | 10.07 | Silver (8 pts) |
| Delan Edwin | 200 Meter Dash | 20.56 | Silver (8 pts) |
| Delan Edwin | 100 Meter Dash | 10.16 | Fourth (5 pts) |
| Tyke Owens | High Jump | 6-9 (2.06m) | Fourth (5 pts) |
| Cameron Macon | 110 Meter Hurdles | 14.04 | Fifth (4 pts) |
| Axel Paolucci | 400 Meter Hurdles | 52.65 | Fifth (4 pts) |
| Nicholas Deutsch | 3,000 Meter Steeplechase | 9:49.46 | Fifth (4 pts) |
| Chandler King | Long Jump | 24-11.25 (7.60m) | Fifth (4 pts) |
| Adrian Taylor | 400 Meter Dash | 47.72 | Sixth (3 pts) |
| Philip Krenek, Conner Stockerl, Eddie Barientes, Delan Edwin | 4×400 Meter Relay | 3:14.10 | Sixth (3 pts) |
| Alex Speer | 10,000 Meter Run | 31:48.34 | Sixth (3 pts) |
| Trey Wheeler | Decathlon | 5,743 | Sixth (3 pts) |
| Nicholas Deutsch | 1,500 Meter Run | 3:59.56 | Seventh (2 pts) |
| Tyris Jefferson | Triple Jump | 48-0.5 (14.64m) | Seventh (2 pts) |
MEN'S TEAM SCORES
| | | |
| --- | --- | --- |
| 1 | UIW | 142 |
| 2 | Northwestern State | 116.5 |
| 3 | A&M-COMMERCE | 108 |
| 4 | Southeastern | 100 |
| 5 | McNeese | 89 |
| 6 | New Orleans | 79.5 |
| 7 | Texas A&M-Corpus Christi | 77 |
| 8 | Lamar | 52 |
| 9 | HCU | 51 |
| – | Nicholls | NTS |
WOMEN
Kramarenko cleared 5 feet 9.75 inches (1.77m) in her third attempt and cleared 5 feet 10.75 inches (1.80m) in her second attempt to win the event. She also set the new school record and attempted 5 feet 11.50 inches (1.82m), which would have been a new meet record, but she did not clear it. She is the first individual women's conference champion for the Lions since they joined the Southland.

Maia Maury (Noisy-Le-Grand) cleared 5 feet 6 inches (1.68m) for third place. Dejah Fuller (Waxahachie Life) and Amaka Ezukanma (Fort Worth – Timber Creek) went 6-7 in the triple jump. Fuller's best mark was 40 feet 1.5 inches (12.23m) and Ezukanma jumped 39 feet 9.75 inches (12.06m).

The 4×100 meter relay team was the first to compete on the track on Saturday evening. The quartet of Sofia Khenfar (Lyon, France), Ashley Benton (Waxahachie Life), Leah Pettis (McKinney North), and Mariana Shostak (Lviv, Ukraine) timed 45.60 seconds for fourth.

Shostak finished fourth in the 400 meter dash, she timed 53.56 seconds. Pettis reached the podium in the 100 meter dash with a runner-up time of 11.51 seconds, while Khenfar clocked in at 11.74 seconds for seventh.

The Lions scored 13 points in the 400 meter hurdles. Ndukwe timed 59.14 seconds for second and Maury timed 1:01.56 for fourth. Pettis took fifth in the 200 meter dash with a time of 23.94 seconds.

Ndukwe, Khenfar, Francesca Aquilino (Milan, Italy), and Shostak ran a time of 3:37.97 in the 4×400 meter relay to take second. The Lions missed the school record by 0.39 seconds.

WOMEN'S POINT SCORERS
WOMEN'S TEAM SCORES
| | | |
| --- | --- | --- |
| 1 | Lamar | 155 |
| 2 | Northwestern State | 145 |
| 3 | New Orleans | 98 |
| 4 | HCU | 87.5 |
| 5 | A&M-COMMERCE | 79 |
| 6 | McNeese | 76 |
| 7 | UIW | 67 |
| 8 | Southeastern | 61.5 |
| 9 | Texas A&M-Corpus Christi | 35 |
| 10 | Nicholls | 14 |