Serve. Win. Transform. The First 100 Days Report: Jim Curry Discusses His First 100 Days as Director of Athletics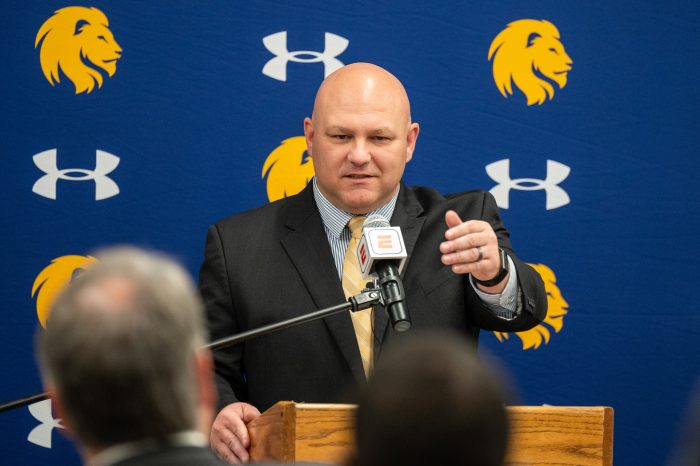 Lion Nation,

It's hard to believe, but today marks my 100th day as your Director of Athletics. I want to take a moment to highlight the incredible work being done by our team in athletics and provide you with an update on some initial observations and insight into where we're going next.
SUSTAINED STUDENT-ATHLETE EXCELLENCE
First and foremost, we must commend our incredible student-athletes for successfully managing this first year in Division I, and maintaining the standard of excellence that has defined this athletics program for decades – not just on the playing surface but in the classroom as well.

SUPPORT AND ALIGNMENT
Thank you to our generous donors, corporate partners and Lion Champions Fund members, your support is critical for our success and your impact is undeniable. The support from the entire university community for athletics has been exceptional, and it starts at the top with President Rudin and our university leadership team whose support has been unwavering and inspiring.

SERVE. WIN. TRANSFORM.
Over the course of these first 100 days, our mission in athletics has become clear – Serve. Win. Transform.

College athletics is a service industry, and this mindset will be the foundation for everything we do. What makes college athletics so special is its ability to unite and bring people together. While student-athletes are at the core of what we do, it is imperative that we recognize the importance of serving all our university stakeholders.

We will pursue championships in all endeavors, both on the field and in the classroom. Given all our success in our first year in Division I, there is one undeniable truth – we proved we belong at this level and we can and will compete for championships.

We will embrace the transformative impact that college athletics provides. Let's be clear, we're doing more than trying to win ball games in athletics. This is one of the best human development industries in the world, and we are literally transforming the lives of young people while at the same time supporting the transformation of this entire university.
FIRST 100 DAYS ACCOMPLISHMENTS
We've been hard at work, and I want to share some accomplishments by our team over these first 100 days:
Successfully executed a national search for a new head women's basketball coach and welcomed Valerie King.
Reset our entire sports medicine unit from top to bottom:

Added three new full-time athletic training positions.
Hired a new health and performance director
Welcoming a new medical director and medical partnership arrangement for athletics.

Rolled out new tailgate and game day enhancements for football.
Added two new full-time positions in academic support.
Hosted our first Division I conference championship event in track and field.
Successfully completed all Year One requirements of the NCAA Division I reclassification process, and formally advanced to Year Two.
Engaged with Under Armour to renegotiate the terms of our apparel agreement.
Launched The Mane Exchange, a new NIL marketplace that will allow student-athletes and interested parties to connect directly for NIL opportunities.
Elevated our approach to scheduling:

Multiple sports will host a Power Five opponent in Commerce this year.
The men's basketball schedule will certainly grab some attention, including a trip to Kentucky.
Additionally, we have an agreement in place for our first Power Five opponent in football that will be announced soon.

Announcing a new partnership focused on ticketing and sponsorship sales that will elevate our operations in both areas, in addition to adding a new position to our external team.
We've tackled a lot in these first 100 days, and it wouldn't be possible without the exceptional work of the team in athletics, our university partners, and our donors.

CRITICAL AREAS OF INVESTMENT
While there is much to celebrate, we still have plenty of exciting work ahead. Having assessed our current operation, there are four critical areas requiring additional investment in order for us to consistently operate at a championship level.
Student-Athlete scholarship and career readiness

Additional scholarship up to NCAA limits
Summer school funding
Academic achievement awards
Life skills and career readiness training for student-athletes.

Student-athlete health and performance.

Replacement of necessary sports medicine equipment
Performance nutrition resources
Student-athlete health insurance.

Facilities investment

To ensure student-athletes have first class venues to study, train and compete in
Allow us to effectively tell the story of the rich history and tradition of Lion Athletics.

Operating expenses to support a first class student-athlete experience.

With a more national reach in terms of scheduling and recruiting, we are experiencing increased operating expenses when compared to our time in Division II.
CHAMPIONSHIP ASPIRATIONS REQUIRE CHAMPIONSHIP RESOURCES
The opportunity to grow our athletics programs and accelerate that championship process is directly tied to the investment we make right now. Let's be clear, we are going to win championships at A&M-Commerce.
It's not a coincidence that this is a university that won multiple national championships across multiple sports in both NAIA and Division II, and there is no doubt in my mind that we can do the same thing in Division I, because this is a place with championship DNA. But make no mistake about it, we need to match our championship aspirations with championship resources.
NEW LION CHAMPIONS FUND WEBSITE
If you're passionate about Lion Athletics and our student-athletes and coaches, then we need your support. In the coming days we will launch a refreshed Lion Champions Fund website in order to streamline the process of giving, and more effectively communicate areas of need and the impact of your gift. We need to grow the roll, and any gift of any size will help support our mission to serve, win and transform.
LION ATHLETICS KICKOFF AUCTION
To celebrate the launch of this new LCF website and the start of a new year, we're rolling out our first Lion Athletics Kickoff Auction. This online silent auction will coincide with the launch of the refreshed LCF website and give Lion fans the opportunity to bid on unique Lion Athletics experiences with all proceeds going to support Lion student-athletes.
POWER OF FAMILY AND TOGETHERNESS
During these first 100 days I've seen firsthand the passion and love that so many have for this university and its athletics program. While we are ushering in an incredible amount of transformation, I've learned this is a university that remains committed to the core values and qualities that makes A&M-Commerce special and unique. This is a family, and when we come together to support one another, special things happen.

Thank you for welcoming me into the Lion family. We appreciate all your support and I look forward to seeing you at a game this year. Thank you and Go Lions!