Stranda Ties for Third, Lions Take Fifth at SLC Championships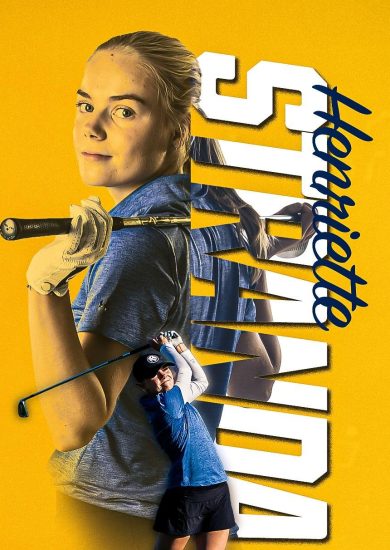 SAN ANTONIO – Henriette Stranda carded the first top five finish in her Texas A&M University-Commerce women's golf team career this week at the Southland Conference Championships as the Lions' season ended on Wednesday at Hill Country Resort Golf Club.

Stranda (Kraakstad, Germany) shot a 76 in the final round to total a score of 226 (75-75-76) over three rounds and tied for third with UIW's Lily Hirst. Stranda finished seven strokes behind UIW's Alex Giles, who was the individual medalist with a score of 219.

In the team standings, the Lions finished fifth among seven teams with a score of 952. A&M-Commerce improved its team score in each round and finished 15 strokes behind Texas A&M-Corpus Christi. Augusta repeated as the Southland Champion and gets the conference's automatic berth in the NCAA Regionals with a score of 910, just one stroke ahead of UIW.
"The team did a great job adjusting to the course and making improvements on our game plan each day" said coach Lise Malherbe. "We improved on our team score every day and really improved on our finishing holes today."
Stranda was selected to the All-Tournament team for finishing in the top five. Full All-tournament team can be found below.
| | | | |
| --- | --- | --- | --- |
| Pos | Name | School | Score |
| 1 | Alex Giles | UIW | 219 |
| 2 | Mirabel Ting | Augusta | 222 |
| T3 | Lily Hirst | UIW | 226 |
| T3 | Henriette Stranda | A&M-Commerce | 226 |
| 5 | Elise Parel | HCU | 227 |
Jordan Ducskas (Flower Mound Marcus) tied for 17th place, which is her first top 20 finish of the season. She shot a 78 in the final round and finished with a score of 238 (83-77-78). Benz Far-Arun (Bangkok, Thailand) also finished in the top 20, taking 19th place with a score of 239 (82-83-74).

Marie Naeher (Neueunbuerg, Germany) placed 29th with a score of 255 (85-81-89). Michelle Becker (San Antonio – Reagan) returned to the lineup on Wednesday and shot an 83, after carding a round of 88 on Monday.

This was the final tournament of the season for the Lions in their first Division I season under coach Lise Malherbe.
"I am incredibly proud of Henriette and her T3 finish. She was very consistent and stayed patience all week that lead to her success," concluded Malherbe. "Time to start counting the days down till fall season!"
| | | | | | |
| --- | --- | --- | --- | --- | --- |
| Pos | Team | Round 1 | Round 2 | Round 3 | Total |
| 1 | Augusta | 313 | 299 | 298 | 910 |
| 2 | UIW | 310 | 297 | 304 | 911 |
| 3 | HCU | 304 | 312 | 311 | 927 |
| 4 | Texas A&M-Corpus Christi | 318 | 308 | 311 | 937 |
| 5 | A&M-Commerce | 325 | 316 | 311 | 952 |
| 6 | Lamar | 324 | 324 | 321 | 969 |
| 7 | Bryant | 336 | 332 | 330 | 998 |