TAMUC Names 2023 Alumni Ambassadors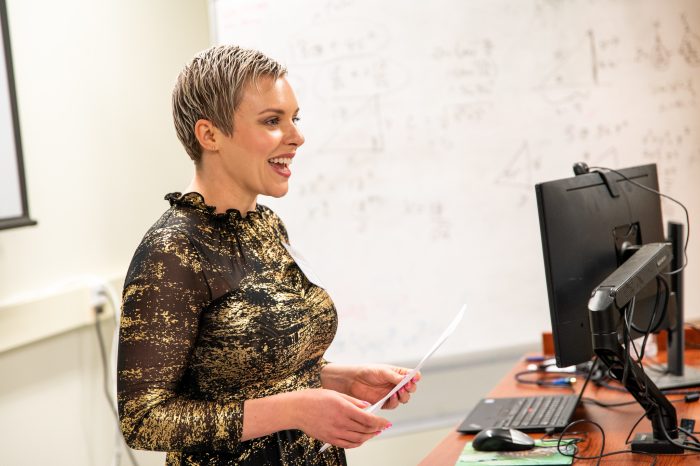 The Texas A&M University-Commerce Alumni Association honored 16 new Alumni Ambassadors at the 2023 Alumni Ambassador Forum and Luncheon held Tuesday, March 7 on the university campus.
An Alumni Ambassador is the highest honor an academic department may bestow upon its alumni. The annual award recognizes alums for their accomplishments and for the value they bring to the university through professional achievement.
During Tuesday's forum, newly appointed ambassadors connected with the university community, sharing information and insights with students, faculty and staff. Over the past 37 years, 980 Ambassadors have returned to campus to participate in the Annual Alumni Ambassador Forum.
"The alumni we recognized this year epitomize the quality of graduates this university produces," said Derryle Peace, director of Alumni Engagement. "Their availability and willingness to share their expertise with students is commendable and enhances our university's transformative experiences," he said.
2023 Alumni Ambassadors
College of Agricultural Sciences and Natural Resources
Caitie Holtzman, Agricultural Sciences
College of Business
Tatiana Chamorro, Marketing and Business Analytics
Matt Cremeans, Accounting and Finance
Shae Green, Management and Economics
Summer Spurlock, Accounting and Finance
College of Education and Human Services
Rickey Brown, Health and Human Performance
Lauren Greer, Curriculum and Instruction
Stephen Southern, Counseling
Sergio Rodriguez, Nursing
College of Humanities, Social Sciences and Arts
Micha Flowers, History
College of Innovation and Design
Terrance Horn, Innovation and Design
Tim Miller, Innovation and Design
College of Science and Engineering
Heather Gantt-Evans, Engineering and Technology
Sarah Schroeder, Mathematics
Stephanie Wagoner, Chemistry
Arthur Houff, Computer Science and Information Systems
Learn more about the A&M-Commerce Alumni Association.
View the event photo gallery.
Photo: Alumni Ambassador Heather Gantt-Evans speaks to the audience at the Alumni Ambassador Forum.