TAMUC 'Must Love Dogs' Signature Course Hosts Guest Speaker Jason Morgan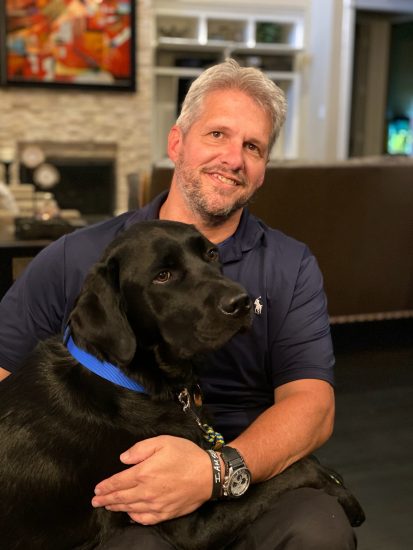 Dr. Sandy Kimbrough, professor of health and human performance at Texas A&M University-Commerce, recently hosted retired U.S. Air Force Staff Sgt. Jason Morgan as a guest speaker for her signature course, "Must Love Dogs."
Morgan, joined by his service dog, Yago, recounted the story behind his book, "A Dog Called Hope: A Wounded Warrior and the Dog that Saved Him."
Only days from the end of his deployment in South America in 1999, Morgan volunteered for a mission that changed the course of his life, leaving him paralyzed from the waist down with no hope of walking again.
He endured countless surgeries and more than three years of hospitalization before resuming life at home. Morgan's book recounts how receiving his first service dog, Napal, helped him to overcome physical, mental and emotional challenges on his way to becoming a better father, competitive athlete, best-selling author and motivational speaker.
Kimbrough's signature course includes a brief history of the relationship between dogs and humans, an overview of dogs that assist humans, and dog rescue, rehabilitation and adoption.
"Last fall, my 'Must Love Dogs' class really enjoyed Jason's presentation, so I was excited to have him back to speak to this year's class," Kimbrough said. "His inspiring book is a joyful read. I'm thankful for his service to our country and for the message of hope he brings to our students."
Morgan said he enjoys speaking to the "Must Love Dogs" class. "I really enjoy the rare opportunity to interact with my audience," he said. "The students asked great questions and were really interested to learn more about Yago and the huge role he plays in my life."
Visit Morgan's website to learn more about his story.