TAMUC Students' Children's Book Places Third at National Competition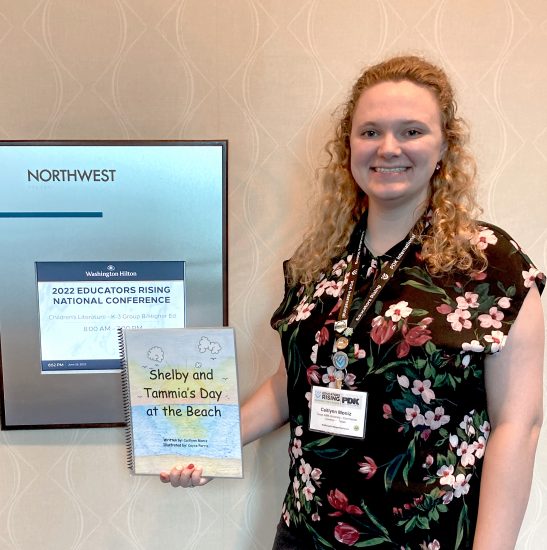 A children's book authored and illustrated by Texas A&M University-Commerce students Caitlyn Moniz and Cayce Parris placed third at the higher education level in a competition that culminated at the Educators Rising national conference in Washington, D.C.
The students represented the A&M-Commerce chapter of the Texas Association of Future Educators (TAFE), the Texas affiliate of Educators Rising. This is the first year that A&M-Commerce has participated in the competition, which challenged participants to write and illustrate a book to be presented to a panel of judges at regional, state and national levels.
"Shelby and Tammia's Day at the Beach," authored by Moniz and illustrated by Parris, progressed from the TAFE Region 11 conference to become a children's literature TAFE state qualifier before advancing to the national event. Moniz and Parris presented together at the regional and state levels. Moniz represented the duo at the national competition.
Moniz, an education major focusing on early childhood and special education, is president of the A&M-Commerce TAFE chapter. Parris is an early childhood education major and serves as treasurer of the chapter.
TAFE provides an opportunity for students in secondary and higher education to gain knowledge of the teaching profession and explore careers in education. Members learn skills that will serve them well as future educators, including the importance of service, leadership and strong character.
Assistant Professor Carol Revelle in the Department of Curriculum and Instruction at A&M-Commerce expressed pride and excitement for the accomplishment.
"In our first year of competition, these two students created a book that advanced to nationals and blazed a path for future A&M-Commerce TAFE members to compete at the highest levels."
Learn more about TAFE at A&M-Commerce. Contact [email protected] or [email protected] for more information.