You can get to know your faculty, and they will get to know you.
Adam Northam
Digital Archivist
Faculty Senate | Library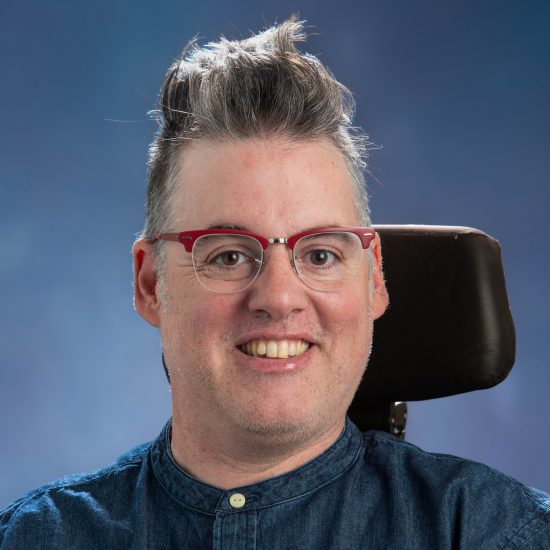 Office
Velma K. Waters Library 406
Related Department
Faculty Senate
Library

College Major
Library Science
When Adam Northam chose libraries and archives as a field of study and as a profession, he thought he would become a reference librarian, teaching faculty and students how to find and evaluate information resources. However, when Adam participated in a pilot project to create online collections of digital content, he discovered a fascinating career in digital archives/special collections. He has always loved media, technology, and collections of things, so he was excited to add those elements to his regular responsibilities. Beyond his work, Adam loves video games and pop culture. He and his wife Sarah live with their dog Nola, who is a big couch potato.
A Conversation with Mr. Northam
What would you tell a student who is thinking about attending A&M-Commerce?
A&M-Commerce is an excellent environment to find out what you want from your academic experience. You can get to know your faculty, and they will get to know you. Those relationships are invaluable. It can be a very personal experience.
What drew you into your

discipline/career?

I came to my discipline in a roundabout way. As an undergraduate student, I was drawn to history, but I knew pretty early that I didn't want to teach in a traditional classroom setting. I started thinking about alternative paths that would allow me to translate skills gained from a history degree into a career. History classes were my favorite in school, so I wanted to keep taking them. After some research, I found librarianship and archives. I gained research and writing skills in my college history studies which provided a solid foundation in the field. I also discovered that librarianship offers a wide range of career opportunities, and working at a university library provides a route into the academic environment beyond traditional classroom instruction. It has been a good fit. Librarianship and archives also appealed to the part of my personality that is a collector of things. As long as there is stuff, it needs to be organized, described and made accessible.
How do you help students at A&M-Commerce?
As the digital archivist, I have been involved in the creation and maintenance of our university's digital collections. The collections include multimedia objects, like audio/video materials, as well as photos and documents. I help introduce students to our digital and special collections/archives materials and use them in their academic research. Archival and digital collections materials are often unique or one-of-a-kind items, and they can add greater depth and unique perspectives to a student's work.
Educational Background
M.S., Library Science, University of North Texas, 2007
B.S., History, second major in Political Science, Texas A&M University-Commerce, 2002
Research Interests
Digital Collections
Electronic Records Preservation
Oral History
Professional Organizations
Society of American Archivists
Society of Southwest Archivists
Selected Publications
Northam, A., & Barera, M. Take this, it's Free: Public Domain Clearance Project at Texas A&M University-Commerce Libraries. Archival Outlook (Sept/Oct 2018) 12.
Northam, A., & Anderson, S. Making Your Popcorn and Enjoying It Too. Computers in Libraries, 35(3), 20-
Weddle, A., & Northam, A. Introducing the Voices of the Greatest Generation to the Internet Generation: Using World War II Oral History Interviews to Promote Undergraduate Research.