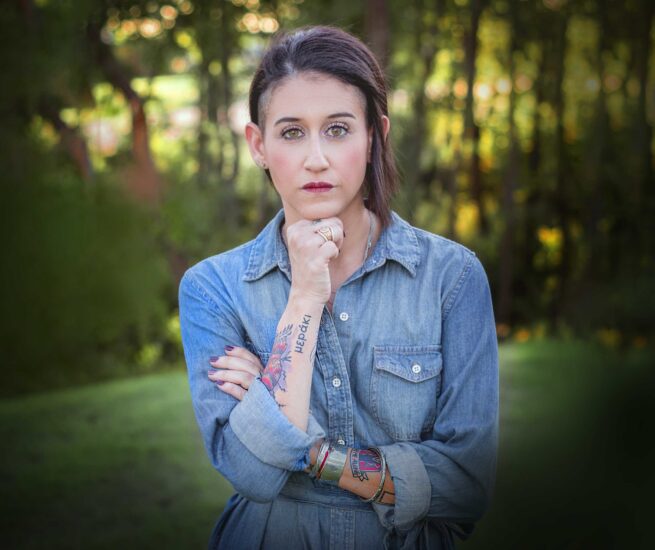 One of my favorite things to tell my students is 'by the time you finish this course, you won't be able to look at anything the same way again!'
Nicole Farris, Ph.D.
Associate Professor, Sociology
Sociology & Criminal Justice
Office
Ferguson Social Sciences 218
Related Department
Sociology and Criminal Justice

Nicole Farris has devoted her life to the observation of people. In public settings, her habit of people watching often earned a warning from her parents. Today, whether it's working with students, collaborating with colleagues or writing her latest book, Farris longs to understand her world in new, exciting and profound ways. A Texan from birth, Farris felt at home when she arrived at A&M-Commerce. When she's not teaching or working on her latest project, Farris loves to spend time with her seven pets and watch Netflix with her wonderful husband.
A Conversation with Dr. Farris
What would you tell a student who is thinking about attending A&M-Commerce?
"I would tell them that they are making a great choice. We have the prestige of being the second largest regional institution in the Texas A&M University System and the closeness of a small and tight knit community. I went to A&M College Station, and I loved it; but at a place like that (or any of the larger universities in Texas), you're just a face in the crowd or a name on a roster. At A&M-Commerce we have the opportunity to get to know our students in a way that you just can't do at a larger institution. I worked at a small university in Alabama before I came back to Texas, where I was born and raised. For me, coming to A&M-Commerce was like coming home."
What makes you passionate about your discipline?
"So many things! I think sociology is super exciting, not only because I've devoted my life to studying it, but also because it is just so relevant in all aspects of life. One of my favorite things to tell my students when I teach an Introductory course is that "by the time you finish this course, you won't be able to look at anything the same way again!" Music, movies, television, it is all able to be viewed through a sociological lens. I think sociology is also really important because sociology, more so than other social sciences, teaches students how to be empathetic and how to understand where people come from and why they do what they do. In this global economy, being able to be familiar and comfortable with people from a variety of backgrounds, whether it be racial/ethnic, gender, sexuality, religion, social class or whatever, is going to serve anyone well. Honestly I love what I do and I just think it's really fun. I try to project that whether I'm teaching about deviance or demography."
Tell us about an academic project you are working on or recently completed.
"Too many! I published two books in 2020; both edited volumes. One was on Marriage and Family (The International Handbook of the Demography of Marriage and the Family) and one was Race, Gender, and Sexuality in the Digital Age. Both published by Springer Publishers and the best part is that both feature work from students I've had over the years, both under graduate and graduate, at A&M-Commerce and other institutions. I love incorporating students into my research process because watching them grow and develop is so rewarding. I also remember when I was a student and how my advisor gave me such wonderful opportunities, so I try to pay it forward whenever I can! I'm working on a journal manuscript about masculinity and aggression in football players with a former student and a book proposal about foster care outcomes with a colleague from my department! I like to stay busy."
Educational Background
Ph.D., Sociology, Texas A&M University-College Station, 2011
MA, Sociology, Texas State University, 2008
BA, Sociology, Texas A&M University-College Station, 2006
Academic Positions
Associate Professor of Sociology, Texas A&M University-Commerce, 2018-present
Assistant Professor of Sociology, Texas A&M University-Commerce, 2016-2018
Assistant Professor of Sociology, University of West Alabama, 2012-2016
Adjunct Instructor of Sociology, Austin Community College, 2012
Awards and Honors
Recipient, OSP Grant Pyramid Incentive Program, 2015
Chapter President-Elect, Phi Kappa Phi Honor Society, 2014
University of West Alabama Research Grant Recipient, 2012, 2013
Research Interests
Demography/Statistics with an emphasis in gender
Marriage/family
Methodology
Professional Organizations
American Sociological Association
Southwestern Social Science Association
Southern Demographic Association
Population Association of America
Selected Publications
Farris, D. Nicole and A.J.J. Bourque. The International Handbook on the Demography of Family. New York, NY: Springer Publishers. 2020.
Farris, D. Nicole, D'Lane R. Compton and Andrea P. Herrera. Gender, Sexuality and Race in the Digital Age. New York, NY: Springer Publishers. 2019.
Farris, D. Nicole. Boomerang Kids: The Demography of Previously Launched Adults. New York: Springer Publishers. 2016.
Davis, Jennifer Lauren, D'Lane R. Compton, D. Nicole Farris and Tony Love. "Implementing and Analyzing Social Media in Higher Education" The Journal of Faculty Development 29: 2; 9-16. 2015.
Featured Courses
SOC 1301 Intro to Sociology
SOC 332 Methods of Statistical Analysis