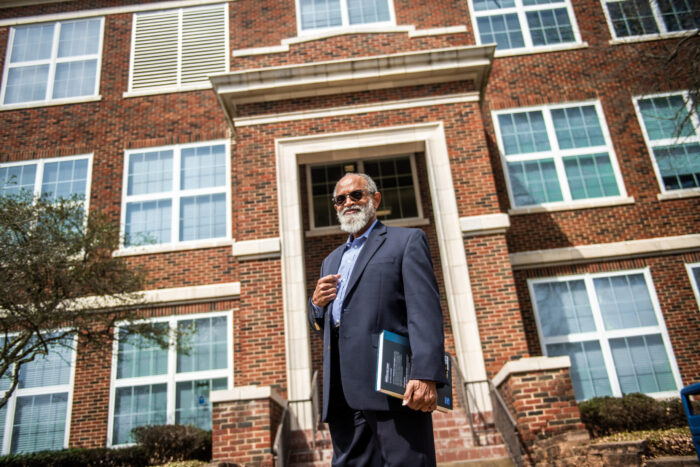 The atmosphere here at the A&M-Commerce is one in which a student can grow professionally, find assistance as they move through the various courses and in selecting a major.
Willie Edwards, Ph.D.
Associate Professor and Department Chair
Sociology and Criminal Justice
Office
McDowell Administration Building 102A
Hometown
Grand Prairie, TX
Willie Edwards has over 40 years of experience in the field of Sociology. He is a person who practices what he has learned in his field, meaning Edwards is aware of how his actions change as he interacts with others. He encourages his students to practice this approach in their own lives. Edwards comes from a middle-class background. This has allowed him to appreciate his accomplishments and use his experience when teaching others. He considers himself a realist, which means he works to understand himself and the many situations and circumstances he encounters. You can see this understanding transported into his classroom and how Edwards interacts with his students and colleagues.
A Conversation with Dr. Edwards
What draws you to your discipline?
My discipline is criminology and sociology. I became interested in these two fields while in high school and at that time I knew that when I entered college that those would be my subject of focus. I wanted to understand human behavior and especially that which related to criminal activity. I believe having an understanding and developing the ability to explain such behavior would aid me in my selected profession which would be a college professor.
What would you tell a student who is thinking about attending A&M-Commerce?
I would tell a student who is considering attending A&M-Commerce that he or she should learn here because the faculty, staff and administration are all serious about meeting the needs of the students. The atmosphere here at the A&M-Commerce is one in which a student can grow professionally, find assistance as they move through the various courses and in selecting a major. I would tell the student that he or she will enjoy the social atmosphere but also appreciate the guidance they will receive as they move toward graduation.
What has been your favorite course to teach?
My favorite course that I teach is Crime and Criminology (CJ 330). It gives me the opportunity to share the reasons and theories of why people commit crimes. I like to enter discussions with students about these theories because they frequently are surprised about some of those reasons. It is my favorite course because the explanations for crime are more complex than the average person thinks it is. This course allows me to share with others the research in the field of criminology.
Tell us about a project you are currently working on or recently completed.
I am currently working on two projects, both dealing with attitudes toward law enforcement. One looks at the attitude of college students toward the police and the other looks at how the Black Lives Matter movement has impacted the attitude toward policing.
Tell us a little about yourself
I am open minded and willing to entertain new and challenging ideas. I believe in having standards but I also believe in opening self to new adventures. I encourage students to develop a well-rounded personality. I believe in God and his blessings.
Educational Background
Ph.D., Sociology, University of Minnesota, 1989
M.A., Sociology, East Texas State University, 1972
B.A., Sociology, East Texas State University, 1970
Academic Positions
Department Head, Sociology and Criminal Justice, Texas A&M University-Commerce, 2010-2013
Department Head, Sociology and Criminal Justice, TAMUC, 2003-2007
Associate Professor, Sociology and Criminal Justice, TAMUC, 1990-Present
Instructor, Sociology, Richland College, 1975-1990
Awards and Honors
Service Honor Award from Texas Association of Black Personnel in Higher Education, 2020
Professor of the Year, Presented by Hunt/Hopkins County African American Leadership Committee
Fraternity Advisor of the year 2015
Appointed to Texas Higher Education Coordinating Board Work Group to develop Student Learning Outcomes for Sociology, 2012
Research Interests
Race Relations
Criminological theories
Professional socialization
Professional Organizations
Academy of Criminal Justice Science
American Society of Criminology
Black Sociologist Association
Featured Courses
CJ 300 Criminology
CJ 330 Crime and Criminology
CJ 470 Criminal Justice Internship I
SOC 485 Senior Seminar in Sociology
Selected Publications
2017. (with Henry Ross) "What are they saying? Black faculty at predominantly white institutions of higher education." Journal of Human Behavior in the Social Environment, 28:(2):142-161.
2016. "Measuring relationship satisfaction: Is it possible for Black gay male couples to be satisfied in a relationship? Deviant Behavior. DOI: 10.1080/01639625.2016.1156983
2016. (with Henry Ross) "African American faculty expressing concerns: breaking the silence at predominantly white research oriented universities." Race Ethnicity and Education, 19(3):461-479.