LEAD AT THE DISTRICT LEVEL
Become a respected leader in Texas school districts through our fully online Superintendent Certification program. Local ISDs need your insight and now is your chance to make a difference in your community. We will help you prepare for the TExES examination and lead you toward success as a superintendent.
Offered separately or combined with a doctorate in educational administration, the 15-hour certification provides the skills required to lead school districts. Work with our renowned faculty to study school finance, facility planning, employee management and human resource management. You will apply classroom theory to the school setting by completing a semester-long practicum experience.
Where It Is Offered
Online
Foreign Language
No foreign language credits required
Delivery
Only Offered Online (100% Online)
Total Credit Hours
15 Hours
Thesis Requirements
No thesis required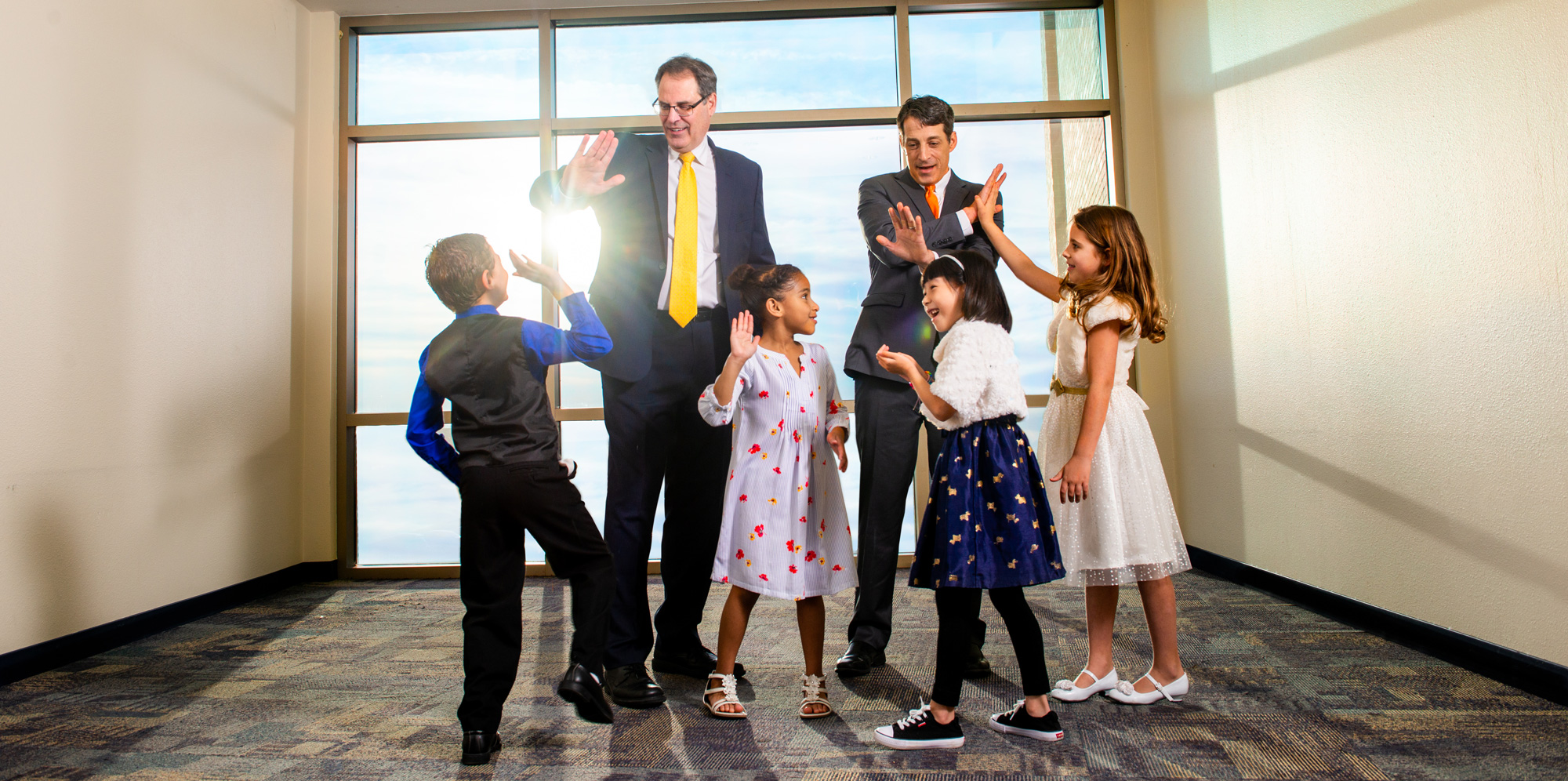 Superintendent Program Requirements
Program Information
Our program begins in January and includes the superintendent block. The superintendent block is a three-semester experience including the practicum. Practicum field visits are conducted according to Texas Administrative Code, Title 19, Part 7, Chapter 228, §Rule 228.35.
Program Layout
You must be admitted into the certification program and successfully complete the three core courses prior to enrolling in the practicum courses, EDAD 628 School District CEO Leadership: The Superintendent, and EDAD 611: School District CEO Leadership: The Practicum.
If you have been admitted to the Educational Leadership doctoral program and the Superintendent Certification program, you may take the three core certification courses as electives for the doctoral program. Core courses include EDAD 620, EDAD 627 and EDAD 651.
Visit our handbook for more information.
Back to menu
SuperintendentCert::Region 10 Partnership
ESC Region 10 Partnership
Offered exclusively for ISD employees from ESC Region 10, the A&M-Commerce Region 10 Superintendent Certification program is a collaborative partnership that provides Region 10 candidates seeking superintendent certification with an excellent, relevant and personalized education. Through our partnership, we have created an innovative and rich learning experience in a face-to-face setting. You will be engaged in meaningful experiences that will pique your intellectual curiosity.
Back to menu
Course requirements Superintendent
Featured Courses
School District CEO Leadership: The Superintendency
EDAD 628
Through visionary, collaborative, ethical, and political leadership the candidates for superintendency will develop the knowledge and ability to promote the success of all students as the School District CEO. In addition, candidates will gain an understanding of the Texas Leadership Standards by focusing on real world issues and tasks, scenarios, and case studies.
School District CEO Leadership: The Practicum
EDAD 611
The practicum is the process and product that results from applying the knowledge and skills defined by the six National Standards for School District Leadership and the State Competencies for the Standard Superintendent Certificate. Candidates for School District Leadership will participate in planned activities during the Superintendent Practicum. Application of standards-based knowledge and skills and research in real settings over time is the critical aspect of the practicum.
School District Instructional Leadership: Human Resources
EDAD 620
This is an integrated School District Instructional Leadership course to develop candidates who have the knowledge and ability to promote the success of all students by promoting a positive school culture, providing an effective instructional program, applying best practice to student learning, and designing comprehensive professional growth plans for staff. The course includes school district policy (legal and local) as well as key legal cases related to human resource issues.
Back to menu
Superintendent Certificate :: Program
Program Requirements
To be admitted to the Superintendent Certification program, a prospective student must meet all of the following criteria:
Hold a master's degree from a regionally accredited institution with a minimum 3.25 GPA
Hold a current Standard Principal, Mid-management or other Texas Administrator certificate
Provide evidence of three creditable years of managerial experience in a public school district as approved by TEA
Successfully complete the application submission process
Deadlines
Applications are accepted throughout the year.
Your Path to Becoming a Lion
Step 1. Apply to the Graduate School
Note: Current educational administration doctoral students do not need to re-apply to the Graduate School. Please contact the department directly at EducationalLeadership@tamuc.edu. Applicants who have not already applied to the Graduate School who are seeking superintendent certification only may follow the process below.
Submit Application
Submit your application at tamuc.edu/apply.
Select "Create a new graduate school admissions application."
Select "Texas A&M University-Commerce (Commerce)" as your "Target University."
Select "Superintendent Certification" as your "Major."
Pay the $50 application fee.
Wait to receive an application confirmation email before proceeding to the next step.
After you submit your application, the Graduate School will send a confirmation email within two business days to the personal email account you used for ApplyTexas.
Submit Documents
Submit the following documents after you receive an application confirmation email.
Official Transcripts
Contact your previous institution(s) and request that they send your official transcripts to [email protected].
We recommend that you request transcripts for all of your academic work.
Postal Alternative
If your institution is unable to submit a digital copy, hard copies may be mailed to:
Texas A&M University-Commerce
Attn: Graduate School
PO Box 3011
Commerce, Texas 75429-3011
Principal Certificate
Submit proof of current valid Principal Certification including standard principal, mid-management or other Texas administrator certificate.
Educator Service Record
Submit an educator service record including a minimum of three years of managerial experience in a Texas public school district.
FERPA Form
Submit a signed FERPA form.
Look for application updates in myLeo > Apps > Check Application Status
Once an admission decision has been made, you will receive an email to your student email account at myLeo > Apps > Leomail.
Step 2. Apply to the Certification Office
Once your application to the Graduate School is complete, you can submit your Superintendent Certification Program Application right away using TK20. If you have any questions, please email [email protected].
Pay the certification and assessment fees
Gather Required Documents
You will need to have the following documents ready for upload in order to submit the application:
Certification fee receipt
TEA Assessment fee receipt
Educator service record

A minimum of three years of managerial experience is required for admission to the superintendent certification program.

Standard Texas Principal, Mid-management or other Texas Administrative Certificate

Candidates on emergency permits, intern or probationary certificates will not be admitted.
An official letter from the Texas Education Agency recognizing your managerial experience as equivalent to a principal certificate will be accepted for this requirement. Directions for submitting this information can be found on the TEA website.

Official transcripts from the Graduate Office will be reviewed by the certification office.

Official transcripts from all institutions must be submitted to the Graduate School in order to satisfy TEA certification admission requirements.
A minimum GPA of 3.25 on a conferred master's degree is required for admission.
Two written screening activities will be completed as part of the application in TK20. Please write your essay and answer the short-answer questions carefully, as these screening activities will be used in determining admission to the program.
If applicable:
TEA Transfers

If you have previously been admitted to another educator preparation program for superintendent certification.
Request that a completed TEA transfer form be sent from your previous program to

[email protected]

.

Transcripts from outside the United States

Contact

[email protected]

for any questions about TEA requirements for transcripts from outside the United States.
If your official transcripts are from institutions outside the United States and the country of origin is not exempt by TEA, send the following documentation to

[email protected]

:

A course-by-course evaluation from a TEA-approved Foreign Credential Evaluation Service
Minimum scores on the Test of English as a Foreign Language (TOEFL iBT). Please note that TOEFL scores are only valid for a period of two years. Required minimum scores are 24 for Speaking, 22 for Listening, 22 for Reading and 21 for Writing.

As of 3/4/2022, a valid standard Texas educator certificate will be accepted in lieu of TOEFL iBT scores.
Create a TK20 Account
Go to tamuc.tk20.com
Scroll down and click "Admissions"
Select "Click here to create your account."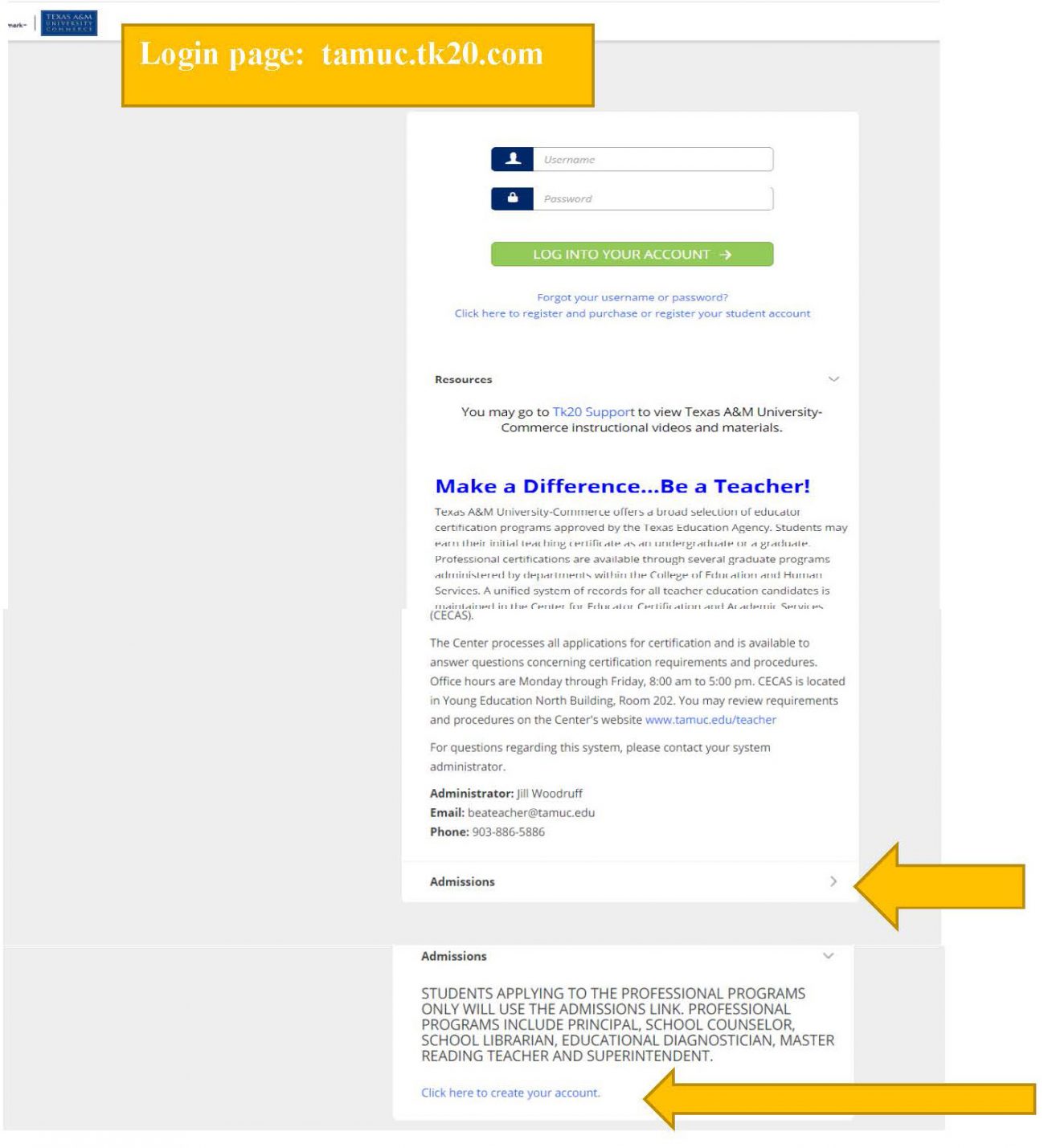 Complete the "Create Applicant Account" form.
Note: You will be creating a password for this account.
Store the password you create in a secure location so you can refer to it later.
After completing the "Create Applicant Account" form, TK20 will provide your username.
Store your TK20 username and password in a secure location so you can refer to them later.

You will use the username to log in to review your admission application once submitted.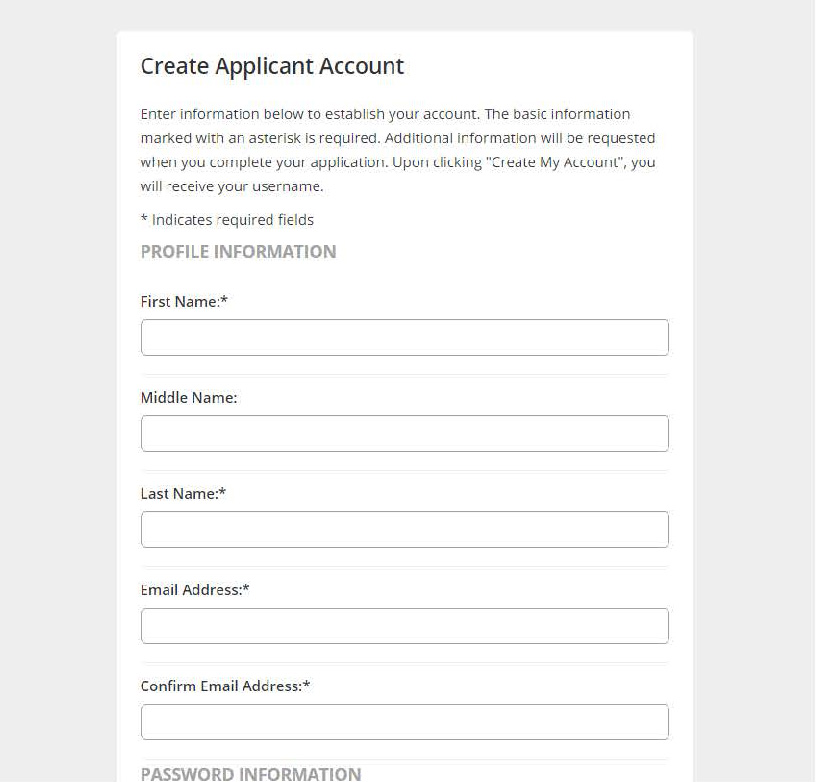 Fill out the Superintendent Admission Application
Log into your TK20 account

Click on the "back to login" link.
Enter your username and password.
Click the green "Log Into Your Account" button.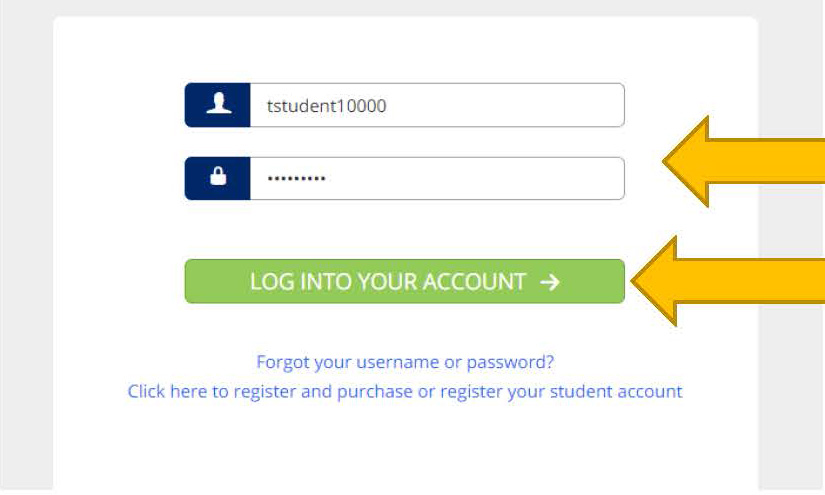 Click on the "Create New Application" button.

Select "Superintendent" application
Click the "Next" button.

Complete the application.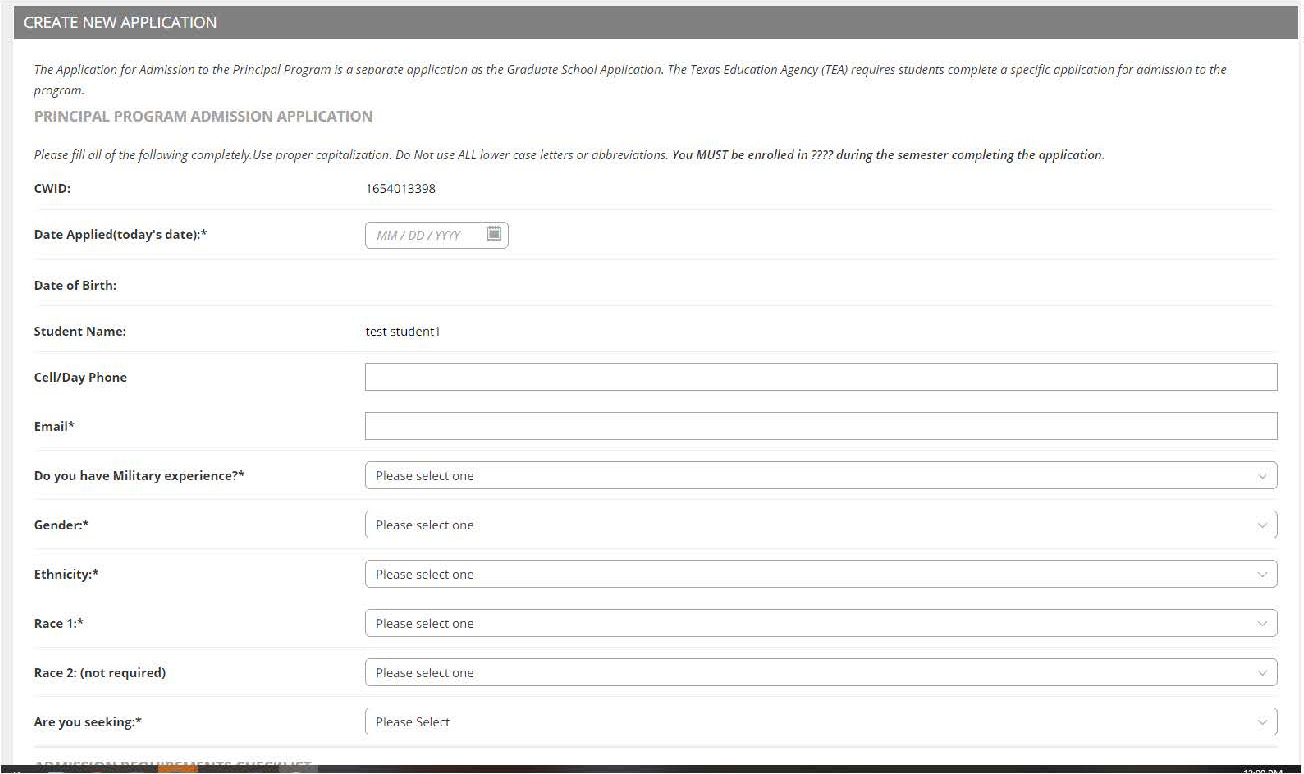 Upload Documents
Upload documents by clicking on the "+ Select File(s)" button for the item you are uploading.
Once you have completed all fields in the application, click the "Submit" button.

Look for an email from TK20 confirming your submission.

Check Your Application Status
To check your application status:
Log in to your TK20 Student Admissions account
On the "Home" tab, locate your application under "Recent Messages"
Click on the application.
If you are admitted, the message will indicate your application was "Admitted"
If you lack admission requirements, the message will indicate "Denied."

Click on "Review Document" to view your deficiencies and reason(s) for denial.
Sign the Letter of Invitation
Once accepted, please sign and return the "letter of invitation" to [email protected]
Step 3. Apply for Financial Assistance
Apply for scholarships and graduate assistantships once you are admitted.
Apply for financial aid by submitting a FAFSA and sending it to school code 003565.
Contact your financial aid advisor with any questions.
Step 4. Register for Classes
Once registration opens and you are eligible to enroll, your graduate enrollment specialist is here to help you complete registration.
Contact your graduate enrollment specialist if you have any questions regarding your degree plan and registration.
Back to menu
Superintendent:: Connect with Us
We are Here to Help!
Back to menu
Contact Us
Department of Educational Leadership
START YOUR JOURNEY! Two buttons
START YOUR JOURNEY!
Back to menu