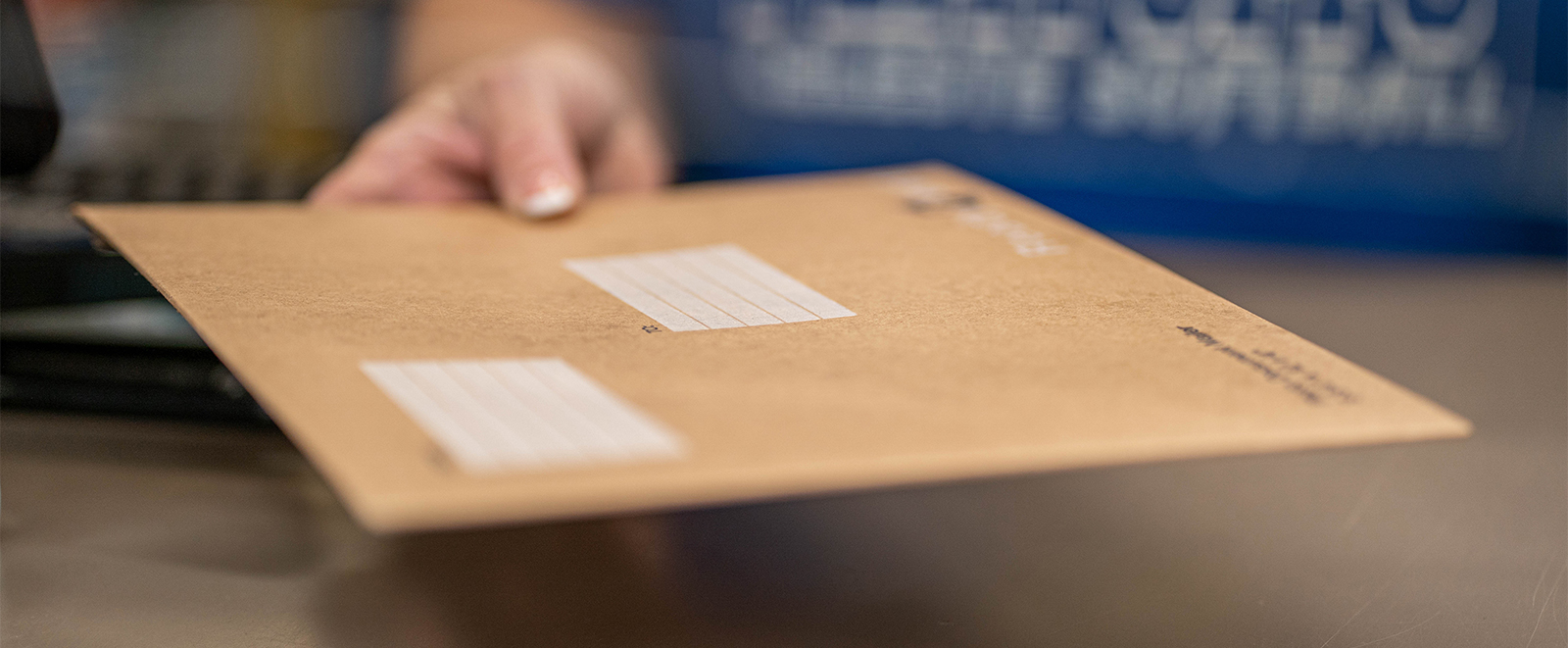 Campus Mail Service :: Services
Our Services
Outgoing Mail
Outgoing mail (metered mail) is carried to the U.S. Post Office at 3:30 p.m. each workday. Mail received and processed after this time is subject to the next day's processing. If we have already picked up outgoing mail from your department and you have mail that needs to go out that business day, you will need to deliver it to the Mail Services Center before 3:30 p.m.
Requirements
Regular-sized (#10) envelopes (white) or a 9×12 envelope (manila or white) are to be used for outgoing mail. All mail should be placed in an envelope. Folded mail is not allowed for metered processing.
Mail Services staff make every effort to process the university's outgoing mail before leaving for any holiday break. Departments can help expedite this service by delivering all outgoing mail to the Mail Services Center as early as possible before the break.
All outgoing mail must include the university's return address and the originating department. All return addresses are to be located in the upper left-hand corner of the envelope. Return addresses located in any other area of the envelope may be cause for misdirected mail by the U.S. Post Office and returned to the university undelivered, resulting in additional postage to resend at a cost to the department and university.
ALL FLAPS ON OUTGOING MAIL ENVELOPES MUST BE FOLDED DOWN.
Seal all envelopes that are more than 1/4" thick or for nonstandard-size envelopes. Please seal the flaps on larger envelopes.
Clearly identify and separate all international mail from other mail with a sticky note and rubber band. Clearly identify and separate all special handling and higher postage rate mail for processing. Any article addressed to a foreign county or military (APO/FPO) address that weighs 16 ounces or more must have a customs declaration Form 2976 (green) or 2976-A (white) affixed to the package. These forms must be filled out before the package is delivered to the Mail Services Center for processing.
Please separate envelopes with objects such as pens, badges, etc. and mark as "Special Attention" to eliminate damage to the mail equipment.
Mail Services provides forms for various mail-related services such as certified mail, return receipt, insurance receipts and express mail. Departments using these services are responsible for completing these forms accurately and completely. Only Express Mail forms provided by Mail Services are to be used with the departmental name included on the return address.
Departments receiving mail pick up services should have two boxes designated at their pick up location, one for outgoing (metered) mail and one for campus mail. See above for rules on international mail.
Incoming Mail
Incoming mail is collected from the U.S. Post Office at approximately 8:30 a.m. each workday. Mail Services staff sort and distribute mail into departmental boxes.
Requirements
Mail is sorted by department name, not by building, room number or addressee. It is the responsibility of each employee within a department name to notify senders of the correct address (NOTE: This is very important for an individual that transfers to another department). Improperly addressed or generic mail is subject to inspection for placement to the proper department. The university's mailing address is as follows:
Attn: (Employee Name)
Department Name
Texas A&M University-Commerce
P.O. Box 3011
Commerce, TX 75429-3011
All mail processed through A&M-Commerce Mail Services is considered university business. No personal mail should be sent, received or forwarded via campus Mail Services. Outgoing personal mail should be placed in the U.S. Postal Service drop box located at the Campus Mail Center. Incoming personal mail should be directed to the individual's home address or their personal Post Office box at one of the local U.S. Post Offices.
Campus Mail
Plain brown envelopes are preferred for campus mail. All other envelopes must be clearly marked "Campus Mail" to prevent spending funds on unnecessary postage.
All campus mail should be addressed with department name and recipient's name.
Large quantities of campus mail addressed to the same department must be bundled with rubber bands.
Departmental Mail
Departmental mail will be delivered each workday to the designated department. If your department is not on our mail route and a package is delivered to us, we will call the individual for pick up. A picture ID must be provided to pick up the package.
Shipping & Receiving
CONTACTS
Shipping/Receiving and Surplus Coordinator: Ricky Porter
Distribution: Richard Helge
Telephone: 903.468.3050
SHIPPING INSTRUCTIONS
Step 1: Package should be properly packed and sealed.
Step 2: Package information must include the proper "Ship To" address, department, department account number and the total dollar value of the shipment. This will ensure quality handling and service for all parties involved.
Step 3: Notify receiving no later than 2 p.m. for all UPS shipments and no later than 10 a.m. for all Federal Express shipments.
Note: For all packages with a value of $1,000 or more, please include a separate list detailing the contents of your package.
To track your package(s), visit the UPS or FED-EX website.
RECEIVING
All items received at the shipping department must be university-related. It is never acceptable to have personal items sent to the shipping office.
All packages received at the shipping department are delivered to the individual department listed on the address label. All packages must be signed for by a department employee. Packages are not opened to verify contents. They are opened only when necessary for identification, to put asset numbers on them, or if obvious damage is present. The final person or department destination is responsible for verifying contents are complete and undamaged.
The shipping department will attempt the first delivery of all packages within one business day. If no one is available to sign for the package, two additional attempts to deliver will be made. After the third attempt, shipping department staff will try to make contact by phone. If no contact is made, the package will be returned to the sender at the department's expense.
Department staff may come by the shipping department to pick-up a package only after they have confirmed delivery by calling 903.468.3050. You must have a tracking number from the shipping company when calling about your package. Our hours are Monday through Friday, 8 a.m. to 12 p.m. and 1 p.m. to 5 p.m. A staff member will assist you with the pick-up. No one except shipping and receiving staff may be present in the shipping and receiving area.
Back to menu
Campus Mail Service :: Meet our Staff
We are Here to Help
Back to menu
Campus Mail Service :: Contact
Contact Us
Campus Mail Services, Old Bookstore
P.O. Box 3011
Commerce, TX 75429-3011
Hours of Operation
Monday-Friday, 8 a.m.-5 p.m.
Back to menu
START YOUR JOURNEY! Two buttons
START YOUR JOURNEY!
Back to menu