Academic Success Center Celebrates 10 Years, Offers Tutoring at New Location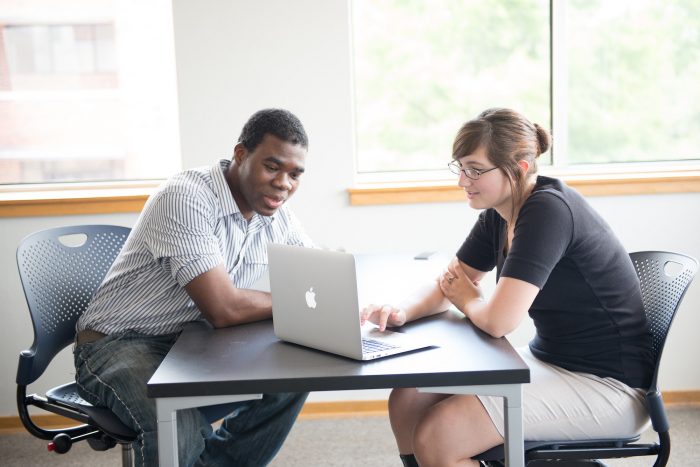 The Academic Success Center (ASC) at Texas A&M University-Commerce marked its tenth anniversary by moving to a new home in August 2021. The ASC is now located in a glass-walled work space on the second floor of Velma K. Waters Library.
The ASC offers tutoring services to undergraduate students in a variety of core academic subjects, from writing to math. Launched as a grant-funded pilot program in 2011, the ASC has grown to become an invaluable resource as students navigate their classes and pursue academic success. Jodi White, the ASC's coordinator, has been involved with the university's tutoring program from the beginning.
"In August 2011, I was given the opportunity to run the program, and I've been doing it ever since," White said. "When I first took over, we had one little table down on the library's first floor, by the information desk. That's where the tutors would meet with their students. We started with seven or eight volunteer tutors who needed community service hours, and tutoring was counted toward that," she said.
The tutoring program has grown significantly over the past 10 years.
"Now, we have a permanent location, and the tutoring positions are paid student worker jobs," White said. "We employ around 24 tutors, which is less than usual due to the pandemic."
According to White, the ASC logs about 2,500 contact hours annually. Contact hours are the amount of time students spend working with tutors.
The new tutoring space in Room 201C of Waters Library features several work spaces where students can meet with tutors. Tutoring is offered free of charge on a walk-in basis. For help with science subjects, like biology, chemistry and physics, students visit a secondary ASC location in Room 110 of the Keith D. McFarland Science Building.
In addition to one-on-one tutoring, supplemental instruction (SI) groups meet regularly at the ASC. SI leaders attend a class and then lead group sessions to help other students understand the course material. Typically, the SI leader is a student who has been recommended by a faculty member. SI instruction was paused during the COVID-19 pandemic, but it will resume in Spring 2022.
To accommodate students who need online help, the ASC offers Tutor.com, a third-party service. Tutor.com provides access to a live, 24-7 online tutoring platform where a subject matter expert works with students.
White said some students hesitate to access tutoring help, even though it is free and available to all.
"We are a resource that's vastly untapped by so many of our students who could benefit from our services, partly because of the stigma associated with tutoring," White said. "So, if we could change the way students perceive tutoring, I think we could significantly improve retention rates."
White said tutoring sessions can help students pinpoint why they're having difficulty with course material. Sometimes, the student isn't struggling with the subject matter itself but with something else, like reading comprehension.
"We help students discover what they're having trouble with, and then we work from there and give them some tools to succeed," she said.
She added that tutoring is a win-win situation as it benefits both the tutor and the tutee. The ASC provides flexible on-campus employment options for students who want to work. It also gives tutors valuable work experience and challenges them to connect with others.
"Tutoring helps bring a lot of tutors out of their shells," White said. "Often, at the end of the semester, I'll hear tutors say, 'Ms. Jodi, you have pushed me in so many ways that I didn't know I was capable of.' So, it's a win for the tutors, too."
Learn more about tutoring services at tamuc.edu/Academic-Success-Center.
.