A&M-Commerce Alumna Making Big Plays in Professional Athlete Management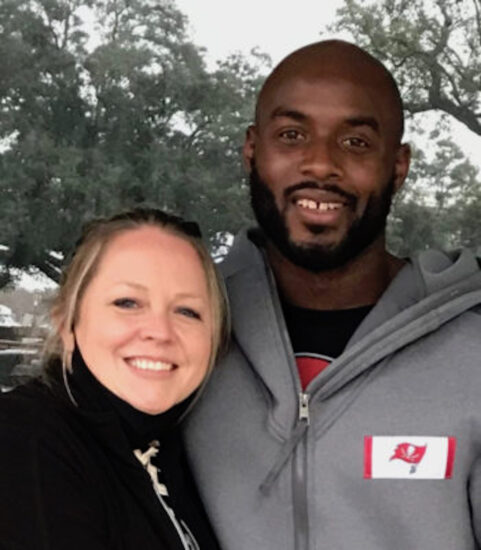 In her Dallas office, Brandy Runyan fondly recalls her time in the Health, Kinesiology and Sports Studies graduate program at Texas A&M University-Commerce.
These days, she's the owner and chief executive of Black Diamond PR & Sport Management Firm, an award-winning athlete management and public relations agency. Several photos of her professional athlete clientele adorn the wall.
She's come a long way since her first days on campus as an undergraduate still reeling from the loss of both parents in her final year of high school. Runyan said she wasn't ready to be in a higher education environment.
"I flunked out, actually. I just wasn't all there to make it a successful run," she said. "That's been part of my success story. There's not a lot of shame in failing, as long as you make it a point to circle back and finish what you started."
She returned to A&M-Commerce in 2005. Despite being a single mother working multiple jobs, she thrived as a non-traditional student. "Middle age was the perfect time to do it," Runyan said. "I was more focused than ever and made great grades. I just loved it there; I'm pretty loyal."
After completing her bachelor's degree, Runyan was persuaded to pursue a master's degree in health, kinesiology and sports studies with a concentration in athletic administration. Although she was unsure how her previous experience in the entertainment public relations industry would translate to sports, she decided to go for it. It didn't take long to know she'd made the right decision.
"I fell in love with contract law and sports ethics," Runyan said. "The program was incredible. If I could have spent four more years in it, I would have been thrilled."
She credits her positive experience to tremendous mentors, including Dr. Anthony Rosselli, associate professor and coordinator for the athletic administration concentration of the Health, Kinesiology and Sports Studies program.
"Brandy is the perfect example of what is possible for students at A&M-Commerce," Rosselli said. "Rather than letting life get her down, she regrouped, made a game plan and devoted herself to her dream."
He continued, "The Department of Health and Human Performance truly desires to see our students succeed, and will push them to reach their highest potential. It might not be easy, but it is well worth the journey."
Runyan still feels that influence today.
"They just have really high standards and it translates into their teaching," Runyan said. "It helps you hold a higher standard for yourself and be more self-aware of the things you know and don't know."
She claims the program's ethics lessons have had the most significant impact on her career, with many public speaking engagements on the topic under her belt.
"The sports industry, unfortunately, is just rigged with so much unethical turmoil," Runyan said. "I feel like I'm a champion toward better ethics in sports."
She developed Black Diamond's unique model for athlete management. "It's completely different than what's been out there, and is still out there," Runyan reports.
"Sports law was critical because … I actually got licensed as a pro football agent after I graduated," she added.
Runyan went on to utilize her experience in the program to scale her entertainment public relations company into a thriving sport management firm.
"We were working with celebrities, musicians; doing high-profile product placement for TV and film, and big award shows like the CMAs and the Grammys," she explained. "It was just tiring and it really wasn't as rewarding. I didn't feel like I had purpose, the way I do now."
Black Diamond is now ranked one of the top public relations firms in the country, with around 20 employees and up to 10 interns helping to manage the careers of more than 100 current and former athletes. The majority of Runyan's employees are in athlete management positions. They focus on reputation management, crisis control, travel arrangements, charitable events and other aspects of managing the day-to-day needs of athletes.
Runyan said the firm also handles contract negotiations, social media management and talent scouting and acquisition.
Black Diamond represents numerous NFL players, including Cyril Grayson, whose current team—the Tampa Bay Buccaneers—will play in Super Bowl LV on February 7. The firm manages several players in the Canadian Football League as well, including Basil Jackson, Tim Lukas and Chris Ackie.
Additionally, they manage free agents and former players like Ryan Broyles, an OU standout drafted by the Detroit Lions in the second round of the 2012 NFL draft. "We manage his post-career … we book all of his speaking engagements and manage that."
The firm is the official PR and sport management agency for the American Arena League.
"Football is kind of our niche right now, but we represent athletes in other fields," Runyan reports. "We've got some Olympians, some world champions. It's not just football." Black Diamond also manages several coaches and authors.
Despite her demanding career and bustling family life, Runyan stays connected to the Department of Health and Human Performance at A&M-Commerce. She's an active member of the undergraduate Sport and Recreation Management program's industry advisory board. The board highlights issues facing the industry and recommends skill sets necessary for success in the sport management arena.
Dr. Clay Bolton, assistant professor in the department, said Runyan's involvement on the program's panel of experts is invaluable. "Brandy's determination and hard work make her an ideal member of our expert team. She is a mentor who provides amazing opportunities for students in our program," Bolton said. "She teaches students what it is like to work in a real-world sport agency."
Runyan's firm also utilizes interns from the program, and recently transitioned a graduating student to a full-time position. She said the internships provide students with choices.
"When they come here … they're not just learning athlete management," Runyan remarked. "They're learning about the acquisitions process … about data entry and doing research; writing press releases and distribution. They may find areas within the sports world they never even considered they could work in."
Reflecting on her academic and professional experience, Runyan advises students to take advantage of every opportunity and embrace failure—something she says is just part of the process.
"I've had a lot of challenges that I've had to overcome … but if you can learn to look at failure a little bit differently, that's going to put you ahead quite a bit," she said. "If I had given up when I flunked out freshman year … if I had given up as a single mother or any of those type of things, I wouldn't be in the position I am today, changing people's lives."
Learn more about the Department of Health and Human Performance at A&M-Commerce.
Learn more about Black Diamond PR & Sport Management.