A&M-Commerce Student Researchers Win Big at 15th Annual Pathways Student Research Symposium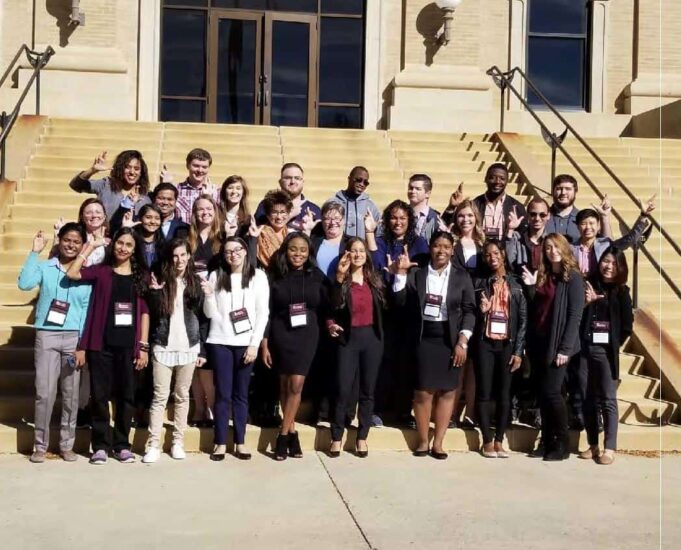 Nineteen A&M-Commerce students earned awards for their research presentations at the 15th Annual Pathways Student Research Symposium held at West Texas A&M University in Canyon, Texas, on November 1 and 2.
The symposium is open to all Texas A&M University System students and provides a space for students to present and discuss academic research with faculty, judges and other participants. Students presented their research on posters and in oral presentations. Presentations were judged on organization, preparedness, visual support, oral presentation, quality of research and more.
Natalia Assis, doctoral student in the educational psychology program at A&M-Commerce, has presented at the Pathways Symposium for five years. She described the student-centered event as "a safe space for beginners and advanced researchers to improve their presentation skills."
Dr. Jennifer Schroeder, associate dean of the Graduate School at A&M-Commerce, agrees.  She served as a judge at the Pathways Symposium this year. Schroeder emphasized that the symposium "gives students, both undergraduate and graduate, an opportunity to present their research findings in a low-pressure and constructive environment." She added that the symposium is a friendly place for students to present their research for the first time.
Schroeder was impressed by the students' research presentations. "The fact that A&M-Commerce students won 19 awards—almost 1/3 of those given—highlights the quality of the work done by faculty and students at A&M-Commerce," Schroeder said.
Award winners from A&M-Commerce include:
Graduate Winners:
First Place:
Elizabeth Mcelrath, Environmental Science
Priya Biswas, Health Science
Elizabeth Fortner, Life Science
Natasha Astudillo, Mathematics
Cole Galey, Physical Science
Second Place:
Canaan Sutton, Environmental Science
Nahoemi Pablo, Education
Guadalupe Herrera, Health Science
Pipasha Biswas, Life Science
Elisha Shachar, Mathematics
Brianna Douglas, Physical Science
Third Place:
Courtney Clanton, Education
Lauren Balliet, Physical Science
 Undergraduate Winners:
First Place:
Micalyn Rowe, Mathematics
Second Place:
Rachel Scarcelli, Education
Monekah Ammouri, Life Science
Jennifer Melendez, Mathematics
Michael Ross, Physical Science
Third Place:
Minerva Mirafuentes, Education