Continuing the Legacy: Ernest Hawkins' Daughter Makes Planned Gift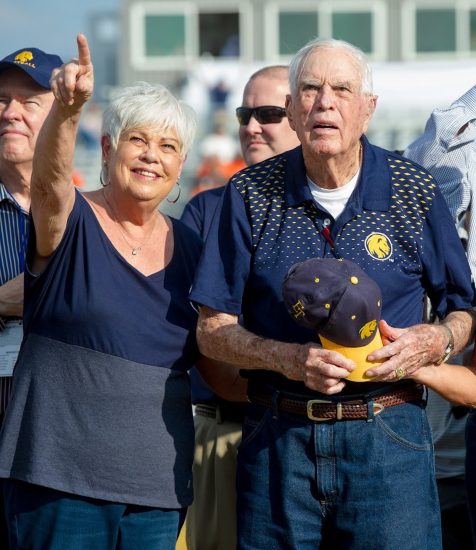 Texas A&M University-Commerce is more than a beloved alma mater to Kathy Hawkins Campbell. It is her childhood home and the site of her father's legendary career. These strong ties inspired Kathy to establish a planned gift to preserve her father's legacy and support the university in future generations.
Kathy's father was coaching legend Ernest Hawkins. He led East Texas State University (ETSU) football from 1964 to 1985 and became the "winningest" coach in the program's history. Today, "Ernest Hawkins Field at Memorial Stadium" is named in his honor.
Kathy first set foot on the Commerce campus as a first-grader, when her dad signed on with East Texas State Teachers College in 1957. A house was available for rent directly in front of the football field, and the family moved in.
"Athletics was our life," Kathy said. "We lived across the street from the fieldhouse. My brother, sister and I pretty much lived in the fieldhouse; that was our childhood playground!"
Kathy and her siblings spent carefree hours frolicking on the fringes of the football field. They swung from the long rope in the fieldhouse, bounced on the massive trampoline in the gym and chased balls around the tennis courts while their dad coached the football team nearby. At mealtimes, Coach Hawkins and his children walked across the street to their home.
"Mom had three meals a day prepared," Kathy said. That's just the way it was back in the '50s and '60s. We had family time over the dinner table."
After graduating from Commerce High School, Kathy attended ETSU and earned her Bachelor of Science with a double major in English and Health and Physical Education in 1975 and her Master of Science in Biology in 1981.
She devoted an impactful 40-year career to public education. For most of her career, she worked as a library media specialist, helping school districts stay up-to-speed on technology in education. She retired from Commerce ISD in 2016. Now, she lives on the outskirts of Commerce, across the meadow from her son, Jayson Campbell, and his family. She enjoys spending quality time with her grandchildren, traveling internationally and supporting Lion Athletics.
Her family's connection to A&M-Commerce remains strong. To date, Coach Hawkins' family has amassed 11 degrees from the university in just three generations. And, according to Kathy, the fourth generation is already prepping for Lion life! You will find Kathy and her family in the stands at most A&M-Commerce football games, cheering on the Lions. The signs announcing "Ernest Hawkins Field" at Memorial Stadium always prompt her to pause and talk to her father.
"I can't help it," she said. "To me, he's like the caretaker of every event on the field. We're proud. Very proud."
The Ernest Hawkins Football Endowment is also near and dear to the family's heart. Coach Hawkins established the fund in 1986 to support the Lion Athletics program and its students.
"I was raised in a family of givers," Campbell said. "Dad and Mother [Margaret] gave to the Ernest Hawkins Football Endowment yearly, and my sister [LuAnne Bourland] and brother [Ray Hawkins] and I have continued that tradition."
According to Kathy, charitable giving was important to her dad because a scholarship changed his own life. Hawkins grew up on a West Texas cotton farm, and money was tight. However, an athletic scholarship paved the way to Texas Tech University, where he played football and basketball, ran track, and prepared for his future career as an educator and coach.
"That scholarship is how he got away from the cotton farm and into education," Kathy said. "That opportunity for a poor dirt farmer meant a lot, and he always felt like he wanted others to have that same opportunity."
To continue building on her father's legacy, Kathy established a bequest intention to support the Ernest Hawkins Football Endowment in future generations.
"When I'm gone, I want to continue giving to Dad's endowment. It's important to my family and me that any athlete who wants an education has the means," Kathy said.
Kathy also hopes her story encourages other alumni to give to the university.
"I think it's important for ordinary people, like me, to know that any size gift is going to benefit," she said. "I wish I could give more, but I believe gifts of any size to the university will help young men and women. It is a blessing for me to know that Mother and Dad would be pleased that I am continuing their legacy of giving back to the university. I hope my gift will impact many students' lives."