Generous Donation from A&M-Commerce Alums will Fund Lyday Gardens Renovation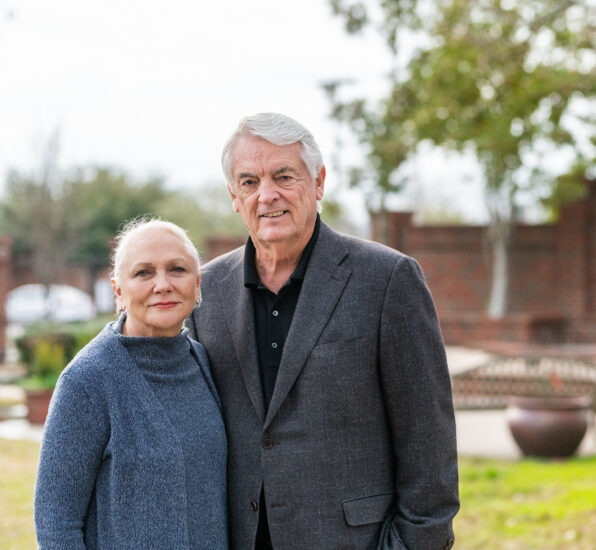 Lyday Gardens at A&M-Commerce will undergo a major renovation this year, thanks to generous support from alumni Gary and Sandra Fernandes. The couple visited campus on February 19 to sign a gift agreement that will bring the project to life.
The Fernandes family also sponsored the original construction of Lyday Gardens, which was dedicated in 2001. Located next to the Heritage House, the president's home on the east side of campus, the space has served as a beautiful on-campus retreat for almost 20 years.
This year, the university will expand and redesign Lyday Gardens as an outdoor classroom where students will gain hands-on experience to become the next generation of skilled horticulturalists.
Students will use the garden as a living lab for learning and research. They will apply the principles they have learned in the classroom to design garden spaces, complete trials with plant varieties, collect data on water usage, study the effects of insects and more.
According to Dr. Derald Harp, professor of horticulture at A&M-Commerce, the space will become one of Texas' premier minimal-input gardens, which means plants receive just what they need to thrive – and nothing else. Horticulture students will monitor soil health, ideal water usage and environmental impact to create beautiful landscapes while preserving natural resources.
Plans for the garden include new fencing, turf, irrigation and design. Several new plants will also be introduced, including fruit trees, vegetables and a variety of herbs. The agriculture department envisions the space as a "living pantry" where students learn how to grow their own food and can grab a peach or a plum right off the tree on the way to class.
Gary and Sandra's long-standing relationship with the university extends back to the early 1960s, when they met and became college sweethearts at East Texas State University. Over the years, the couple have remained connected with the university, serving on the foundation board and funding numerous impactful projects.
Among their initiatives, Gary and Sandra fund a scholarship program to assist Honey Grove High School graduates with tuition at A&M-Commerce. They also endowed the university's first professorship, which sponsors a teaching position in the College of Business, and helped launch the university's Equine Studies program.
The couple is especially passionate about horticulture, and they are excited about the expansion of Lyday Gardens.
"We really like it because it's an area where students can be engaged," Gary said. "The idea of connecting the gardens with academic work is extremely positive. Now, not only do we have wonderful gardens and a beautiful place to look at, but it's also like a classroom. We can't wait to see the first students out there with a shovel in one hand and a notebook in the other."
The name "Lyday Gardens" pays tribute to Sandra's family, who have deep roots in Texas' soil. The Lydays were some of the original settlers in Fannin County, about 30 miles north of Commerce. The family received a land grant from the Republic of Texas in 1835. Almost 200 years later, Gary and Sandra continue to live on the family ranch. It is fitting that the garden's name should honor that long-standing connection with Texas land and agriculture.
At the gift signing, A&M-Commerce President Mark Rudin expressed his appreciation to Gary and Sandra.
"We really appreciate the two of you and how gracious you've been with your time and energy," Rudin said. "I think you're going to see a very dynamic garden that may change from year to year, depending on the personality of the class that's going to be tasked with it. This is a great opportunity for students, and that's what it's all about at the end of the day."
The reimagined Lyday Gardens will position A&M-Commerce as a Texas leader in experiential horticultural education.
"I think it's going to be a show piece for the university," Rudin said. "People like to use it now, and it's going to be even better."