The Welcome Center Serves as the University's New "Front Door"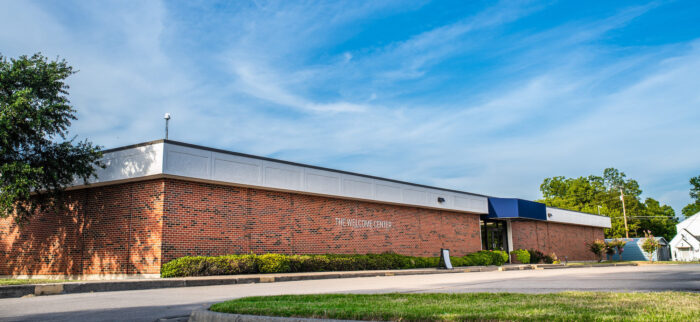 The former One Stop Shop at A&M-Commerce recently reorganized and reopened as The Welcome Center. Located on the east edge of campus, The Welcome Center serves as the "front door" of the university where guests enjoy a friendly introduction to Lion life.
According to Nechell Bonds, vice president of enrollment management at A&M-Commerce, The Welcome Center provides a "signature onboarding experience."
"Prospective students and their guests are welcomed by a new team of guest services advocates known as the AskMe team," Bonds said. "In addition, our Lion Ambassadors nurture future students into a relationship involving our honored traditions and our desire to build new and lasting memories."
Future Lions who visit The Welcome Center are presented with several opportunities to learn more about A&M-Commerce. The AskMe team is on hand to answer questions and provide future students with information about the university experience.
According to AskMe team member Aminta Fuentes, "As a team, we provide a positive, informative and friendly environment for our guests. In my specific role, I am also able to provide that same level of service in my native Spanish language. As members of the AskMe team, we also provide solution-focused responses to future student and parent inquiries, and connect them with beneficial on-campus resources."
AskMe team member Susan Garrison said she is passionate about helping incoming students feel comfortable at A&M-Commerce.
"Starting a new school is scary," Garrison said. "When I started college, I remember being overwhelmed with anxiousness and would have loved for someone to greet me and take me to the people who would assist me further. It is a humbling feeling to be a small step in that process."
Guests may also embark on campus tours led by Lion Ambassadors who explain the university's fascinating history, traditions, activities and campus highlights. In addition, admission counselors are available at The Welcome Center to meet with prospective students via group presentations or individual meetings.
"Our admission counselors help prospective students connect with the story of A&M-Commerce and learn how their journey can be best fulfilled as a future member of our pride," Bonds explained.
This fall, many students may seek out The Welcome Center for services that they formerly obtained at the One Stop Shop, such as academic and financial aid advising. While advising is now provided by Student Success Teams within individual academic colleges, the AskMe team will be available to direct students to these and other campus services.
In light of COVID-19 concerns, the university has implemented several safety measures to ensure that The Welcome Center aligns with health and safety protocols. In addition to added sanitization measures throughout the facility, visitors must wear face coverings and maintain social distancing.
Fuentes added that guest response to The Welcome Center has been extremely positive.
"Our visitors seem to appreciate our enhanced customer service procedures, the ambiance of The Welcome Center, and the access to helpful information for our future Lions!" she said.
The Welcome Center is located at 2200 Campbell Street, Commerce, Texas.